Kickstart Your Ecommerce Journey With Our Shopify Rapid Development Solution!
Harness the power of Shopify platform to build a responsive, versatile, feature-rich webstore to deliver seamless and delightful experience to your customers.
From Shopify theme customizations to third-party integrations and On-page SEO to boosting your website traffic, our Shopify Website Development Solution (Shopify Turbo Start Package) is curated to help you build and run a successful e-store.
Whether you are just starting up a venture or already have an established one, our team of Shopify experts will help you bring your store online in 2 weeks!
Your Shopify Ecommerce Store Development in a Nutshell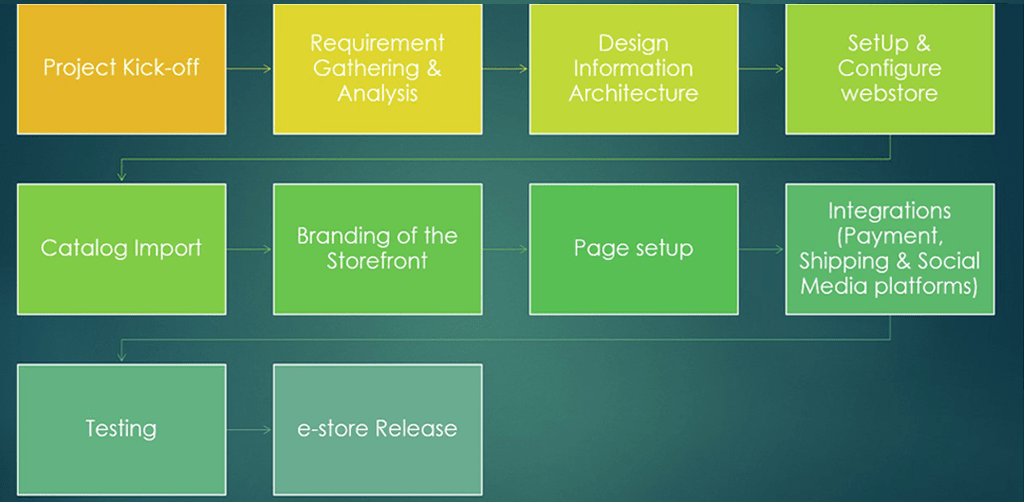 Shopify Website Development Services
Take your business online in 2 Weeks with our Shopify Turbo Start Package!
Our accelerated Shopify website development solution is inclusive of the following services:
Responsive Shopify Theme: Choose from 100+ Shopify themes and get it customized according to your branding & business needs. We will also ensure that your storefront is highly-optimized and responsive while being visually appealing.


Store front Branding: We offer all it takes to create and add brand identity to your ecommerce store. This includes support for creating & adding logos, copyright messages, choosing fonts, illuminations, colors & more to your e-store, as per your branding goals.


Single Catalog Import: Get your product catalogs, a maximum of 100 items, seamlessly imported into Shopify e-store.


Single Shipping Integration: Integration support of your Shopify store with to help you manage and ship all your online orders.


Single Payment Integration: Support for integrating your Shopify store with any one of the leading payment gateways for seamless & global management of online payments.


Integration with Social Media: Support for integrating your e-commerce store with leading Social media platforms to enhance your ecommerce brand's digital reach.


Integration with Google Analytics: Integration of your Shopify store with Google analytics to get detailed insights & reports about your e-store that can be used to drive business growth & optimize store performance.


Create 5 Content Pages: We will help fortify your e-commerce store with 5 of the most information-critical content pages, to make your e-store reliable and accessible for your customers. This includes About Us/Policy/Terms of Use/Contact US & more.


Manage On-Page SEO: We help you with title tags, URL optimization, internal ranking & other on-page Search Engine Optimization services to enhance your website ranking, drive more website traffic and increase sales.
Why Choose Embitel?
More than a decade of Industry Experience with specialized focus on Ecommerce and Digital Experience management.
Multi-industry Project Experience including Food & Beverages, Retail, Telecom, Lifestyle, Manufacturing & many more.
Versatile Team of 400+ experts with experience in leading e-commerce platforms such as Shopify, Magento, Hybris, Pimcore, commercetools & more
As a recognized Shopify website development partner, we are empowered to nurture and help retailers across the world to digitalize, design, build or migrate their Shopify stores.

We are also partners with