About the Customer:
Our customer is a US-based manufacturer of electric commercial vehicles who caters to various transportation needs. Reducing the cost of vehicle development through innovation is at the core of their organization.
Business Challenges:
Working on the instrument cluster and telematics gateway solution for the customer, we realized that these components are safety-critical and must come under the purview of ISO 26262 compliant functional safety.
Our FuSa team got in touch with the customer and shared these views to which they agreed. However, to be clear about the approach to ISO 26262 compliance, it was important to have an ASIL grade assigned to the solution.
Embitel's Solution:
A dedicated team of Functional Safety experts analyzed the project and concluded that a pre-liminary HARA (Hazard Analysis and Risk Assessment) would be the ideal approach to find a reference ASIL grade.
Advantage of pre-HARA is that it does not require a full-blown effort from the FuSa team and is also economical to the customer. We have covered important hazards in the pre-HARA process so as to have an idea of ASIL for the solution Embitel is developing.
System requirement specification was referred in absence of Item definition.
A Snapshot of Pre-HARA for Instrument Cluster and Telematics:
Functions to be analysed were categorized based on the different components of the system.
Operating modes, scenarios and environment factors were identified as per the ISO 26262 guidelines.
Based on these factors, each function was analysed for associated hazards and classification was done according to severity, exposure and controllability.
ASIL was determined using the allocation table.
In addition, few safety goals were also identified.
Since, we were performing HARA for a instrument cluster, the focus was on the digital gauge and tell-tales. An example of both will make things clearer.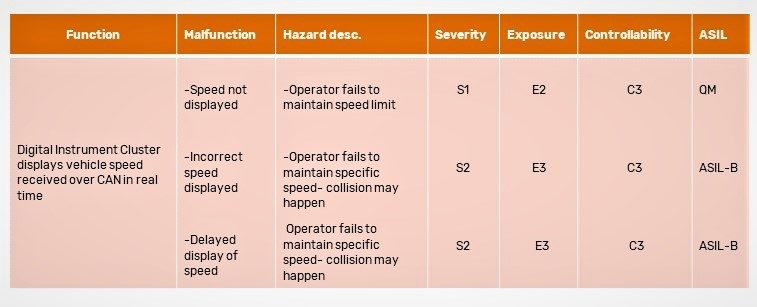 Tell-Tales

We identified similar hazards for different functions and based on various applicable operational scenarios, we came up with ASIL-B to be assigned for the solution. In addition, we were also able to identify certain safety goals which would be strengthened upon complete HARA.

Embitel's Impact:
With pre-HARA, the customer was clear about the ASIL to be targeted. Having this understanding in the early stages helps in planning the path ahead. This process helped our customer in estimating for a safety compliant phase in future.

Tools and Techniques:
MS Excel: The pre-HARA template is created on MS excel and filled by FuSa experts.