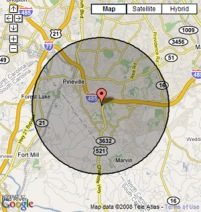 A geo-fence is a virtual perimeter for a real-world geographic area. A geo-fence could be dynamically generated—as in a radius around a store or a point location. A geo-fence allows an administrator to set up triggers so that an alert is generated whenever a device crosses the perimeter.
Embitel Mobility has successfully implemented:
3D object marker detection for geo-fencing
Profile status update on entering and exiting of geo-fencing zones
Alert generation and communication
Geo-fencing has applications in retail, Ecommerce, Mcommerce and related supply chain processes. For example, a store may trigger a text message with the day's specials to an opt-in customer when the customer enters a defined geographical area.
Geo-fencing can be used to track arrival or departure of goods into a warehouse. Alerts can be sent if any item is removed from a store or warehouse without authorization or if anyone attempts to enter a restricted area without authorization.
Embitel Mobility can analyze your current business landscape and recommend suitable Geo-fencing solutions that can drive performance, improve operations and provide differentiated and personalized user experiences.
Case studies
Lapp India
LAPP INDIA is a 100% subsidiary of the LAPP GROUP (one of the leading cable companies in the world). The Bangalore manufacturing unit which started operations in 1996, is currently the third largest manufacturing facility of the Lapp Group. Lapp India collaborated with Embitel with an aim to be a pioneer in the online cable business
Compuindia
Compuindia is a Dell Express Shipping Affiliate store owned and operated by GNG Electronics Pvt. Ltd., one of the largest affiliates of Dell India.Dell is India's leading PC brand with a large share of their sales happening online. Compuindia aims at providing the widest range of products at competitive rates with a faster delivery