Mobile App Development Company In Michigan, USA
Embitel Technologies, with presence in Michigan, Midwestern USA, offers mobile app development in the USA. We build Android and iOS apps with high usability for leading industry names across various sectors.
Embitel Technologies - Mobile app development services in USA
Embitel offers complete app services for native mobile apps i.e. Android and iOS mobile apps. Our end-to-end implementation services help our clients get a cohesive experience in sync with their business vision.
Strategy & Consulting Participate in business and technology workshops with our experienced consultants for requirement gathering and analysis, and to identify mobile client architecture, mobile app technologies, information architecture (IA).
Mobile app development Development on the chosen platform, following high-quality and agile processes to deliver an app optimized for speed and performance.
Systems & Technologies We design and build an app that meets all your functional and design requirements, and offers an immersive user experience for your customers.
Mobile app testing To ensure a pleasant and error-free user experience, we carry out manual and automated testing to identify functionality, usability, compatibility and security issues on various devices.
Backend service integration Deliver an omnichannel experience to your customers with our integration services to integrate your app with leading ecommerce platforms such as SAP Hybris, Magento or other CRMs and ERPs. We also implement integration of multiple leading payment gateways.
Analytics & reporting Tap into the rich data collected by your mobile app with analytics tools to identify opportunities, roadblocks and trends, increase user engagement and conversion.
Support services Even after launch, we provide support to resolve any bugs that may crop up, or build enhancements as per the client's request in order to facilitate a top-class experience for end users.
Embitel - the best choice for mobile app development in the US
Embitel was founded in 2006 and has rich experience in ecommerce development services. Our strength lies in our understanding of our client's precise requirements and ability to cater to them with expert omnichannel implementation.  Our global clients have consistently reported satisfaction regarding requirement gathering and fulfillment at Embitel. Embitel has a CMMI level 3 rating and is an ISO 27001:2013 and ISO 9001:2008 certified organization. Our Quality Assurance team has designed the EmbiQ engagement model to processes, policies and best practices at Embitel. Our QA team ensures agile processes and predictable results to justify our clients' trust and investment.
Embitel's mobile app development team
Partner with Embitel to work with our team of experienced app developers and UI/UX designers who have experience in development for top brands in various sectors. Whether its B2B apps or B2C apps, ecommerce and retail apps, or even enterprise mobility, our team has development experience with all. What's more, with Embitel's rich experience in ecommerce implementation on the leading platforms of SAP Hybris and Magento, we offer efficient integration with these as the backend.
Industries covered for App Development at Embitel
We've carried out ecommerce implementation on websites or on mobile apps for global brands from various industry sectors. Some of the sectors we have carried out ecommerce and app development are:
Grocery
Food & beverage
Kids
Stationery
Marketplace implementation
Electronics
Jewelry
Services
Embitel's Mobile App Development Customers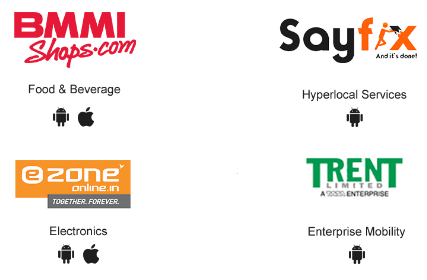 Embitel has carried out app native app development for leading industry names in various sectors. Among these are:
Sayfix: The task was to build an efficient Android app for a hyperlocal household services providerwithin a restricted time period. The app was built with a Magento backend, with features specific to the services business, and had promotional capabilities too. Within a month of launch, the app had over 5000 downloads and over 90% returning customers.
BMMI Shops: We've built a Magento webstore and mobile app for BMMI Shops, Bahrain's leading beverage distributor and retailer. The client was dissatisfied with its existing webstore, and a new website addressed all the issues while the mobile app helped them reach out to customers anywhere, at any time.
Tata Trent: The Indian retail giant sought to automate its vendor empanelment process to improve productivity. We developed an enterprise mobile app for Tata Trent that fulfilled their specific requirements, and also provides data analytics for advanced process insights.
Ezone: Embitel has developed a retail website as well as an app for one of India's leading electronics retailers. The app displays a large volume of SKUs and facilitates all shopping privileges such as exchange, finance support, data transfer etc., making the app versatile and useful.
Contact us for our high-quality 
mobile app development services
.
Case studies
Lapp India
LAPP INDIA is a 100% subsidiary of the LAPP GROUP (one of the leading cable companies in the world). The Bangalore manufacturing unit which started operations in 1996, is currently the third largest manufacturing facility of the Lapp Group. Lapp India collaborated with Embitel with an aim to be a pioneer in the online cable business
Compuindia
Compuindia is a Dell Express Shipping Affiliate store owned and operated by GNG Electronics Pvt. Ltd., one of the largest affiliates of Dell India.Dell is India's leading PC brand with a large share of their sales happening online. Compuindia aims at providing the widest range of products at competitive rates with a faster delivery