Overview:
Embitel understands the importance of this technology and we have solutions that can address the growing complexity of the front end ASIC/SOC/FPGA Chip Design and Verification. Embitel's hardware design team has rich experience in Design, Verification and Validation of complex digital designs, SoC and FPGA's. Our solutions cover the gamut of services for digital electronics development; be it a quick prototype for POC to the implementation of a time critical and complex design for a real time application.
Value to Client
Global presence – Germany, UK, Sweden, USA & India
Free Initial Assessment of  Verification
Ability to quickly undertake end to end projects
Access to specialist Knowledge  and full range of expertise
Onsite-offshore or full onsite delivery model, T&M or FPP
Improved efficiency  and lower product development cost
Reduced time to market with high quality
Experience in handling global engagement
Service Offerings
Chip design and verification
Front end RTL design for ASIC and SOC
Verification Services for ASIC and SOC
Methodology based Verification: VMM, OVM, UVM, RVM, eRM
Validation platform build up ( FPGA/processor-based)
Pre-Silicon and Post-Silicon Validation services
FPGA/Hardware Design Services
We offer FPGA design and verification services. We offer various services which are shown below.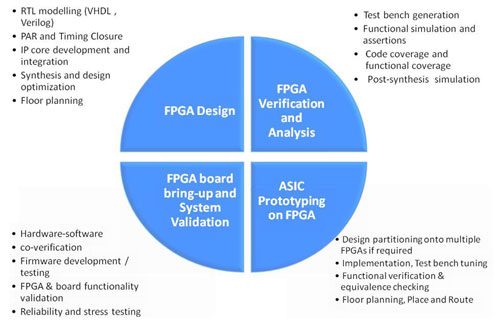 Hardware Expertise
Board Design Expertise

Support for different Processors and FPGAs with various interfaces USB Host/Device, PCI /PCI-X/ PCI-e, 10/100/1000 Ethernet, LCD, Touch etc.)
High Speed boards, Analog, digital & mixed designs
High speed memory interfaces
Prototyping

Industrial / Commercial grade compliance to standards(EMI/EMC, MIL)
Very minimal / Zero Cuts and Straps in prototyping
Boards and Systems redesign/reengineering & support to take care of Processor & Technology, Bus, External Interfaces
Focus Areas
Automotive
Embedded
Telecom/Wireless
Consumer Electronics
Portable devices
Healthcare
Industrial
Experienced Resource Pool
Our team of Engineers is experienced in
RTL, Hardware Verification Languages: System Verilog, Verilog, VHDL,  C, C#, System C
Scripting Languages: TCL, Perl, C Shell
Synthesis and Simulation Tools: Synopsys, Cadence, Mentor Graphics, Xilinx, Altera
CAD tools: Altium designer, Mentor PADS, Cadence Orcad/ Allegro
FPGA family : Altera, Xilinx, Lattice, Actel
FPGA Tools : Xilinx ISE, Altera Quartus II, Mentor Graphics, Libero IDE, Actel Desktop, Active HDL, FPGA Advantage