About the Customer:
Our customer is a pioneer in brake system development and manufacturing. Taking a lead in safety critical automotive components development, they are developing an ASIL-D compliant brake system ECU.
Business Challenges:
The proposed brake system is ASIL-D compliant and thus entails the most rigorous development and testing measures implemented using ISO 26262 qualified tools. Our customer required a technology partner that could take care of end-to-end development of an ASIL-D compliant brake ECU including software and hardware development.
The proposed electronic brake ECU would enable the vehicle to replace the manual parking brake lever with a dedicated control unit. There are two variants of this ECU:
Stand Alone: ECU activates the parking brake directly

Integrated: ECU activates the parking brake through commands from Electronic Stability Control system.

An ASIL-D grade solution requires a certain degree of maturity in the understanding and implementation of ISO 26262 standard across the product's lifecycle. The customer was looking for a technology partner that ticked all these boxes.

Embitel's Solution:
Our Functional Safety team identified the safety activities required for the execution of an ASIL D project. The activities included devising a safety plan, preparing the Development Interface Agreement (DIA) and Data Management Plan (DMP). Since it was an end-to-end project, a cross-functional team comprising hardware and software engineers along with ISO 26262 experts was set up.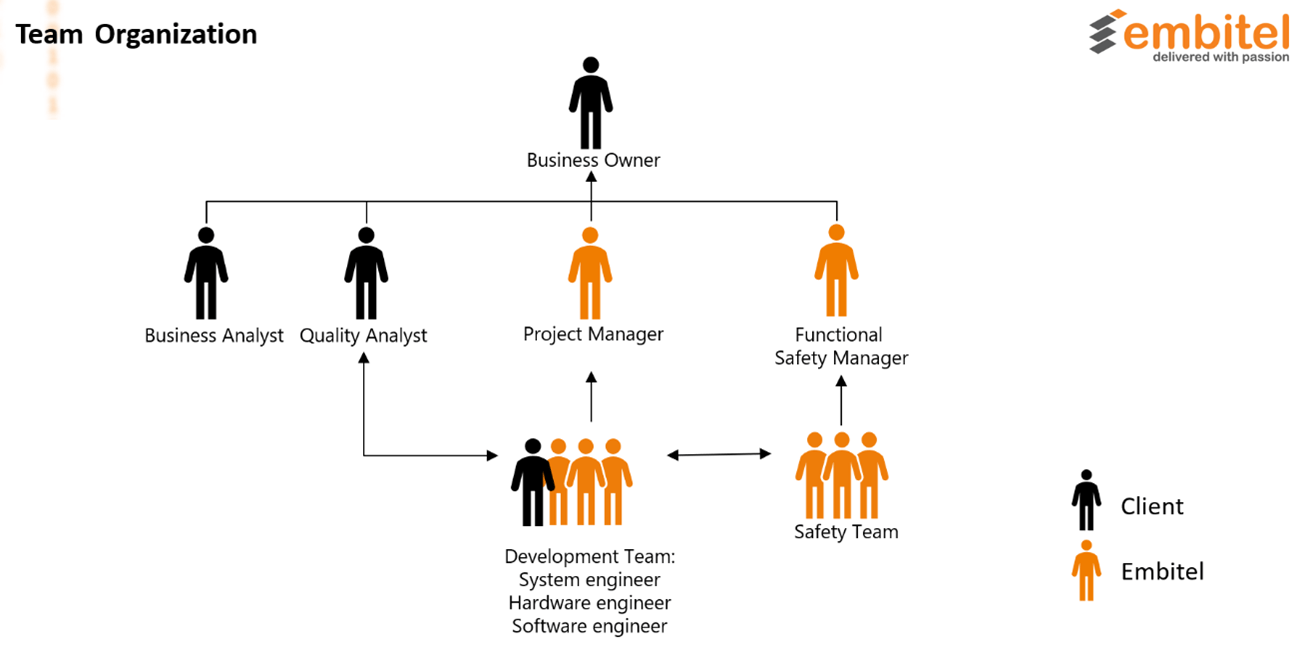 Post a few joint workshops with the customer's team, we were clear with the requirements. Documentation of the system-level requirements were performed while we kick-started the concept and system phase of the safety lifecycle. Here is a snapshot of the steps included:
Item definition: Based on the information provided by the customer we derived the item definition of the brake system. It paved the way for HARA and helped in development of functional and technical safety requirements.
Hazard Assessment and Risk Analysis (HARA): We assessed the malfunctions that could possibly lead to E/E system hazards and analyzed the risk associated with them.
Safety Goals derivation: Safety goals were derived as the output of HARA analysis.
Development of Functional Safety Requirements (FSR) and Technical Safety Requirements (TSR): We derived the FSR from the safety goals and TSR from functional safety requirements.
Based on the safety goals, TSR and FSR, system architecture were prepared which followed the software and hardware architecture along with BOM creation.

Embitel Impact:
We provided the customer with complete software and hardware development support as per ASIL D requirements. Being a one-stop destination for both development and ISO 26262 compliance activities, we were able to save a substantial amount of time and cost for the customer. As a result, the time-to-market was expedited by several months.
Tools and Techniques:
Codebramer ALM Tool: We used Codebeamer for application lifecycle management
MATLAB from Mathworks: MATLAB was used for software modelling