Business Model for Licensing of CAN FD Protocol (ISO 11898-1:2015) Stack
We offer this production-grade and ISO 11898-1:2015 compliant CAN FD protocol solution under one-time licensing fee model.
This engagement model offers the following benefits to our customers:
As a customer, you have the joint ownership of the IP rights of the software
You get access to the source code of the CAN FD protocol software
The IP rights and the source code enable you to deploy the CAN FD Protocol (ISO 11898-1:2015) software across multiple product lines.
Configuration, Integration, & Testing Services for Production-Grade CAN FD Protocol Software:
The CAN FD drivers or firmware, CAN FD interface layer and network management (NM) layer have been designed, developed and tested according to ISO 11898:-1:2015 standard.
End-user Application Analysis:

Detailed analysis of the user application/vehicle application layer to understand the extent of customizations needed for the CAN Network layer
CAN FD Protocol Stack Integration Services:

Integration and configuration of the CAN FD protocol stack with three software layer services- CAN FD Drivers, CAN FD IF layer and CAN NM Layer.
CAN FD Bootloader Services:

The CAN FD Bootloader Software development to support automotive ECU re-programming.Testing services for the CAN FD Bootloader as per the ISO standards.
Conformance Testing Services:

Testing and validation of the pre-defined test cases as per the ISO 16845 standards.Integration testing of the end-user application.
Meet Our Automotive Leaders
Suresh is the man with solutions. A pro in multitasking, Suresh is always there for his team and also handles the customers' problems with alacrity.

Under Suresh, the automotive team has delivered some very critical projects with the biggest OEMs and suppliers. His ability to understand the customers' pain points and come up with solutions is his biggest virtue.

Suresh Kumar | Technical Manager
(A people's Manager)
Kuldeep's passion for Automotive technology has been a major factor behind our successful engagements with Global Tier-I Suppliers and Partners.

Conversations with Kuldeep always revolve around practical solutions due to his hands-on technical experience and understanding of the evolving Automotive Industry eco-system.

Kuldeep Singh | Business Manager
(Loves all things 'Automotive', a passionate biker!)
Factsheet Regarding CAN FD Protocol Software Specifications: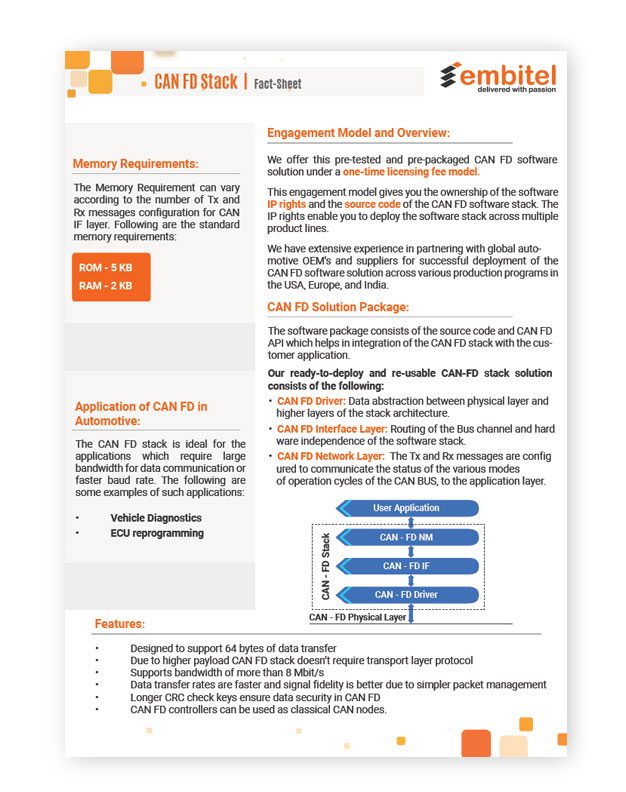 This downloadable Fact sheet contains all the details of our production-grade and ready-to-integrate CAN FD protocol stack. This ISO 11898:-1:2015 compliant software is popularly deployed for ECU reprogramming and vehicle diagnostics applications:
Download this CAN FD PDF to get following information:
CAN FD license fee, engagement model, and overview
Benefits of IP rights and CAN FD source code
CAN FD solution package, features, memory requirements
CAN FD protocol software integration, maintenance, and support services
Refer to the CAN FD Protocol Stack FAQ sections for more details.
Technology Guidebook: CAN FD Protocol Software
Learn about the advantages of CAN FD over CAN 2.0 protocol. Also get details regarding software architecture of the CAN FD protocol solution.
Blogs Regarding CAN FD Protocol (ISO 11898-1:2015): Learn more about the CAN FD v/s CAN
   What is CAN FD Protocol?

CAN Flexible Data is a CAN bus protocol that supports a data bit rate of up to 8 Mbps and a payload capacity of 64 bytes. It is an extension to Classical CAN or Classical CAN.
The ported J1939 stack consisted of J1939 Data Link and Transport Layer (J1939\21), Network Management layer (J1939/81), Vehicle Application Layer (J1939/71) and Vehicle Diagnostics Layer (J1939/73)
The role of software in automotive has become quite big and important. These applications need a lot of vehicle's data and that too in real time. And this where CAN FD excels! Automotive OEMs plan to completely migrate from Classical CAN to CAN FD in the coming years.
   CAN vs CAN FD- Why industry felt the for a faster avatar of CAN?
Advanced automotive applications such as Telematics, EV Powertrain Management, Infotainment . require faster and larger data transfers. (Reason – the amount and type of real-time data that these applications deal with. For example, an infotainment system needs to display a gamut of vehicle information- tire pressure, door lock sensor info, transmission system info etc. at real-time).Classic CAN with its maximum data rate of 1 Kbps and a payload capacity of 8 bytes was not the right fit.These constraints paved the way for CAN FD protocol. CAN FD protocol software offers flexible data rates of up to 8 Mbps and a data payload capacity of 64 bytes.
   What is a CAN FD Controller and CAN FD Transceiver?
CAN FD controller is a hardware chip/platform that can be added to the host controller as a separate component or can be embedded inside it.
The CAN FD Controller is responsible for converting the messages in accordance with the CAN FD protocol.
The transceiver then transmits the messages over the Controller Area Network (CAN BUS). The CAN transceiver along with some other layers such as Transport Layer (ISO 15765) and Bootloader, together comprise of a CAN Stack.