Business Model for licensing of LIN BUS Protocol Stack: What are the Value-Adds?
Our LIN Protocol Software (SAE J2602) is available under a one-time licensing fee model. This engagement model entitles you to leverage the following benefits:
You own the source code of the LIN Protocol Software
You can also benefit from the ownership of the IP rights
As the owner of the IP Rights, your business can deploy this LIN Bus Protocol Stack solution across multiple production programs
We offer separate LIN Bus Protocol stack solutions for LIN Master and LIN Slave implementation. Our LIN software has been successfully deployed in several series productions to enable wiper functions, sunroof modules and others. We also offer a Body Control Module reference design solution powered by our LIN software.
LIN BUS Protocol Stack: Details of the Software Architecture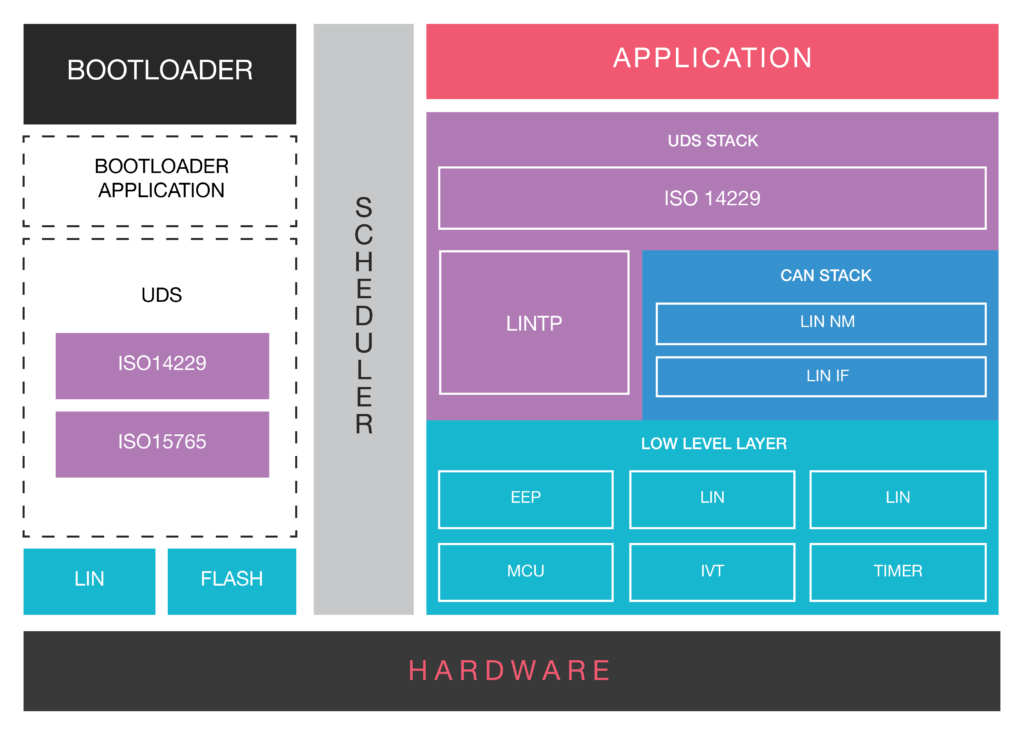 Features of Our LIN Protocol Stack Solution
The LIN subnet is based on a master-slave architecture and we have partnered with our customers to deliver a customized LIN Master and LIN Slave solutions.
Within the In-Vehicle Network, LIN Master is integrated with Master ECU (which is part of Body Control Module).
LIN Master ensures robust communication and control of the LIN Slave nodes
MISRA C compliant auto-code generation for LIN Interface configuration in lesser time as compared to manual method (3-4 week)
This saving in efforts translates into reduction time-to-market and thus development cost.
LIN protocol based ECU re-programming (Bootloader) over UDS
Integration of UDS over LIN TP
LIN Bus Protocol Stack Integration, Configuration and Testing Service Offerings
Development and Integration of LIN Driver:

Device Drivers development for the LIN Slave microcontroller
Device Drivers development for LIN Master microcontroller
Reusable device drivers to ensure reduced development time and cost
Support for driver integration for most MCU families
Development and Configuration of LIN Master:

Configuration of the Scheduler Table based on SWRS and LDF files
Support for Unconditional, Event, Sporadic and Diagnostics frame
Skeleton code for Scheduler Table
Integration with the end-user application and HAL
Algorithm development for Scheduler Table
Development and Configuration of LIN Hardware Abstraction Layer:

Tx and Rx message configuration from LIN Description File (LDF)
Support for both tool based and manual configuration
Proprietary LDF to auto-code generation tool
Configuration for Software Filtering
Vector tool based LDF generation from excel sheet
Configurable HAL standard code is part of the stack package
Node Configuration, LIN Network Management and LIN TP Configuration:

Support for Static and Dynamic Configuration of Nodes (ECUs)
Already integrated Read/write to the stack function
Sleep/Wake up functionality for the nodes
Support for segmentation of large data packets over LIN TP
LIN Bus Protocol Stack Support and Maintenance Services:

Documentation Support: Low-level design and High-level design documents
LIN conformance test using Vector Tools. This ensures robustness of Data Link Layer
Unit, Integration and Functional testing services
Support for MISRA C Report creation
Meet Our Automotive Leaders
Suresh is the man with solutions. A pro in multitasking, Suresh is always there for his team and also handles the customers' problems with alacrity.

Under Suresh, the automotive team has delivered some very critical projects with the biggest OEMs and suppliers. His ability to understand the customers' pain points and come up with solutions is his biggest virtue.

Suresh Kumar | Technical Manager
(A people's Manager)
LIN Software Stack Factsheet: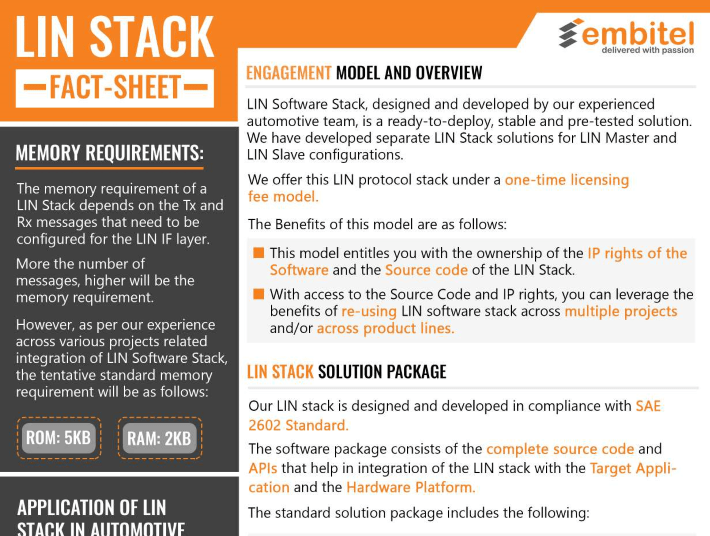 Refer to this LIN protocol stack solution factsheet which is designed to provide details of the technical specifications like memory requirement, LIN Protocol Stack integration & support services etc.
Download this LIN protocol stack Factsheet for details about:
LIN software stack business model and overview
Value-adds of one-time licensing fee engagement model
Detail of LIN protocol stack solution package
Features of our pre-tested and ready-to-integrate LIN software stack solution
Use-cases and applications of LIN protocol stack in automotive industry
Please refer to LIN software stack FAQ's for more details.
FAQs About LIN BUS Protocol Stack Solution
   What is Local Interconnect Network (LIN) BUS Protocol Stack?

LIN protocol is a sub-network deployed in both passenger and off-road vehicles. Unlike CAN, which is a broadcast protocol, LIN is a master/slave communication standard.
Simpler functionalities like wiper, mirror control and washer etc. are usually handled by LIN network.
The LIN master ECU is integrated with the body control module, from where it initiates the command. The LIN master nodes will receive the command over LIN network and act accordingly.
LIN Slave nodes don't communicate with other networks, unless initiated by the LIN master.
   What makes Local Interconnect Network (LIN) important when CAN already handles in-vehicle networking?
Adding too many nodes (ECUs) to the network causes Network BUS slow down. To prevent this, a LIN sub-network is designed. The body control module usually acts as a gateway between the main network (CAN Bus) and the subnets (LIN Bus)
LIN Bus is a single wire network best suited for small applications like wiper and washer etc. Using CAN for such application lead to increase in the software and hardware cost.