The transition to EVs is being primarily driven by rising technical improvement in vehicle electrification, spanning from battery to power electronics, charging to vehicle engineering, as the world prepares for the E-Mobility revolution and the adoption of sustainable forms of transportation.
The "On-Board Charger" (OBC) technology that is included with the electric car enables plug-in hybrid (PHEV) and battery electric vehicles (BEV) to charge their vehicles using AC power or anywhere there is an AC power source, whether at home or in public spaces.
On-Board Charger is effectively in charge of transforming grid-supplied AC power to the DC voltage that is needed to charge the vehicle's battery pack. Besides, It also looks after charging the battery pack in addition to providing charge monitoring and safety.
Embitel, with an experience in the automotive industry spanning over 15 years, helps in custom design and development of On-Board Charger solutions for EVs.
Top 3 challenges faced by OEMSs/Brands while designing On-Board Charger
Keeping in mind the challenges stated above, Embitel Provides On-Board Charger solutions as per National and International standards, compatible with TYPE 1, Type 2, and Type 3 Charging stations.
Our On-Board Charger Solutions Come With the Following Features
Microcontroller board (based upon the requirement)
CAN communication transmission rate 250-KBPS
Implementation of active power decoupling for improving reliability and power density
Input voltage – 150 to 270 Vac
Output power – ≤ 22 kW (or more based on the requirement)
SAE J1772 (Type 1 / Type 2 / Bharat AC-001 connector) standards for power communication
Power factor greater than 95% for all load condition
High Power density
Peak efficiency 94%
Power flow: V2G (optional Bi-directional - G2V or HV to LV)
Compliant with global EV standards and Configurable with all vehicle platforms
Functional safety compliances
On-Board Charger Architecture and Block Diagram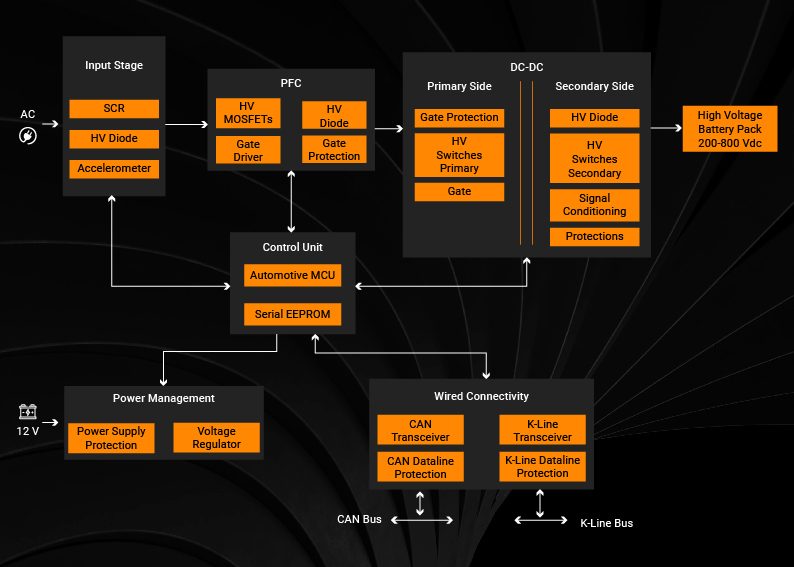 Product Engineering Services for On-Board Charger Solution Development
Power Devices, Passive element and Microcontroller:

SIC MOSFETs technology for high efficiency and high frequency operation.
Distributed air gap sendust cores for inductors for lower losses and better temperature handling.
AUTOSAR based Software.
Firmware, software and Control algorithms development and implementation.
Enclosure Design:

Modular and IP65 rated design of enclosure
Smart packaging of all electronic components to optimize the thermal management and accessibility
CFD analysis for better thermal management
Verification and Validation:

MATLAB simulation of power converter and control loop algorithm verification
Software unit testing
Software integration testing
Software qualification test
System integration and qualification testing
Topologies:

Interleaved PFC for AFE converter stage
Phase shift full bridge ZVS converter for DC-DC stage
LLC converter for Auxiliary converter stage
Active power De-Coupling
Electric Vehicle Charging Protocols that will Define the Future of EVs
Charging an electric vehicle is not as simple as refueling an IC engine vehicle. Compatibility between the electric vehicle supply equipment (EVSE) and the electric vehicle on various parameters has to be established before the charging can begin. - this can be the text for first related blog. 
READ MORE >>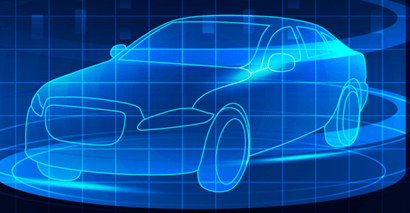 Upcoming Technologies & Software Platforms That Point Towards Electric Vehicle Dominance
One of the major drivers of change of such magnitude is the advancement in EV software and development of platforms that ensure faster development of EV components. Electric vehicle industry is also benefitting from innovations in infotainment system, cybersecurity, and motor control system - text for second related blog.
READ MORE >>