In our journey of 11+ years, we have built a team of experts in automotive electronics, problem-solvers and designers (Embedded Hardware & Software).
We are also part of the trusted ecosystem of Automotive partners. This enables us to deliver Body Control Module solutions and Automotive ECU development services
Features of Our Body Control Module ECU Solution
Our Embedded Software and Hardware development team has delivered automotive electronics solutions ranging from HVAC Control System, Seating Control, Adaptive Lighting Control, Power Windows, Smart Actuators and more.
The following are some of the important value-adds, that have ensured success of our Global Production Programs (in US, UK, China, South Korea, Taiwan and India)
A Snapshot of Our BCM Platform's Features
Our ISO 26262 compliant BCM platform offers a host of built-in features – each one of them designed, developed and tested using the most advanced tools.
Following are the built-in features of our BCM platform
External and Interior lighting

Head lamp
Indicators
Tail lamps
Cabin lamps
Sensor Control

Vehicle Speed Sensing
Engine Speed Sensing
Brakes
Torque
Communication Gateway

CAN to CAN
CAN to LIN
Ethernet to CAN or LIN
CAN to FlexRay
Actuators

Windshield washer system
Central locking system
Motor Control

Seat Adjustment
Mirror Control
Power Window
Sunroof system
Diagnostics Protocol

UDS (ISO 14229)
SAE J1939
OBD
DoIP (ISO 13400)
Radio Frequency Communication

Application Development

Fuel Level Monitoring
Gear Advisory system
Fuel Economy
Technology Architecture of our Body Control Module Platform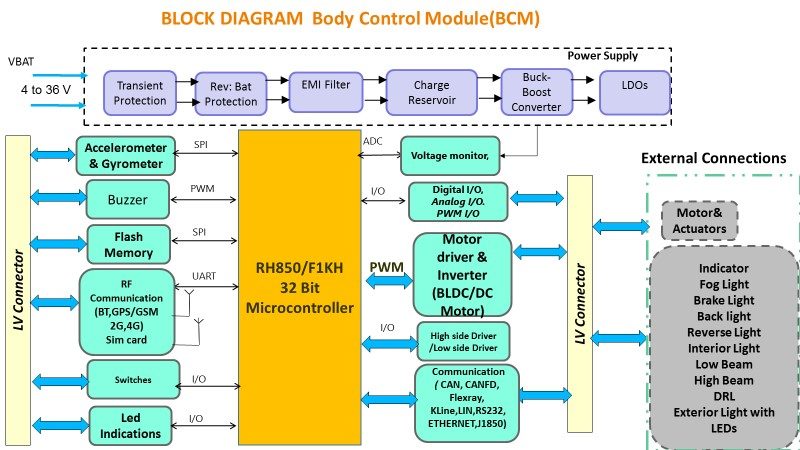 Our BCM platform is developed on RH850 microcontroller from Renesas.
Applications are developed using MATLAB/ SIMULINK tools based on MBD methodology.
Integration of various ECU communication and vehicle diagnostic protocols ensure reduced time-to-market.
Thanks to its Gateway feature, our BCM solution can co-exist with legacy BCM in the vehicle.
The BCM platform has been developed as per ISO 26262 standard.
Automotive Electronics Solution Development: HVAC Control System, Seating Control, Power Windows & more
Let's transform your body electronics product ideas into business reality.
Partner with us for Model Based Development (MBD) of Automotive Electronics (Body Electronics) solutions. Schedule a demo today, to find out how we can reduce time-to-market by leveraging:
Ready-to-deploy in-vehicle networking and vehicles diagnostics solutions (please add some names with ISO standards)
And Embedded Software and Hardware design and development expertise.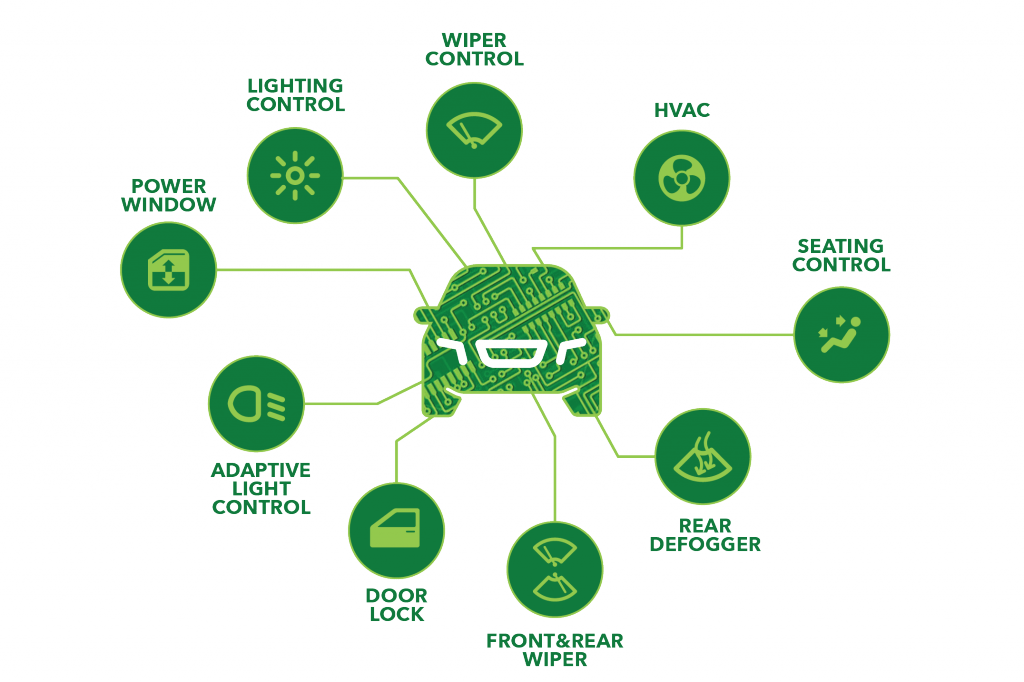 Product Engineering Services: AUTOSAR, MBD, Functional Safety & BCM ECU Testing
Hardware & Firmware Development

Automotive-grade hardware and software development services in accordance to the functional safety and reliability norms of ISO 26262
End to end support in the design and development of Board Support Package(BSP), communication stack for control units (ECU), device drivers, middleware and application.
Fast and efficient integration of sensors, actuators and motors (BLDC and PMSM motors) for automotive Electronic Control Units (ECU), as per your requirements.
Model Based Development

Ensuring secured communication between the cloud and the IoT gateway through

Strong player in MATLAB/Simulink and auto code generation (Target Link and RTW)
Scalable and reliable body control module ECU software and hardware testing services– Model in loop (MIL) testing and Hardware in Loop (HIL) testing
In-vehicle Networking and Vehicle Diagnostics Services

Pre-tested, pre-packaged as well as 're-usable' automotive stacks to help you with reduced time-to-market and an optimized cost for automotive ECU software development
Strong domain expertise in in-vehicle network architecture like CAN, LIN, FlexRay, MOST
Robust integration, configuration and customization solutions for automotive communication and diagnostic protocol stacks – UDS (ISO 14229), SAE J1939, KWP2000, ISOBUS (ISO 11783), OBD2 (ISO 15031)
Experience in integration of 3rd party automotive stacks as per the best industry standards
AUTOSAR and ISO 26262 services

AUTOSAR RTE, BSW and COM stack configuration and integration services as per the industry standards
Specialised AUTOSAR MCAL development solutions for ECU including– Microcontroller, Communication & I/O Drivers development code generation for tools and automated MIL & SIL testing
Embitel has a rich experience in a range of AUTOSAR Tools– Comasso, Vector , ECU Spectrum, KSAR AUTOSAR for configuration, DaVinci Developer tool for software architecture design,Pearl and Python for code generation
Functional safety consulting and development services in compliance with the ISO26262 standards
Expert solutions for ASIL B, ASIL C and ASIL D complaint automotive electronics (ECU software and hardware)
ECU Testing Services

Embitel offers fully integrated verification and validation services that includes unit testing (white box), integration testing, functional testing, MIL and HIL testing of safety critical body control modules.
Related Blogs and Videos: Body Control Modules and Automotive Electronics
Customer Success Stories: BLE, CAN FD stack integration, Model Based Development and more
Learn more about our Automotive ECU success stories including Seating Control Unit Development, Flash Bootloader Software Development, and Model Based Development of automotive ECUs.
We have partnered with global OEMs' and Suppliers in building efficient body control modules and Electronic Control Unit solutions:
FAQs Regarding Our Body Control Module Reference Design, Architecture and Services