We have partnered with global OEMs from the Automotive and Industrial Automation space and successfully delivered Embedded RTOS programming and porting related projects.
A snapshot of our experience in kernel porting and application development for Embedded Real Time Operating System (RTOS):
Our teams have in-depth expertise in a wide range of hardware platforms and architectures like LPC series from NXP semiconductors, STM32F4 series from ST Microelectronics – to name a few.
Embedded RTOS Programming and Porting Services
Hardware & Software Consulting Services

Evaluation and selection of the Microcontroller (MCU) platform
Analysis of RTOS features required for your embedded system
Evaluation and selection of RTOS best suited for your embedded system
RTOS Kernel Porting to the Target Platform

Setting up the interrupt subsystem
Setting up the Timer subsystem
Configuring and adding the required lightweight library components supported by RTOS
Support for Application Development

Application design
Source Code Development
Source Code Compilation
Downloading of the executable files to the target/MCU board
Execution of the application program on the target platform
Tools: MCU IDE (this includes component editor, compiler, linker, and debugger).
RTOS Kernel Configuration

Testing the compatibility of RTOS Kernel port with the selected MCU
Configuring the Kernel based on the target MCU framework/specifications
Device Driver Development

Development of Device drivers for the peripherals supported by the MCU platform
Support for Flash Bootloader software development and BSP (Board Support Package) customization
Integration of the BSP layer as per the RTOS specifications
Validation & Debugging of the Complete Application

Support for debugging and validation along with performance optimization of the complete application
Support for functional testing, performance testing and sanity testing of each module
Architecture Diagram of Embedded RTOS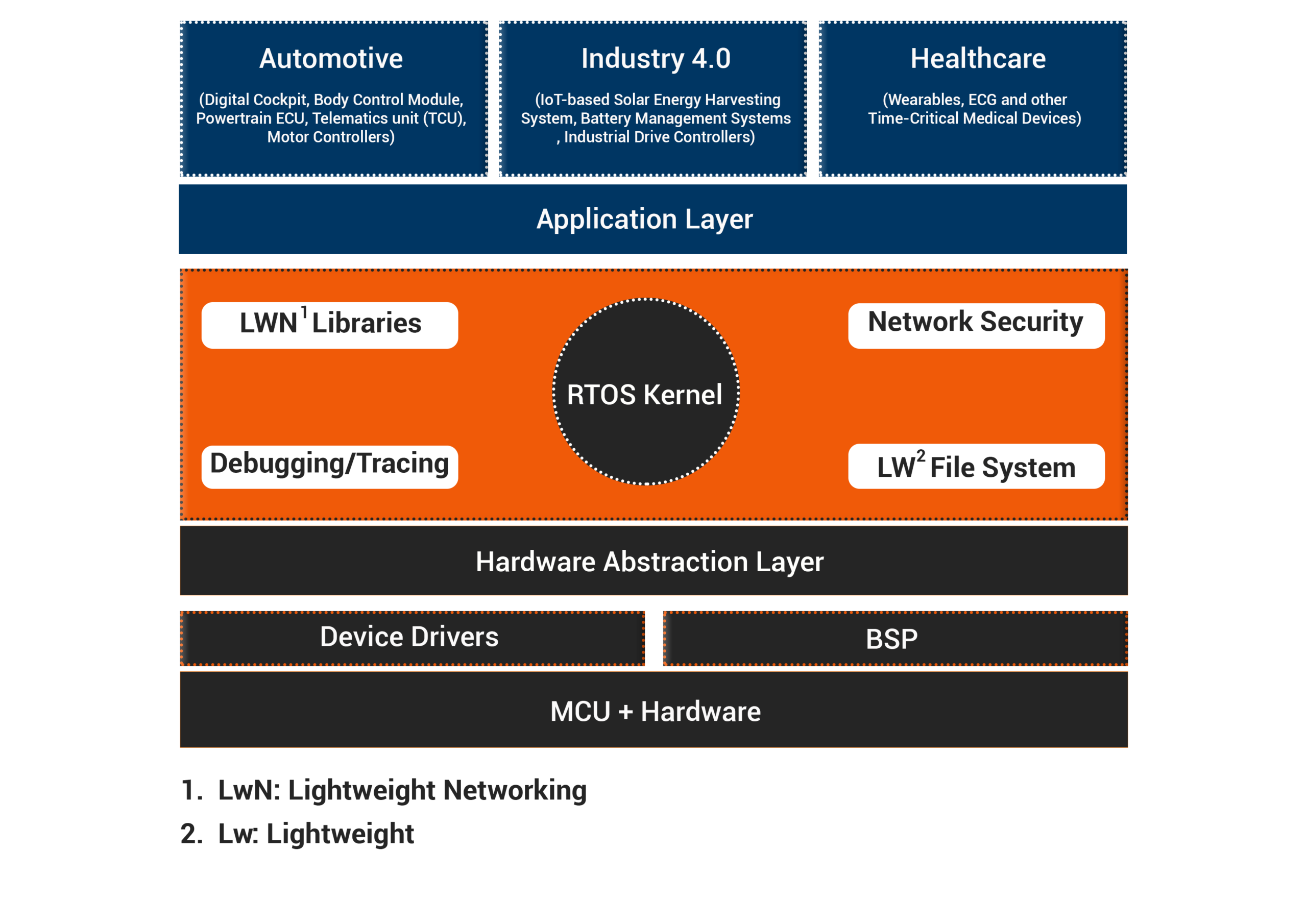 RTOS Programming & Kernel Porting – Customer Success Stories
The following customer success-stories are testimonials of our expertise in Embedded RTOS porting:
Business Value-Adds of RTOS:
RTOS is suitable time-critical applications. RTOS makes it possible to allocate processor resources to high priority tasks without delay. Hence an RTOS ensures that your application can respond to an urgent event immediately.
RTOS enables your system to efficiently manage and synchronize multiple processes, with the help of schedulers.
It often has a low memory footprint and is ideal for microcontroller platforms.
Emmanuel is our superstar IoT Solution Architect! With experience spanning 20 years in Embedded Systems Engineering, he is a vital part of our IoT BU.

His ability to translate the customer's product vision into a cutting-edge solution is commendable. A great team player, Emmanuel has been at the helm of some of our most challenging projects till date.

Emmanuel P John, Solution Architect – IoT
Suhas is an industry veteran with more than 25 years of experience in the domain of Embedded Engineering and Software Development.

His exemplary leadership skills have ensured that several challenging RTOS programming projects were successfully delivered on time.

Suhas Tanawade, Senior Delivery and Account Manager, IoT
(Mr. Perfectionist)
Customer FAQs regarding RTOS Programming and Kernel Porting
Related Blogs: Learn More About Embedded RTOS Programming & Kernel Porting