Our Business Engagement Model: Key Benefits
Our pre-tested and ready-to-deploy WWH-OBD software stack (ISO 27145), consists of the following modules:
ISOTP layer (ISO 15765) and
An integrated DoIP software stack.
The stack has an edge over an OBD-II solution, as WWH-OBD can be deployed for both passenger and commercial vehicle programs. The baud-rate incompatibility issues in different geographies is also taken care of, as it is a harmonized protocol that caters to different CAN bus baud-rates (125 kbps/250 Kbps).
We offer our WWH-OBD stack solution under a one-time licensing fee model. This engagement model has a slew of benefits that have proved to be value-adds for our customers across Europe, US, India and China.
The following are some of the benefits of one-time licensing model:
As a customer, you will jointly own the IP rights of the WWH-OBD protocol software.
This will enable you to deploy the WWH-OBD stack solution in multiple production programs
This can translate into a substantial cost, time and effort savings in new Product Development and/or R&D initiatives
WWH-OBD Details of the Software Architecture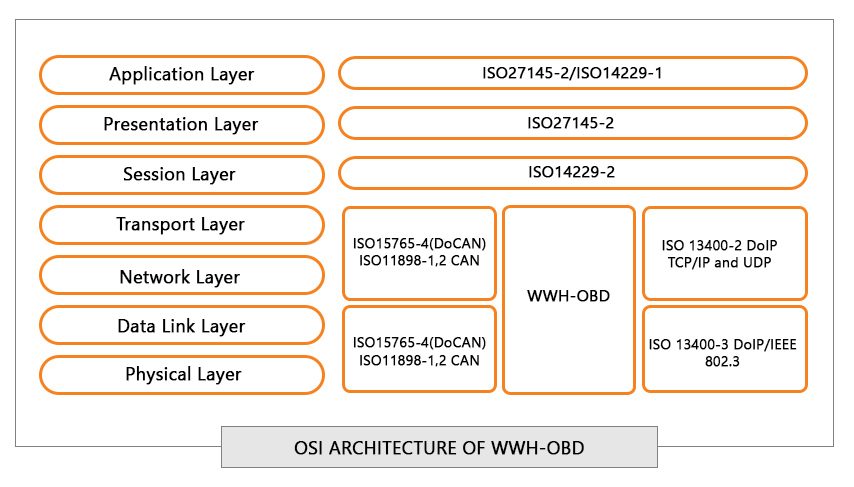 WWH-OBD (ISO 27145) Architecture highlights the consolidation of DoCAN, ISO TP, DoIP and UDS protocols
The Architecture enables implementation across commercial/passenger vehicle and server and client side tooling solutions
WWH-OBD Stack Integration, Configuration and Testing Services
Worldwide Harmonic (WWH) OBD software stack has been designed for both Client (Automotive Tester Tools) and Server Sides (on-board vehicle).
Our WWH-OBD protocol stack is a consolidation of entire OBD specifications, which can be integrated with both passengers as well as commercial vehicle applications.
WWH-OBD (ISO27145) Stack Development for Automotive ECUs:

Implementation of physical layers (CAN and Ethernet)
Support for OBD modes and PIDs configuration
Support for Integration of WWH-OBD ISOTP
Support for both Server and Client-side application development
Integration with a Ready-to-deploy DoIP Stack
Support for Client-side Tool Development:

Support for PC Based Tooling System Development
Support for Mobile Based Tooling Application Development
Support for Integration of WWH-OBD stack with other client-side tools
Solutions for Vehicle Data Collection:

Workshops to develop strategies for vehicle data collection, as per the project requirements
Functional and design audits for legacy system, if applicable
Support for data collection for Electric Vehicle (EV) applications
Solution Design for after-market automotive products:

WWH-OBD stack development, integration and testing services for after-market products
Integration support for vehicle data collection and processing
Support for access to vehicle parameters (PIDs)
Integration, testing and maintenance support for vehicle ECUs like Telematics Control Unit (TCU), ADAS, and BMS etc.
Support for integration of WWH-OBD stack with Electric Vehicle ECUs.
Meet Our Automotive Leaders
Suresh is the man with solutions. A pro in multitasking, Suresh is always there for his team and also handles the customers' problems with alacrity.

Under Suresh, the automotive team has delivered some very critical projects with the biggest OEMs and suppliers. His ability to understand the customers' pain points and come up with solutions is his biggest virtue.

Suresh Kumar | Technical Manager
(A people's Manager)
FAQs Regarding WWH-OBD Software Stack
   What is WWH-OBD?
WWH-OBD (ISO 27145) stands for World-Wide Harmonized On-board Diagnostics.
As the name suggests, this on-board diagnostics protocol is a consolidated standard/specification that includes the specifications for OBD solution which is compatible with both passenger and commercial vehicle.
Another add-on is its capability to handle varying baud-rates of CAN Bus used in different geographies.
Also, the WWH-OBD protocol is supported over two physical mediums- CAN and Ethernet (DoIP). This protocol is the latest new step taken by the industry, towards standardization across the automotive sector.
It also makes life easier for the client-side tool manufacturers, as they now have to build testing tools that need to support only CAN and Ethernet.
Related Blogs and Vlogs: Learn More About WWH-OBD Protocol and Its Implementation