Complexity of modern automotive software demands development methodologies that save time and ensure reliability. We at Embitel, achieve this by using modelling techniques powered by tools like MATLAB, Simulink and Simscape, and more.
Automation of processes like code generation, testing and documentation lead to faster time to market, something that automotive companies always aspire. Model Based Development (MBD) can result in average costs savings of 25%-30% and time savings of 35%-40% (according to a global study by Altran Technologies, the chair of software and systems engineering and the chair of Information Management of the University of Technology in Munich)
Over the past decade, our team of MATLAB programming experts has been delivering cost and time savings with Model Based Design approach for product development.
Use Cases for Model Based Development of Automotive Embedded Software
Embitel has successfully delivered automotive software developed using Model based design methodology. Our expertise in MBD powered automotive product development spans across the following areas:
MBD Software Code Generation: Compliant with Automotive Industry Standards
AUTOSAR compliant MBD code generation, with the help of tool-boxes like E-coder, AUTOSAR ERTL etc.
Complete conformance to Mathworks Automotive Advisory Board (MAAB) guidelines in module development using Model Advisor toolbox
Deployment of tools like Polyspace to ensure that the software code generated using the Model Based Design approach is MISRA C compliant
A Handbook on Model Based Development
Learn about the process of MBD and our capabilities in model based development of automotive solutions
MBD Software Services for Automotive Product Development
Requirement Maturation
Model Based Design of System level architecture and solution services
Identification of maximum possible issues/queries during H/W & S/W requirement analysis
Requirement freezing after resolution of these issues
Migration from Non-MBD to MBD paradigm
Architecture Development
Modules/ Component Development in MATLAB, Simulink, Stateflow as per MAAB guidelines
Memory Optimization for RAM/ROM according to MAAB guidelines
ISO 26262 Compliant Models Rapid Prototyping- Virtual Prototyping, External Bypass etc.
Verification & Validation Services
Model in Loop Testing (MIL)
Software in Loop Testing (SIL)
Hardware in Loop Testing (HIL)
Processor in loop testing (PIL)
Simulink Design Verifier
Verification and Validation (V&V) of MATLAB Simulink Models
ISO 26262 Compliant MBD approach
Software development in compliance with ISO 26262 (part 6)
Support for development focused on ISO 26262 requirements specific to Model Based Design
All additional V&V requirements are fulfilled based on ISO 26262 standard
Models are created based on the requirements as per the ISO 26262 modelling guidelines
Auto Code Generation
Code Generation using Target Link (MATLAB model conversion to Target Link Model)
Code Generation with Matlab E-coder
MISRA, AUTOSAR compliant code
Custom Code Generation with Custom Target Language Compiler and E-coder
Integration Services
Application & LLD Interface Development
Integration Testing in real time environment to ensure error free module interactions
Testing on real-time hardware (bench testing) (HIL)
Testing on a target processor if real-time hardware is not present (PIL)
Floating to Fixed Point Conversion
Support for Conversion of Floating point models to Fixed point models as per customer requirements using Mathwork Fixed Point Converter Tool Box.
Support for Conversion of floating point Matlab code to fixed point code.
Code generation & testing of floating and fixed point models for the comparison of results, in order to ensure expected accuracy.
Customer Success Stories of Model Based Design and Development
FAQ's Regarding Model Based Development
Our Expertise in MBD Tools and Technologies
Target Link for MIL Testing and SIL Testing
E-coder for code generation
GT-Power, Amesis, Tesis for Environment Model Development
ASCET, Statemate and SCADE for functional development
AUTOSAR ERTL (for AUTOSAR compliant code)
Custom Target Language Compiler (for customized compilation)
Vector tools for Hardware in Loop (HIL) Testing
Embitel's Model Based Development Methodology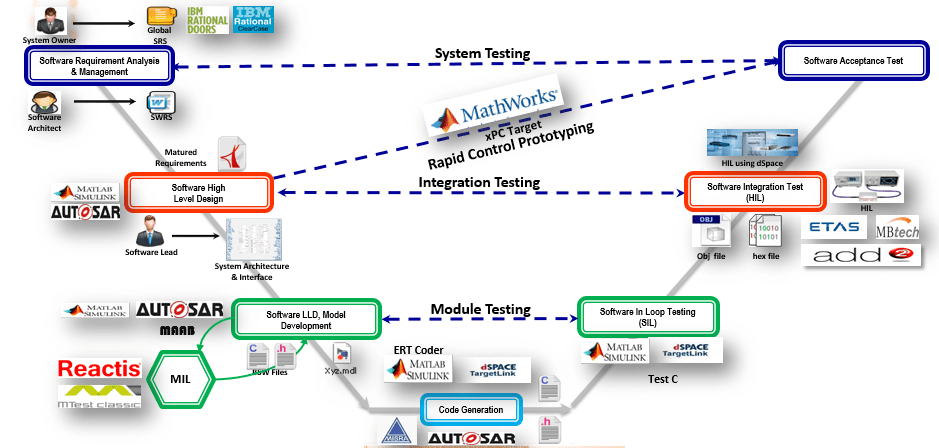 Why choose Model Based Development Over Manual Coding

Reduced system complexity
Test suite reusability
Design reusability to multiple hardware target deployment
Automatic code generation
Continuous error identification and correction
Enhanced efficiency of up to 50%
Reduced time-to-market and overall cost of development
  What is Model Based Development?

Model based development (MBD) is a software development methodology based on V-cycle.
The model based approach enables a developer to simulate the models for the complex control processes.

These software models can be tested to assess the performance in real-time. Once finalized, the code can be auto-generated from the models, using code generation tools.
This way, the product can be tested at every stage of its development before the code is generated.
Here is a snapshot of Model Based development process:
Requirement Maturation: Hardware and Software requirement analysis is performed as the first step to weed out maximum number of design issues.
Model Simulation: The desired functionalities are expressed in the form of mathematical formula which eventually become models using simulation tools like MathWorks Simulink.
Testing and Validation: Software-in-loop, model-in-loop and hardware-in-loop testing are performed on the model. As it is an iterative cycle, any issue found at any stage is rectified by tracing it back to its previous stage.
Code Generation: Code is auto generated from the tested and verified models.
  What are the Advantages of Model Based Design and Development?
The advantages are many that have made model-driven approach, a method of choice for automotive software development. Model Based Design approach renders a great value-add for development of powertrain and chassis control applications, in particular.
A few of MBD's advantages:
Continuous testing of the software at every stage ensures that it is free from bugs/ errors and is of the highest quality.
Time-to-market is reduced considerably as code doesn't have to be written manually.
MBD makes it easier to design Complex functions, as it requires less iterations.
Cost of development is reduced.
Test suites can be reused for different production programs.