Adobe Experience Manager Vs Traditional DAM & CMS Solutions: A Comparison
Traditional CMS & DAM platforms
Limited and Rigid DAM

Marketing Team may lose some steam , as IT Teams struggle with integration with 3rd Party Systems
Delayed Product launches: courtesy multiple 3rd party tools for Content Authoring, Multi-Site & Channel Management
Managing multiple websites can get complex and expensive
Traditional CMS & DAM platforms
A fully integrated DAM – seamless storage, editing and publishing of assets
AEM offers inherent seamless integration across Adobe Marketing Cloud (Adobe Analytics, Adobe Campaign, and Adobe Target).
Product content launches can become 40% faster than
traditional CMS.
Enables smoother optimization & customization of multiple websites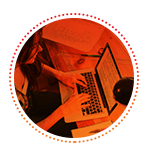 Why you can trust AEM as a CMS and DAM solution?
Adobe Experience Manager (AEM), a Wonder Kid from the Adobe Marketing Cloud Family, is a CMS and DAM solution which is admired by the Global Community of Marketing and IT Teams
AEM has everything an e-commerce business needs to deliver a seamless, unified & a personalized experience to today's digital savvy customer, across all the touchpoints.
Find out how AEM + Magento Commerce + Embitel Technologies can help!
Partnering with Embitel offers your e-commerce platform some significant advantages. Take a look
ADOBE SOLUTION PARTNER
Work with an authorized Adobe
representative

DOUBLE ADVANTAGE
Embitel = AEM + Magento

AEM INTEGRATION
Complete integration with Adobe
Cloud and 3rd Party e-commerce
solutions

RESPONSIVE UI DESIGN
Design, branding & wireframe
creation support for intuitive
e-commerce platform

MULTI-TIER APPROACH
Collaborate – Plan – Execute – Deliver –
Support method of Project Management

CERTIFIED PROFESSIONALS
Work with professionals trained in Magento
and AEM

GLOBAL QC NORMS
Appraised at CMMi Level |||.
Recognised by ISO 9001-2015
and ISO 27001-2013

AEM MIGRATION
100% support for quick migration
to new platform

STRATEGIC SOLUTION
Insight, Analytics, Mapping User
Journey & Omni-channel
technology consulting
As an Adobe Solutions Partner,
Magento Professional Solutions Partner,
and APN Standard Consulting Partner
(Amazon Web Services) , we deliver
tailor-made digital commerce solution.
Our Expert ecommerce team consisting of project managers, solution architects, team leads, Magento certified developers, UI/UX designers and business consultants have been at the forefront of delivering "Experience- Driven Digital Commerce Solutions".
We have partnered with global business brands from diverse industry verticals like Retail, Food & Beverages, Healthcare, Lifestyle, & many more.
Appraised at CMMi Level III. ISO 9001-2015 and ISO 27001-2013 certified QM Process.