Adobe Experience Manager Implementation and Consulting
Adobe Experience Manager helps businesses benefit from the power of a robust content management system coupled with digital asset management. It delivers exceptional digital experiences for the customer to boost brand loyalty and drive demand.
A certified Adobe Solution Partner , Embitel has been partnering with global businesses to transform their strategy into reality. Our intuitive designs and interfaces simplify the ecommerce journey of the user and place them at the center of the experience.
Partner with us to implement Adobe Experience Manager and realize immersive user experiences, targeted brand positioning and omnichannel engagement success.
Adobe Experience Manager Vs Traditional DAM & CMS Solutions: A Comparison
Traditional CMS & DAM platforms
Limited and Rigid DAM

Marketing Team may lose some steam , as IT Teams struggle with integration with 3rd Party Systems
Delayed Product launches: courtesy multiple 3rd party tools for Content Authoring, Multi-Site & Channel Management
Managing multiple websites can get complex and expensive
Adobe Experience Manager
A fully integrated DAM – seamless storage, editing and publishing of assets
AEM offers inherent seamless integration across Adobe Marketing Cloud (Adobe Analytics, Adobe Campaign, and Adobe Target).
Product content launches can become 40% faster than
traditional CMS.
Enables smoother optimization & customization of multiple websites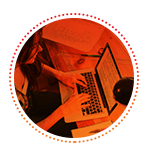 Why you can trust AEM as a CMS and DAM solution?
Adobe Experience Manager (AEM), a Wonder Kid from the Adobe Marketing Cloud Family, is a CMS and DAM solution which is admired by the Global Community of Marketing and IT Teams
AEM has everything an e-commerce business needs to deliver a seamless, unified & a personalized experience to today's digital savvy customer, across all the touchpoints.
Adobe Experience Manager (AEM) Services
Why Embitel?
We are a certified Adobe Solution Partner with more than 13 years of industry experience.
We offer agile services while delivering quality in every engagement solution.
Our experts can focus on the architecture, optimization and maintenance of your digital platform while you concentrate on leveraging positive customer experiences.
We offer end-to-end assistance in implementation of AEM. This includes participation in workshops/strategy meetings, migration to AEM, redesign, application support, integration with other platforms and data analytics.