Business Model for OBD2 Software Stack Solution
Leverage the benefits of one-time licensing fee model for this stable, pre-tested and industry recognized OBD2 Software Solution.
Under this business model, we offer IP rights and the complete source code of the OBD2 software. This facilitates our customers to integrate the OBD2 Protocol stack across different projects and/or product lines.
Our OBD2 protocol software has been successfully deployed in various automotive series productions including Fleet safety solutions, Body Control Module and more.
OBD2 Software Stack Design and Development Services:
OBD2 Protocol Stack Development for Automotive ECU and Tooling Applications

Implementation of physical layers (CAN, J1850. K-Line and more) as per the project requirement
Implementation of OBD modes and PID (Parameter IDs') as per OBD2 protocol
OBD2 software integration with automotive ECU application software
Fault code memory implementation
Integration of OBD2 Bluetooth Stack
Vehicle Data Collection Solutions for OBD2 protocol

Consulting workshops to understand the vehicle data collection requirements for OBD2 protocol implementation
Complete design and functional audit of the existing/legacy system (if any)
OBD2 software design and development services for data collection from on-road vehicles
Solution Design for After-Market Automotive Products

OBD2 software integration, design and development services for after-market automotive products/solutions
Support for access to vehicle parameters, development of OBD diagnostic interface, data collection and processing
Development, testing and maintenance support for Telematics, ADAS, Remote Vehicle Diagnostics, Driver Behavior Analysis
Support for OBD2 Bluetooth and OBD2 Android in solution development
Support for software development for OBD2 Scanner tooling system
OBD2 protocol stack implementation on physical layers

Support for implementation on all automotive physical layers - CAN, K-Line, ISO9141, PWM and VPW (J1850)
A Hand-book on OBD Modes and Services: Learn more about OBD2 protocol stack architecture, OBD modes, DTCs and PIDs
Meet Our Automotive Leaders
Suresh is the man with solutions. A pro in multitasking, Suresh is always there for his team and also handles the customers' problems with alacrity.

Under Suresh, the automotive team has delivered some very critical projects with the biggest OEMs and suppliers. His ability to understand the customers' pain points and come up with solutions is his biggest virtue.

Suresh Kumar | Technical Manager
(A people's Manager)
Kuldeep's passion for automotive makes him a "go getter". He is a perfect blend of smart and hard work and is willing to go that extra mile to get a problem solved.

He actively participates in entire project journey from requirement gathering to the project delivery. He has also played a key role in establishing Embitel as a trusted technology partner across Europe region.


Kuldeep Singh | Business Manager
(Loves all things 'Automotive', a passionate biker!)
OBD2 Software Stack Factsheet: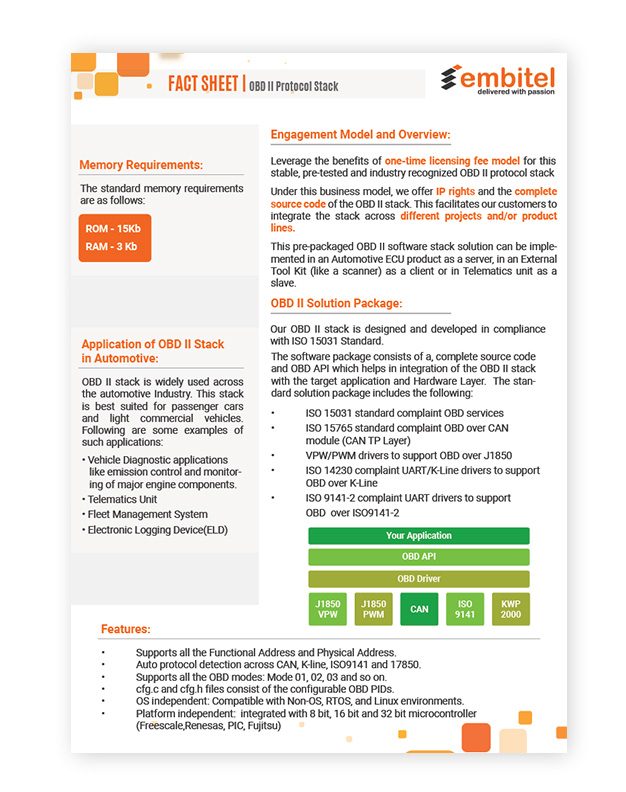 Refer this handbook to know the details of our ready-to-deploy OBD2 stack for diagnostic and emissions control in passenger vehicles.
Download this OBD2 PDF to get following information:
OBD2 protocol license fee, engagement model, and overview
Benefits of IP rights and OBD2 source code
OBD2 Protocol Features, platform details, OS compatibility and memory requirements
OBD2 software stack Development, testing, support and maintenance services
Refer to the OBD2 FAQ sections for more details.
Video Explaining the Need for OBD2 protocol and Off-board Diagnostics
Advantages of Integrating the OBD2 software:
OBD II software stack supports all physical layers – CAN, K-Line, ISO9141, PWM and VPW (J1850)
Pre-tested software stack: OBD2 software stack has been tested for integration in both automotive control units and tooling applications
This OBD II stack is designed to support all OBD modes
Platform independent – OBD2 stack can be integrated with Non-OS, RTOS, and Linux environments
This automotive on-board diagnostics software stack has been pre-tested for integrations with multiple embedded platforms – Freescale, Renesas, PIC, Fujitsu and more.
Our OBD2 protocol stack has been designed to ensure reduction in time to market and development costs for the customers
OBD2 Software Design Implementation: Hardware and Software Expertise
| | | |
| --- | --- | --- |
| OBD module | Hardware | Software |
| OBD services | NA | ISO 15031 |
| OBD over CAN | CAN support in microcontroller CAN transceiver | ISO15765 (CAN TP layer) |
| OBD over J1850 (VPW/PWM) | PWM support in microcontroller 1850 transceiver | PWM driver VPW/PWM driver based on J1850 standard |
| OBD over K-Line | UART support in microcontroller K-Line/ISO9141 transceiver | UART driver K-Line driver (based on ISO14230) |
| OBD over ISO9141-2 | UART support in microcontroller K-Line/ISO9141 transceiver | UART driver ISO9141-2 driver |
Why Partner with us for OBD2 Protocol Stack Integration Project:
Leverage our automotive domain expertise and project experience in OBD II  protocol stack integration to reduce time-to-market and application development costs
We are a CMMi Level 3 and ISO 9001:2008 & ISO 27001:2013 certified organization
Robust project management processes based on EmbiQ – an engagement model. This model is built on three critical pillars – People, Process and Technology.
OBD II Software Stack Business Impact: Customer Success Story
Business Challenge: Design, development and testing of OBD II stack for Engine Control Unit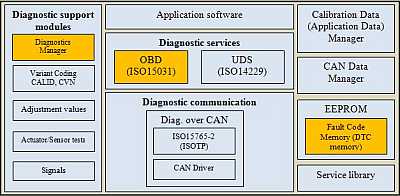 Our team of automotive embedded developers designed following OBD modules after the initial requirement gathering workshop with the automotive customer:
Diagnostic System Manager (DSM) with Fault Code Memory: DSM modules collects test results reported by the monitoring functions. Current fault states and derived error memory entries are stored in standard form and is readily accessible to the application software and Tester communication.
OBD Diagnostics Services: This module provides external access to fault code memory and other emission relevant data. A generic OBD scan tool can be connected to the ECU to read emission related data.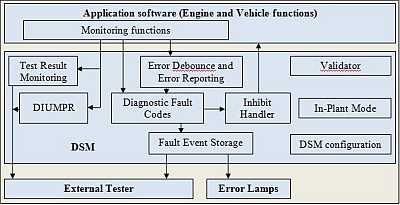 For more details about the OBD implementation and tools and technology deployed for this project, please refer to the entire case-study here.
Related Blogs: Learn More about OBD2 Software Stack Solution for Automotive Diagnostics