Led by a Team of Hardware Design Consultants and ISO 26262 experts, we are a trusted technology partner for development of CISPR, ISO/IEC compliant hardware solutions for automotive product development projects.
With experience in hardware development services for Android Infotainment, Digital Instrument Cluster, Motor Control Systems, Seating Control Systems & more, we have helped our customers achieve the desired ASIL (ASIL B/ ASIL C/ ASIL D) Compliance.
Hardware Development Services for ISO 26262 Compliant Automotive Solutions: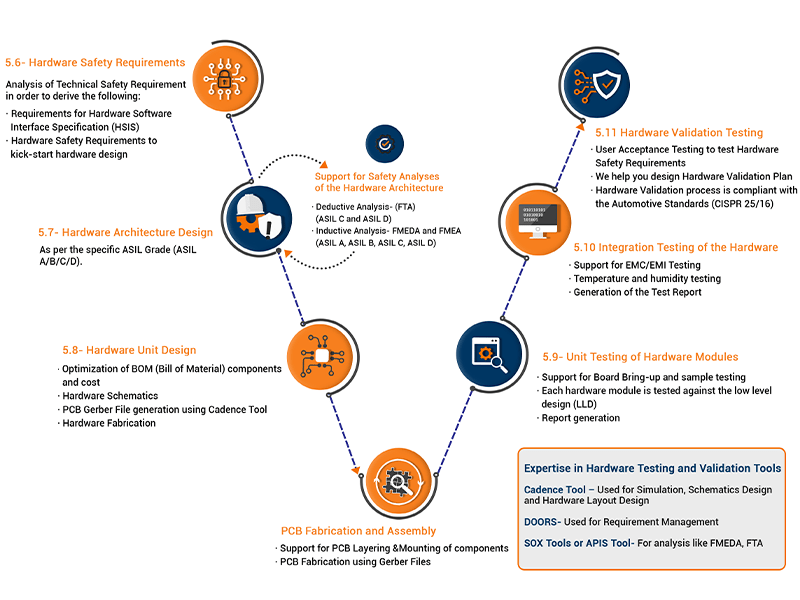 FMEDA Services for Deriving Hardware Metrics
Quantitative Analysis of hardware components is a crucial safety activity in the functional safety lifecycle of an automotive products.
FMEDA is one of the industry wide accepted methods to derive hardware architectural metrics such as SPFM, LFM and PMHF.
These metrics are the key factors to detect component failure and ensure that the required safety state is achieved.
Our FMEDA services include:
Calculation of the FIT value by BOM analysis using tools like SOX, Medini Analyze and others
Derivation of SPFM, LFM, PMHF metrics
Support for gap analysis
Assistance in finding additional safety mechanisms
Hardware metrics report generation
[Video on ISO 26262] How to Derive SPFM, LFM & PMHF using FMEDA Method
Customer Success Stories: ISO 26262 Compliant Hardware Design and Development for Motor Control System
Analysis of the Hardware Metrics for ASIL-B complaint Motor Controller: We partnered with a Europe (Spain) based Tier-1 supplier for this project.
Support in deriving the metrics using FMEDA (Failure modes, Effects and Diagnostics Analysis).
We leveraged our expertise in SOX tool (from ENCO), for successfully performing the FMEDA
Our ISO 26262 Consultants successfully derived metrics like SPFM, LFM and PMHF
Based on the observations and results suggested by these metrics, we recommended the necessary improvements in the system design
Expertise in Hardware Testing and Validation Tools
Cadence Tool – Used for Simulation, Schematics Design and Hardware Layout Design
DOORS– Used for Requirement Management
SOX Tools or APIS Tool– For analyses like FMEDA, FTA and more
IEC 62380– The catalog that runs in the background of SOX tool to give FIT value of hardware components
Related Blogs, Videos and Webinars: Learn more about Safety Activities involved in ISO 26262 Hardware Development