Mobile App Development Company in Bangalore
Embitel Technologies is a mobile app development company in Bangalore, India, with expertise and experience in mobile app development for B2B and B2C ecommerce, IoT and enterprise mobility. Embitel is an ISO 27001:2013 and ISO 9001:2008 certified organization, and has been appraised at CMMI Level III.
App Development Process
Steps in mobile app development include:
Conceptualization: effective conceptualization is the foundation of a successful app. This stage addresses all the aspects of the app, from target market research to what will make the app unique.
Drawing up wireframes& designing the UI: A representation of the skeletal structure of the mobile app, wireframes take the idea and concept one step further and provide a design on paper that is easier to visualize. This stage helps one assess the usability of the app and determine navigation from section to the other.
Development (server side logic, caching of data, synchronization of app data etc.): Programming and coding begins. Accessing backend data, configuring with servers, creating for the different sections of the app, all this is done through agile development to allow iterations and continuous improvement.
Testing: A complete version of the app is finally ready, and it's time to test it to spot bugs and effect improvements. User Acceptance Testing (UAT) and beta testing may be carried out, and the testing tools may also be used to fine comb the app.
Deployment: Once the app is deemed ready, it's launched in respective app stores and marketing activities to promote the app are carried out. Even after launch, an app needs regular attention to ensure smooth functioning, bug fixes and build enhancements.
Embitel App Development Team
Embitel's team of experienced app developers and UI/UX designers work together to complete these stages efficiently using the EmbiQengagement model for app development. As per the EmbiQ model, process quality is maintained for agile development and predictable outcomes. The Embitel app development team has extensive experience in native app development for Android, iOS and Windows. Native apps can exploit the capabilities of the device, can target different screen sizes more easily, and support push notifications. They also offer the scope for an excellent user experience. Our team has experience in building apps for some of the leading brands across various sectors, and offers highly customized solutions to achieve the best possible results. Whether it is the unique requirements of hyperlocal services or building an app to support a large number of SKUs, we support all requirements with extensive knowledge and experience.
Mobile app development cost & delivery
Embitel has a customer-friendly mobile app development business model with fixed costs. The 'time and money' model is followed at a fixed hourly rate, charged for the direct cost of labour for per hour involved. Embitel offers either on site or offsite delivery systems, or a combination of the two, as based on customer requirement. On site development involves a team based at the client's location, developing to the specific needs of the client while having direct contact all through. For off site development, a team will work out of our location in Bangalore, India, to develop the app. This model helps reduce cost of development for the client.
Industries covered for App Development at Embitel
Embitel has carried our ecommerce implementation, whether on websites or on mobile apps, for renowned brands from various industry sectors in India as well as the Middle East. Some of the sectors we have carried out ecommerce and app development are:
Grocery
Food & beverage
Kids
Stationery
Marketplace implementation
Electronics
Jewelry
Services
Embitel's Mobile App Development Customers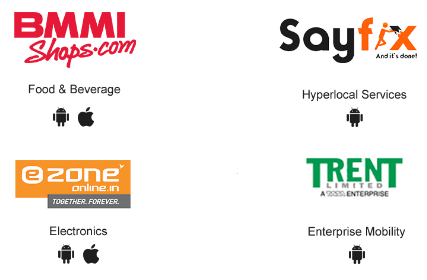 Embitel has carried out app native app development for leading industry names in various sectors. Among these are:
Sayfix: The task was to build an efficient Android app for a hyperlocal household services providerwithin a restricted time period. The app was built with a Magento backend, with features specific to the services business, and had promotional capabilities too. Within a month of launch, the app had over 5000 downloads and over 90% returning customers.
BMMI Shops: We've built a Magento webstore and mobile app for BMMI Shops, Bahrain's leading beverage distributor and retailer. The client was dissatisfied with its existing webstore, and a new website addressed all the issues while the mobile app helped them reach out to customers anywhere, at any time.
Tata Trent: The Indian retail giant sought to automate its vendor empanelment process to improve productivity. We developed an enterprise mobile app for Tata Trent that fulfilled their specific requirements, and also provides data analytics for advanced process insights.
Ezone: Embitel has developed a retail website as well as an app for one of India's leading electronics retailers. The app displays a large volume of SKUs and facilitates all shopping privileges such as exchange, finance support, data transfer etc., making the app versatile and useful.
For more information on our
mobile app development services
, or if you have any queries, please contact us.
Case studies
Lapp India
LAPP INDIA is a 100% subsidiary of the LAPP GROUP (one of the leading cable companies in the world). The Bangalore manufacturing unit which started operations in 1996, is currently the third largest manufacturing facility of the Lapp Group. Lapp India collaborated with Embitel with an aim to be a pioneer in the online cable business
Compuindia
Compuindia is a Dell Express Shipping Affiliate store owned and operated by GNG Electronics Pvt. Ltd., one of the largest affiliates of Dell India.Dell is India's leading PC brand with a large share of their sales happening online. Compuindia aims at providing the widest range of products at competitive rates with a faster delivery