A Battery Management System manages the health of the battery pack installed in electric vehicles. It acts as a safeguard against various issues that can cause the battery to malfunction. The Central Control Unit (CCU) and Local Control Unit (LCU) in the Battery Management System framework help improve system performance, safety, and cell management.
The primary task of Battery Management Systems is to ensure the optimal use of the residual energy present in a battery.
The system continually checks the cells and battery pack in order to increase system efficiency and safety, for a variety of metrics. These parameters include
Over-Temperature
Under/Over Voltage
Under/Over Current
Charge (Capacity)
Power Consumption
Remaining Running Time
Charging Cycle
Battery Health
To improve the overall health of the battery system and cells, active/passive cell balancing functionality is built into the Battery Management System architecture.
We, at Embitel, provide end-to-end development services for Battery Management System of your electric vehicle program. We believe in delivering quick, safe, and accessible solutions to support your role as a stakeholder in the EV ecosystem. Our experts at Embitel provide services and platforms to develop solution algorithm, including consulting, developing, and management services, with a goal of accountability for all aspects of the EV journey.
Interested to know more about our EV services? Get in touch with our consultants and get the details!
Battery Management System Architecture and Block Diagram
We assist on custom design and developments of Battery Management Systems for all types of EVs (two, three and four wheelers)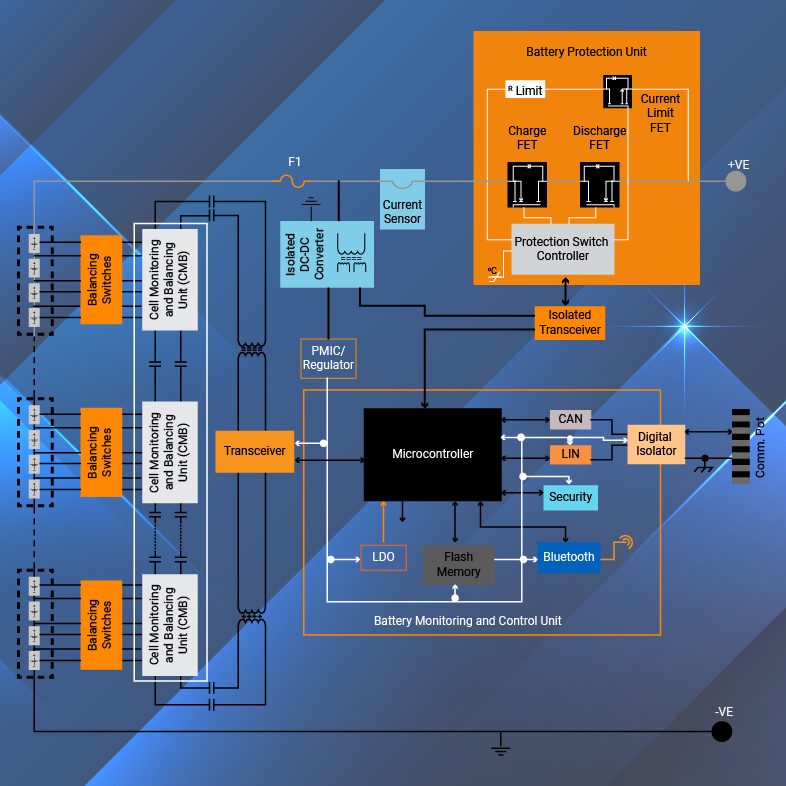 Our Expertise Under Battery Management System
Key Highlights Under Battery Protection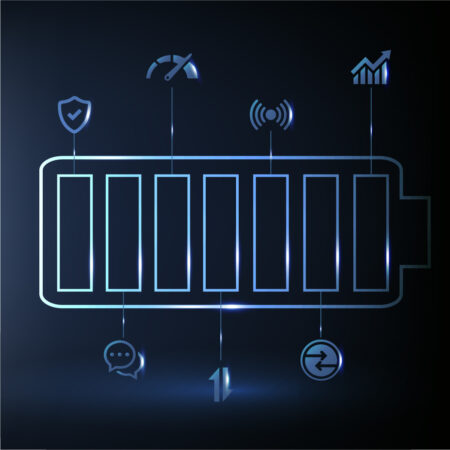 In the event of battery malfunctions like overcharging, undercharging, short circuits, overheating, etc., safety mechanisms must be deployed to keep the EV and its occupants safe and cool. For this, Embitel provides a variety of algorithms as part of Battery Management System solution that extend the battery's lifespan and efficiency under stress.
Voltage and Current Protection
Voltage and Current Protection
In order to detect Over-Voltage and Under-Voltage, Battery Management System actively monitors the voltage of each cell and the battery pack. The battery pack is protected from overcharging and over discharge via overcurrent monitoring.
Temperature Monitoring
Each cell's temperature is monitored in order to maintain excellent performance and efficiency while protecting the battery pack from overheating.
Cell Monitoring / Balancing
Cell Monitoring / Balancing
To avoid an imbalance in the charge levels of the individual cells that make up a battery, it is ensured that they are operated within their safe operating range. It monitors and responds to the State of Health (SoH), State of Charge (SoC), and Depth of Discharge (DoD).
Diagnostics and Relay Control
Diagnostics and Relay Control
Relay control and diagnostics employ multiple-point voltage monitoring, fault monitoring, and continuous parameter monitoring to guarantee safe operation and dependable battery performance. Through the orderly execution of relay activities, the pre-charge function is integrated.
Optimized Charging and Discharging
Optimized Charging and Discharging
High efficiency and cutting-edge features are offered by switch-mode power supplies (SMPS) for quicker and cooler charging
Isolated CAN Communication
Isolated CAN Communication
To improve efficiency and save costs, daisy chain communication between LCUs is used in the communication, which is CAN-based. Galvanically isolated CAN circuits provide dependable communication.
Security
Authentication ICs offer reliable protection against duplicate goods. The usage of only approved accessories is validated. By doing this, user devices are less likely to sustain harm from duplicated inferior accessories or parts.
High Voltage Interlock (HVIL)
High Voltage Interlock (HVIL)
The HVIL function in electric vehicles detects aberrant high-voltage component disconnections and protects the system.
Hover Box Element
Guarantees safety by keeping an eye on excessive voltage leaking into the vehicle's body. Leakage resistance is monitored while the car is running and in ON mode.
Battery Management System Solutions by Embitel
Battery Charging Profile
Battery Power Management
Battery Pack Performance Management
Battery Cell Monitoring and Balancing
Battery Pack Interfacing, Diagnostics and Logging
BMS vs wBMS – Cyber Security and ISO26262 compliant services