Whether it is an automotive ECU product or field-deployed Industrial Automation devices, integration of Firmware over the Air (FOTA) update feature has become a mission-critical process.
FOTA/OTA updates are necessary to ensure secure and robust operations throughout the product development and deployment life-cycle.
Leverage our IoT and Automotive domain expertise of more than 12 years, for custom development of hardware and software components for integration of FOTA/OTA update.
Features of our FOTA/OTA Update Service for Remote Device Management:
We offer an End-to-end FOTA solution. This custom-build solution will facilitate:

Remote device management through FOTA/OTA software updates
scheduling, release and reporting of the firmware build versions through a web server interface solution

This enables your team to focus on core product development activities
| | |
| --- | --- |
| | Code signing to ensure trustworthiness (data integrity & source authentication) of each firmware image being updated |
| | |
| --- | --- |
| | Controlled and customized FOTA/OTA software release management, through logical device grouping based on project requirements |
| | |
| --- | --- |
| | Ensuring that device downtime is minimized during updates |
| | |
| --- | --- |
| | Ensuring that every session of FOTA update is complete and atomic; so that the firmware update does not end in an incomplete/broken state. |
Design and Development Services for FOTA/OTA Integration
Flash Memory Selection -NOT, NAND & more, based on your project requirements.
Integration of Wi-Fi/Bluetooth/GPRS/GSM modules for secure communication between the FOTA server and the target devices.
Design and development of Firmware Software and integration with IoT protocols such as MQTT, CoAP ; HTTPS & SSL for secure data exchange; FTP/FTPS for file transfer.
Selection of specific encryption methods to check the sanity of the update package.
Deciding the level of FOTA update required (At the whole system level, OS& the application level , or at the application level).
Bootloader development to enable firmware download and reprogramming on the application device.
Design and development of the FOTA management server interface and other GUIs to build/schedule/deploy/manage the update package
Design and development of the interface (GUI) to build/schedule/deploy/manage the update package.
Tracking as well as reporting the successful instances of firmware updates.
Integration of Firmware Rollback mechanism to mitigate any failure or bug detected during the FOTA/OTA update.
Development of Automated test frameworks to enable devices to perform self-test & send status reports, at the end of an update.
After design and development of the FOTA feature for your connected devices, the hardware and software components are subjected to the following pre-production test-case scenarios:
Power Failure
Communication Failure
Memory Corruption
Failure to boot the new firmware image
Flashing of a corrupted firmware image
Failure to retrieve the information about the configuration & last status of the firmware
We also perform Image self-tests to check if all the firmware functions are working properly.
Vidya Sagar, is an industry veteran with more than 18 years of experience especially in the domains of Infotainment, Car HUD and product engineering. Sagar is our IoT captain, spearheading our team in delivering cutting-edge IoT solutions to customers.

Sagar plays a key role in transforming our client's complex business ideas and requirements into feasible solutions with his wealth of knowledge.

Vidya Sagar Jampani, Business Unit Head (IoT) (The Master of all 'IoT Trades'!)
In a career spanning over 19 years, Emmanuel has worked across different domains in Embedded Systems Engineering.

This includes Automated Build Systems, SOC System Integrations, Embedded Platform Software and Hardware, Mobile Application Development.

A thorough team player, Emmanuel is known for his solution oriented approach; he has always played a pivotal role in successful delivery of some of our very complex projects.

Emmanuel P John, Solution Architect – IoT
[Video] What Makes Firmware-Over-The-Air (FOTA) an Automotive Superhero?
Components of FOTA System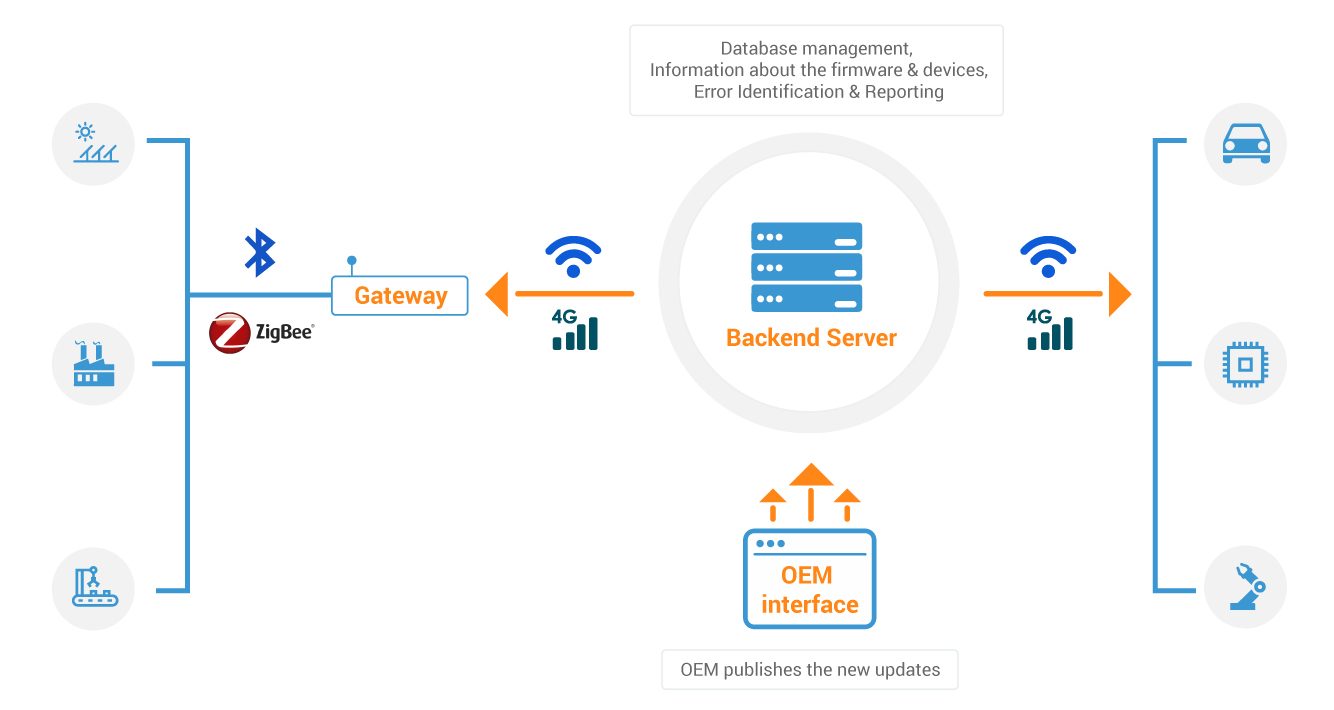 FOTA/OTA Updates for your Connected Systems: Business Benefits
Safeguard your applications against any possible security vulnerability
Efficient and remote management of your critical work product and site equipment.
OPTIMIZE DATA COSTS and minimize system downtime by updating numerous changes in one go, over-the-air.
Update your firmware in line with your SCALING business.
Reduce on-field MAINTENANCE COSTS by updating firmware on device, post-deployment
With FOTA you can do:

Feature updates
Functional updates

Anytime, on Any number of connected systems
FOTA Installation is a Three Step Process
New update or the new version of the software/firmware is made available in the cloud server by the device owners.
The latest firmware update is downloaded and made available to the network of the IoT or automotive devices ( e.g a Telematics unit in the car or a IoT enabled equipment in a manufacturing plant).

The FOTA server stores all the information related to the devices in the network such as the current status, the existing version of the firmware in use, within a large database.
The server also manages the process such as sending the firmware to the target application as and when they are published (or based on a schedule); Identifying any bug in the firmware, Reporting any fault or bug in the firmware code.
The end devices or the application pull the upgrades from the server based on either the subscribe-publish mechanism or a polling mechanism over a secure wireless ( Wi-Fi/ BLE)connection.

Installing new firmware and updating of software in the end-user application with the help of a bootloader
Related Blogs: Learn More About Firmware Over The Air (FOTA) Update Process