About the Customer:
Our customer is one of the most loved and trusted name in consumer electronics goods.
'Innovation beyond the comfort zone' being their motto, our customer embarked on this new journey of design and development of Electronic Digital Instrument Clusters for the Electric Two-Wheeler industry.
This idea of a multi-functional instrument cluster germinated to take the form of full-fledged a platform solution that can be customized for Electric Two-Wheelers, for global OEMs.
Business Challenge:
As the customer was new to automotive products, they needed technology partners (software and hardware). Embitel, as an organization with extensive expertise in both Automotive and IoT, proved to be the best suited for this project .
Our customer had successfully and carefully crafted the product development roadmap for this one of the kind project.
During this process, our customer realized the need for expert technology partners, who can effectively contribute in transforming this idea of digital instrument cluster into a business reality.
The following challenges, made it absolutely essential to partner with a Product Engineering Services provide, with domain knowledge of Automotive:
Our customer, a major player in consumer electronics, was taking its first step into the world of automotive product development.
This required expertise in automotive grade microcontroller platforms, base software (HAL+low level device drivers and more) development, FOTA (Firmware-over-the-air), Flash Bootloader software development and integration, and more.
The customer also had a long-term vision and desired to develop a scalable digital instrument cluster solution, so that new features can be easily added in the future.
Another major challenge associated with the project was time and BOM cost that had to be kept under check. This was important as it would have direct impact on the cost of the two-wheeler.
Embitel Technologies , with the extensive expertise in both Automotive and IoT (Internet of Things), was entrusted to join hands with the customer as their R&D and Engineering Services Partner.
Embitel's Solution:
Our tech team was provided with only an outline of the solution and we were expected to come up with the Requirement Specifications.
In essence, we were their R&D partner, collaborating with the customer's in-house teams in research, design and development of their product (digital instrument cluster).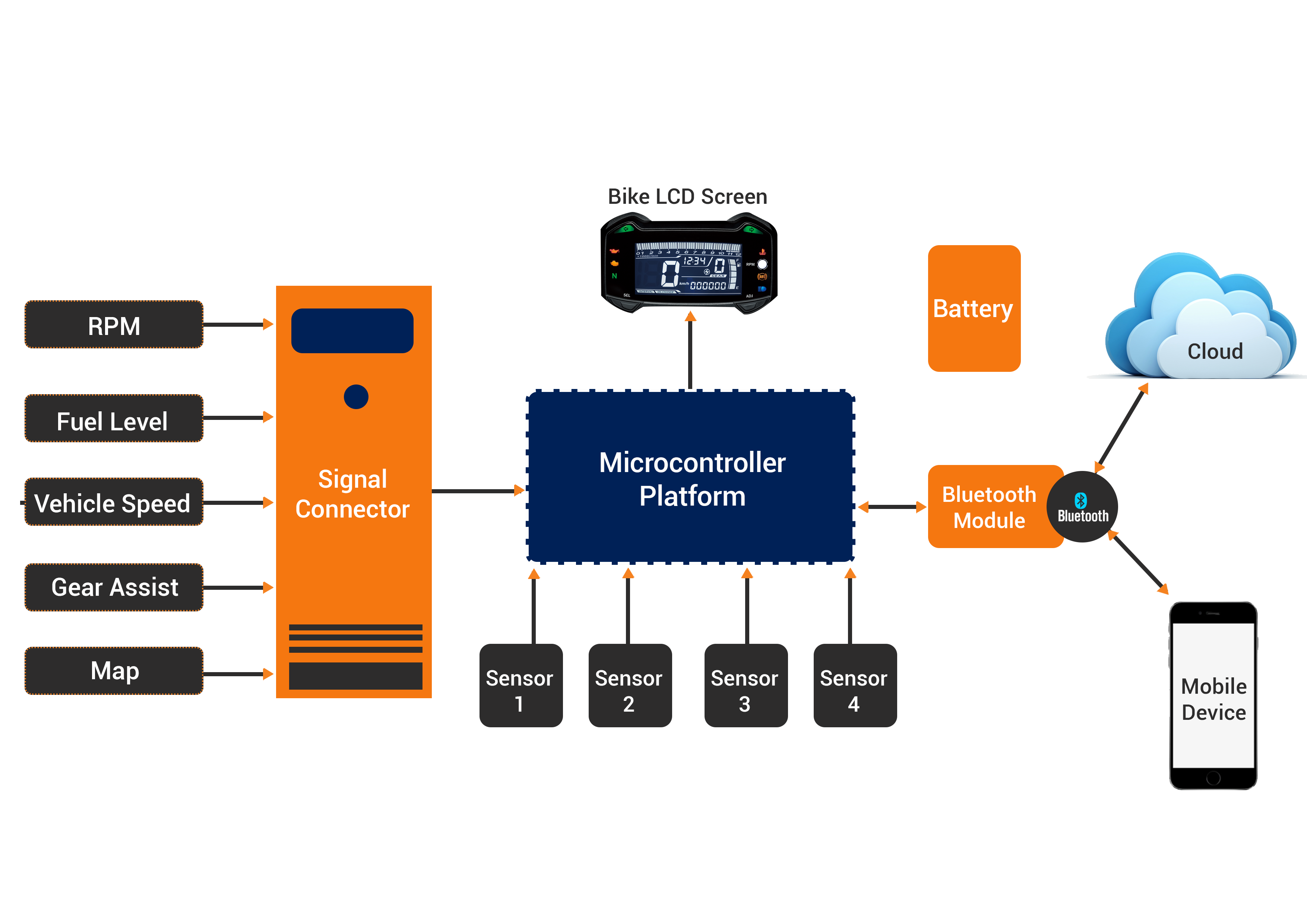 We partnered to develop the end-to-end solution, including the hardware and the software components.
The following applications were developed as functionalities of this solution.
Software Features Designed for the Connected Digital Instrument Cluster:

LCD display.
Phone & Cloud Connectivity.
Navigation.
Alert and Warning.
Firmware Over-the-Air (FOTA).

Embitel's Role in Hardware Design and Development:

Evaluation and selection of Microcontroller Platform.
Designing of the hardware schematics.
Hardware Testing as per standards such as ISO 7637 and ISO 16750, in order to ensure operability in high temperatures.
Designing a scalable hardware platform with additional pins to accommodate new features to be added in future.

Embitel's Role in Software Design and Development:

Development of BSP & Middleware Software Modules.
Development of the software components and device drivers, to support all the desired features and functionalities.
UI/UX Design and Development.
Embitel's Impact:
Our customer benefited from our solution in more ways than one.
Reduced BOM cost due to flexibility in HW/SW configuration.
Embitel' s library of reusable components like Flash Bootloader, base software modules etc. reduced time-to-market.
Our cross-functional teams (Automotive + IoT) worked parallelly on multiple functionalities to reduce the development time.
We were successful in achieving our customer's objective of launching a Connected Digital Instrument Platform.
Tools and Technologies:
AUTOCAD: It was used to design the UI for instrument cluster LCD screen. It gave the output in DFX format, ideal for the project.
Cadence Designing Tool: The tool was used for PCB Designing, schematics, and simulation of hardware components.