Throwback 2015 – Embitel's Ecommerce Wins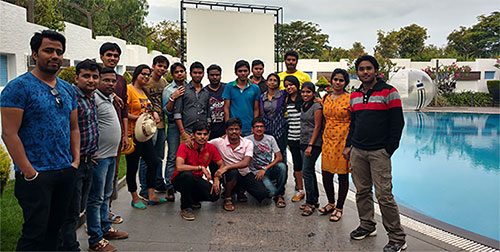 When the last year ended, our ecommerce team did a quick appraisal and found they covered a lot of ground in 2015.
From making structural changes within the team and projects going live, to new partnerships, Embitel's ecommerce team was always on their toes! Looking at the projects pipeline, the team is anticipating an even brisker pace in twenty 16.
Amidst all the team meetings, client calls, ecommerce workshops, fun at work activities and birthday celebrations, we managed to catch up with Arun Kumar, Head of Ecommerce (hybris and Magento) at Embitel, to share with us some of the highlights from the year past.
Launch of hybris-based RDS for Online Grocery business: Technology enables ecommerce implementation but when the project overruns estimated costs, it severely impacts not only the bottomline but also time-to-market.

To safe-guard businesses from such repercussions, our team of Ecommerce Business and Technology Consultants has designed a hybris-based Rapid Deployment Solution (RDS) tailored for the unique needs of the online grocery business.

This RDS facilitates the incremental technology development approach to ensure time and cost savings. It also leverages the omnichannel capabilities of the hybris platform and out-of-box features designed by Embitel to deliver a unified shopping experience for your customers across channels
Partnership with Dimension Data for Managed Cloud Services for hybris platfrom: Our collaboration with global IT services provider Dimension Data facilitates the aforementioned RDS.
Becoming a Magento 2 Trained Solution Partner: Having successfully implemented several ecommerce projects for global brands across India, the Middle-east, UK and the US, Embitel Technologies has been a preferred solution partner for Magento Ecommerce Implementation and Cloud & Mobility Solutions.

And now with Magento 2 certification and hands-on training, my team is all geared-up to deliver the Magento 2 advantage for your business.

I extend my congratulations with great pride to the entire Magento Ecommerce team!
Going live on multiple projects: The team saw their hard work come to fruition when several sites and apps they had spent months developing unique features for (Jarir bookstore, eZone app, Sayfix app, among others) went live successfully.

I loved the zeal with which they overcame all the challenges and worked as a winning unit!
Creation of a dedicated Strategy & Consulting team: In several ecommerce engagements, we provide in-depth Technology as well as Business Consulting to our customers, as part of our requirement gathering workshops. This has served as a great value-add for our customers over years.

In order to streamline this service, we now have a dedicated team of Ecommerce Business consultants who focus on helping customers with business strategy and improving operational efficiency.

I'm pleased to say that this move has been well received and even led to better outcomes for our clients.
"Clearly, it was a busy year. But we're excited about 2016 – we look forward to providing end-to-end execution and support for more customers in the Indian subcontinent, extending our scope of implementation to more business sectors like telecom and automobiles, and even developing Magento-based RDS.

Cheers to 2016!"
If you have any query/feedback, connect with us at sales@embitel.com to set-up a conversation
For more such interesting updates, join us on LinkedIn: