Partnering With an Indian IT Services Company: Insights from a German Business Manager
Such IT services companies are plenty in India, and the hurdles of time and distance are easily overcome with seamless connectivity between the two countries.
But how can German businesses ascertain which partner will be able to provide the kind solid and dependable collaboration they seek?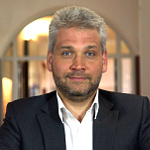 Ulrich Schmauz, the business head for the European region at embitel GmbH, has 16 years of experience in facilitating successful collaborations between top German brands and Indian software development companies.
In this post, Ulrich shares dos and don'ts to help select a technology partner for your ecommerce website implementation or automotive technology development for a successful collaboration.


Expertise in cutting-edge technology: Contemporary for German consumers


German technology is known for its precision and robustness. German companies seek adequately experienced development teams to work on innovative products based on cutting-edge technologies in areas of automotive, IoT and ecommerce.

In India, talent is widely available but it is vital to ensure your partner can meet your high quality standards.

Choose to work with IT vendors who have well-defined and robust project management best practices in place and R&D is part of their organization's DNA.


International experience


Working style, culture and ethic varies with geography. Due to such differences, where there is no right or wrong, it is helpful to partner with a technology development company with prior international experience.

Start with the CEO of the organization when checking for experience in working abroad. Then work your way towards those who will be responsible for delivery of your project, and then to those who will actually be working on it.

While it may not be possible to vet individual profiles, or even find too many developers with international work experience, at the very least those in a leadership role should have had the experience of working out of their home country and understand the nuances of working with an international audience.


Compatibility with the account manager


As a client, most of your interaction with your technology development partner will be with your account manager and the nature of your relationship with her/him will have a direct impact on the outcome of your project.

In my experience, I have often come across managers who, when asked for the outcome of past projects, are afraid to reveal that they have struggles or failures.

An honest relationship is beneficial not only for your business, but for the technology vendor too as it means a less stressful project experience.

When you are evaluating a technology vendor for a project, asking the vendor about the past success and failure rate is a good way to measure honesty. Zero failure is highly unlikely and such claims usually warrant further investigation.


References & case studies


All IT services companies will promise immense capability and exemplary execution. There is only one sure way of ascertaining how likely the technology vendor is to fulfill your requirements successfully—case studies showcasing past experience.

Consider these carefully to not only assess capability in development and implementation, but also to understand how the team responds to challenges.

If the vendor passes this test, you may go a step further, if possible, and seek verification from other reference contacts/companies too.


Sufficient proactiveness


A good IT vendor will take the pains to understand the client's requirements, the context and then work towards delivering a solution accordingly.

This means not just working as per the client's request, but also applying oneself to explore and suggest better solutions or alternatives.

This is a fine line to balance as it is necessary to fulfil the client's need while adhering to timeline and budget, and yet recognize when there may be a better way of achieving the same goal. It is easy to cross the line and turn too pushy in an effort to demonstrate this proactiveness.

A good and experienced vendor will make the client's requirements priority and understand when to toe the line and when to push it.

Besides these, keep the basic parameters such as budgetary requirements, certifications and qualifications in mind.
Once you choose the right partner, the benefits of collaborating with an Indian IT services company are many and you are likely to have a fruitful and long-standing relationship.
About Embitel Technologies: Embitel has presence in India, Germany, the USA, UK and UAE. Embitel has partnered with tier-1 suppliers to work on various technologies such as CAN FD software stack integration and flash bootloader development