Automotive industry is heading towards an ecosystem where software isn't a tangled web of incompatibilities. And AUTOSAR is the gateway to achieve such interoperability and standardization.
Adopting AUTOSAR resolves challenges for OEMs and tier-1s such as proprietary software constraints, costly integration, and varying quality. It ensures compatibility across platforms, simplifies software updates, and fosters collaboration, allowing seamless interfaces among diverse vendor modules.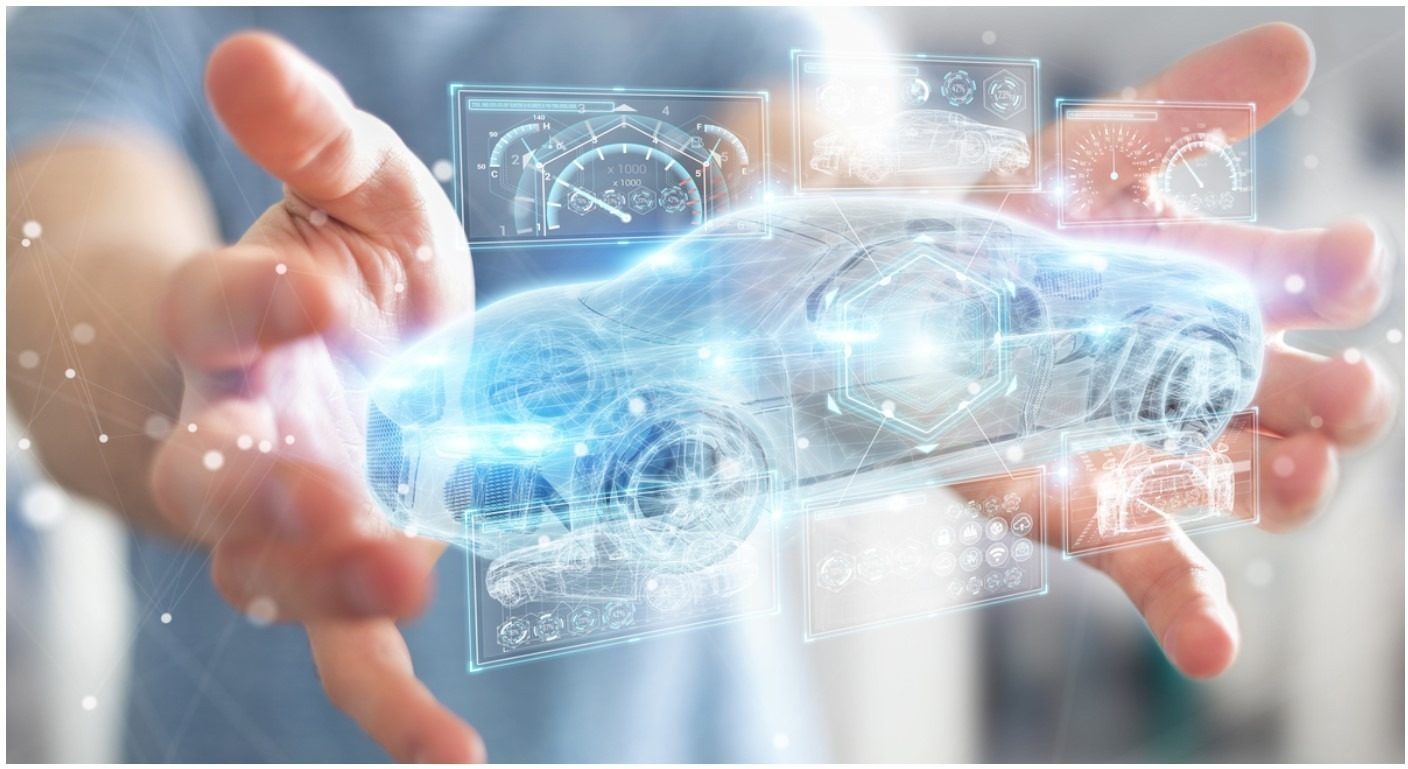 AUTOSAR is the universal language of modern automotive software. OEMs and tier-1s are often cornered by vendor lock-ins, facing integration nightmares and mounting costs. AUTOSAR mitigates such issues by eliminating the disparities between ECUs, creating a unified and predictable environment.
Embitel provides comprehensive AUTOSAR solutions tailored for today's automotive challenges.
Our expertise encompasses BSW (Basic Software) configuration, MCAL (Microcontroller Abstraction Layer) development, and specialized CDD (Complex Device Driver) creation.
Our AUTOSAR Success Stories
AUTOSAR Compliant ECU Software Development

We developed AUTOSAR compliant ECU software to control camera positions at the car's front and rear, thereby managing its front and rear views. Using the DaVinci Developer tool, we crafted the software architecture and modeled each component with TargetLink 3.1, which also enabled automated code production.READ MORE >>

AUTOSAR MCAL, BSW And RTE Integration for an Automotive Tier-1

We supported an automotive tier-1 in transitioning the Battery Monitoring ECU software to a new microcontroller while migrating from a legacy to AUTOSAR architecture. By using tools like COMASSO and Vector Da-Vince, we successfully redesigned the ECU architecture, ensuring a harmonious integration of both AUTOSAR and non-compliant components.
READ MORE >>
Development of AUTOSAR Compliant FLS Driver and Configuration Tool

Embitel developed an FLS driver per AUTOSAR specifications, separating the watchdog reset function from the main function, and resolving the timer reset challenge. Additionally, a Python-based tool was crafted for configuring the FLS driver according to parameters. We also assisted in the integration of the FLS driver with the system's other modules. READ MORE >>

Features of our AUTOSAR services
Model-Based Development (MBD)
Use of MBD expertise and tools for design and development to be carried out using high-level graphical models rather than traditional manual coding.
Tool Chain Expertise
Proficiency in popular AUTOSAR development tools like ARCCORE, DaVinci Developer, EB tresos, and Vector tools.
ISO 26262 Compliance
We are proficient in ISO 26262 standard and methodologies to implement Functional Safety in AUTOSAR.
ASPICE Expertise
Understanding and expertise in ASPICE process framework, which assists in the development of AUTOSAR compliant automotive software systems.
Migration Support
We assist customers in transitioning smoothly to AUTOSAR from non-AUTOSAR systems.
Networking and Communication
Our readily available stacks including CAN, LIN, FlexRay, UDS, DoIP and Ethernet expedite AUTOSAR compliance.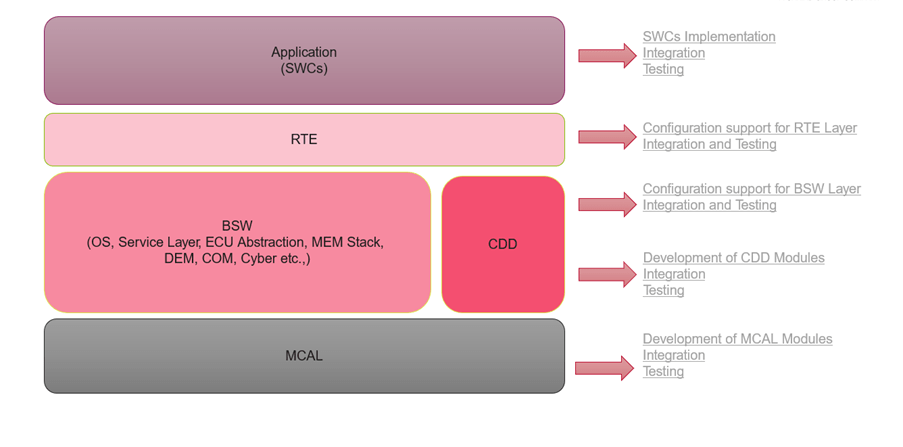 A Handbook on AUTOSAR & ISO26262 Compliant MCAL
Learn about AUTOSAR Architecture of MCAL, Configuration & Code Generation Tools, MCAL Driver Development and Testing
Embitel's Service Offerings for AUTOSAR Software Development
Configuration support for BSW Layer Integration and Testing
• ECU extraction from the system description.
• BSW stack configuration and code generation using tools (EB Tresos, Vector DaVinci, and our own Python-based code generator).
• Support for individual component development and interfaces with dependent modules.
• Operating system configuration for single-core and multi-core processors.
• BSW layer migration with the latest AUTOSAR version.
• Conflict resolution for integration with varies sources of software and libraries.
• Static test according to the MISRA C:2012 Standard.
• Unit tests with 100% code coverage.
• Integration tests are performed with automation tests and some manual tests.
• Automated code generation, build, and post-build activity tool chain support.
• Software builds, component tests, and smoke tests are performed in a continuous integration environment.
Configuration support for RTE Layer Integration and Testing
• Automated generation of RTE from System Description (ARXML files) using standard tools like DaVinci Developer, EB tresos, etc.
• Custom RTE configurations based on the specific needs of the project.
• RTE and Basic Software Scheduler Implementation.
• Development and integration of communication paradigms./li>
• Implementation of modes handling for smooth operational state transition.
• External and internal trigger configurations.
• Variant and development error handling.
Migration to AUTOSAR
• Gap analysis and strategy development.
• Design, develop, and integrate AUTOSAR-compliant software components.
• Support for both standard and complex device drivers.
• Configuration of the Runtime Environment (RTE) according to the specific needs of the project.
• We offer comprehensive testing services, including unit testing, integration testing, and system testing post migration.
Application Layer- SWCs Integration and Testing
• Model-based development (MATLAB Simulink, DaVinci Developer, etc.).
• Control algorithm development with C programming.
• Legacy code to model conversion or AUTOSAR conversion.
• Interface with the RTE layer.
• Integration with BSW libraries.
• Specific SW-C development, testing, and Integration with complete software.
Development of CDD Modules Integration and Testing
• Design and implementation of custom CDD modules tailored to unique hardware.
• Support for interface development for CDD and AUTOSAR RTE and MCAL.
•Integration and testing of complex device drivers.
• Implementation of comprehensive diagnostic routines and error handling mechanisms within the CDD.
Benefits of AUTOSAR Adoption
1. Standardization

Offers a uniform software architecture, enabling interoperability and easier integration of third-party software.

2. Flexibility

Modular approach allows easier adaptation to different vehicle platforms and variations.

3. Cost-Efficiency

Reduces development costs through reusable software components and common standards.

4. Time-to-Market

Speeds up development processes due to standardized components and processes, leading to quicker releases.

5. Safety Compliance

Facilitates alignment with safety standards such as ISO 26262.
6. Interoperability

Easier integration with different ECU hardware platforms and software components from various suppliers.

7. Future-Proof

Supports evolving automotive trends like electrification, connectivity, and autonomous driving.

8. Improved Quality

Reduction in system errors and increased stability due to the use of standardized and tested components.

9. Ecosystem Advantage

Access to a broader ecosystem of tools, components, and expertise within the AUTOSAR community.

10. Collaboration.

Encourages partnerships and collaborations between OEMs, Tier-1s, and other industry players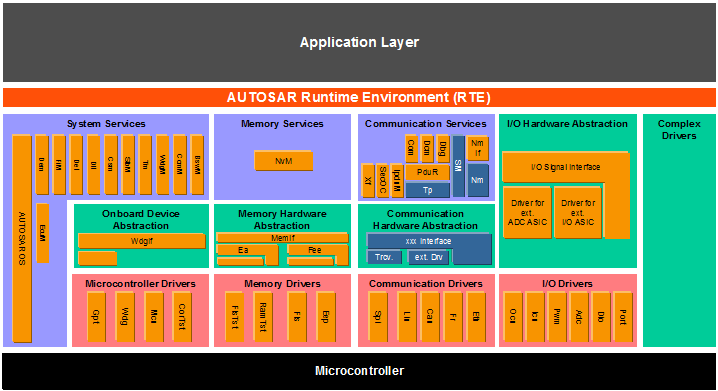 Customer FAQs About AUTOSAR MCAL, BSW, RTE and AUTOSAR Testing Services
A Handbook on AUTOSAR BSW & RTE
Learn about AUTOSAR Architecture and Configuration process of the Base Software (BSW) & Real-Time Environment (RTE)
Blogs on AUTOSAR Architecture: Learn about AUTOSAR MCAL, AUTOSAR Communication Stack and more