Customer:
A U.S. based Automotive Supplier with a Global Presence. They are a reputed name in ADAS, braking and stability control solutions.
Business Challenge:
Our customer had identified an Automotive ECU (from their existing product lines), that was best suited for the Throttle Control Application.
Next step was to develop an Actuator to complete the closed-loop system for Throttle Control.
After a detailed feasibility study, customer's in-house R&D team realized that it was imperative to partner with an expert automotive embedded engineering partner, for this actuator development project.
The following were the most critical reasons for outsourcing this actuator software and hardware development project:

Customer realized that this project had some inherent challenges. Since this actuator was to be deployed as part of the powertrain system (near the engine area). The actuator design & components were required to sustain harsh operating conditions (temperatures up to 200 0C, high levels of noise and pressure) and perform optimally.
Commissioning this challenging actuator development project in-house, meant increase in time-to-market and overall project cost.
Embitel Solution:
With the Value Engineering approach, our embedded system development team was able to successfully deliver the ECU actuator by overcoming the challenges of difficult operating conditions.
Our expert team leveraged their automotive domain know-how and the expertise in recognizing and sourcing the best suited automotive grade components. We also implemented some critical design best practices to make sure that the ECU actuator performs optimally under all operating conditions.
E.g. – Our team designed enclosures protected by closing thermal channels in order to make Capacitor, with Dielectric X8R, perform optimally under operating temperatures of up to 2000C.
Following is the step-by-step snapshot of this ECU Actuator development project:

Thermal and Electromagnetic Analysis and Simulation of the operating conditions using HyperLynx, FloTHERM and PSpice.
Schematic system design using OrCAD.
Building the ECU Actuator Prototype using Allegro (for layout design).
Functional testing of the Actuator Prototype using proprietary tool of the customer.
Prototype testing – Endurance Testing, Burn-In Testing and Performance Testing.
Support for issue resolution or bug-fixing post testing.
Support for End-of-Line testing, pre-compliance and post-production maintenance.
Block Diagram: Actuator & External ECU Architecture: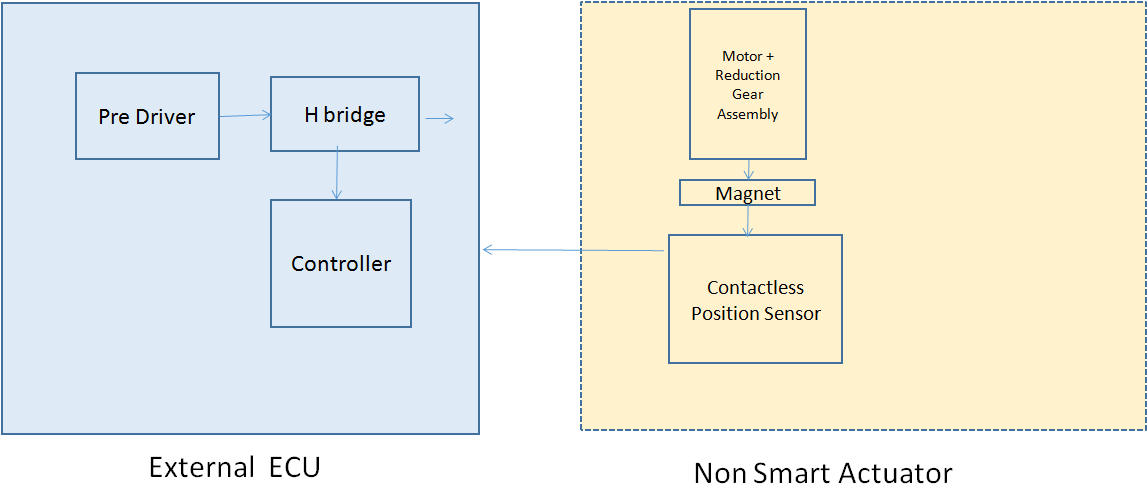 Embitel Impact:
Successfully resolved the design challenges related to harsh operating conditions and delivered a cost-effective solution.
Our expert team helped customer choose right tools for PCB and system layout design. This ensured that we deliver a stable and reliable actuator solution.
Reduced time-to-market and overall project cost.
Tools and Technologies:
OrCAD for Schematic design.
HyperLynx for thermal and Electromagnetic analysis.
FloTHERM for Computational Fluid Dynamics analysis.
PSpice for Simulation.