About the Customer:
Our customer is an automotive Tier-1 supplier of vehicle ECU, lighting and various other automotive parts.
We have had a successful partnership on a futuristic project on automotive lighting. The mutual trust and respect were taken a few notches higher with this ISO 26262 project.
As our customer had previously worked with us, they were aware of our ISO 26262 capabilities and hence, we were the choice partners for this project.
Business Challenges:
While working on an automotive lighting system, our customer realized the need for its ASIL C compliance. The lighting module's proposed application in the vehicle system made it a safety-critical component.
Setting up the processes, hiring ISO 26262 consultants, purchasing ISO 26262 qualified tool licenses and training the engineering team on ISO 26262 standard would escalate the project cost and increase time-to-market.
Moreover, the customer was looking for a technology partner that:
Could provide support for both qualitative as well as quantitative safety activities.
Had prior experience of working on ASIL C compliant projects.
Was able to perform both hardware and software safety analyses.
Had expertise on ISO 26262 qualified tools like Tessy.
Had experience of providing safety analysis activities for the entire safety lifecycle- Concept Phase to Product Development.
The customer was aware of our maturity in ISO 26262 standard adoption, FuSa expertise and trained engineering team.
Embitel's Solution:
The customer required both qualitative and quantitative analysis of the software and hardware. Our FuSa team figured out that a series of safety analysis activities will need to be performed:
A snapshot of the solution provided by our team:
Safety management activities were planned as per ASIL C including safety plan and DIA (Development Interface Agreement).
We developed safety compliant hardware and software implementation for master and slave ECUs.
Our team performed System Failure Mode and Effects Analysis (FMEA).
ASIL C compliant Hardware and Software safety analyses were performed. This included:

Software FMEA
Hardware FMEA
Dependent Failure Analysis (DFA)
Fault Tree Analysis and HW FMEDA

Performed Static analysis using Polyspace.
Performed Unit testing using Tessy.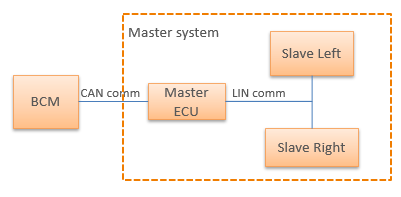 Embitel Impact:
As deliverables of the project, we provided the work-products that were required for ASIL C compliance. These work-products included report of FMEA, FMEDA, FTA, DFA and other ISO 26262 compliant safety analysis.
As a result of these safety analyses, we were able to strengthen the existing safety mechanism of the system.
With a fully-trained and well-structured team of ISO 26262 experts, we were able to save a considerable amount of time for the customer. This led to a faster time-to-market for the lighting product.
Tools and Techniques:
Enco SOX: Used for safety analysis like FMEA, FMEDA, etc.
Vector CANoe: Used to simulate vehicle ECU during functional testing
Polyspace: Helped in static analysis of the code as per the ISO 26262 guidelines
Tessy Tool: An ISO 26262 qualified tool, it is widely-used unit testing tool