The automotive industry is quite diverse with several stakeholders in the ecosystem. Although a vehice carries the brand name of an OEM, it is a joint-effort of various entities including the tier-1 suppliers, product engineering companies and after-market suppliers. These stakeholders have their tasks cut out for them.
For instance, an OEM might require an advanced automotive lighting solution for one of their flagship car models. The OEM would delegate this job to a suitable and trustworthy tier-1 supplier. The supplier also might need some protocol stacks, platform software, functional safety compliance, etc. for which they rely on product engineering companies.
Naturally, when components from a range of entities get fitted in a vehicle, some sort of standardization is mandatory. In addition to standardization, ensuring safety, security and complaince is another dimension that the automotive industry must consider.
In order to manage such constraints and future compatibity issues, various organizations and consortiums like ISO, SAE, AUTOSAR, etc. come up with standards. We have compiled a few of the key standards widely used and applied in the automotive industry, in the form of infographics.
Automotive Safety, Security and Hardware Specific Standards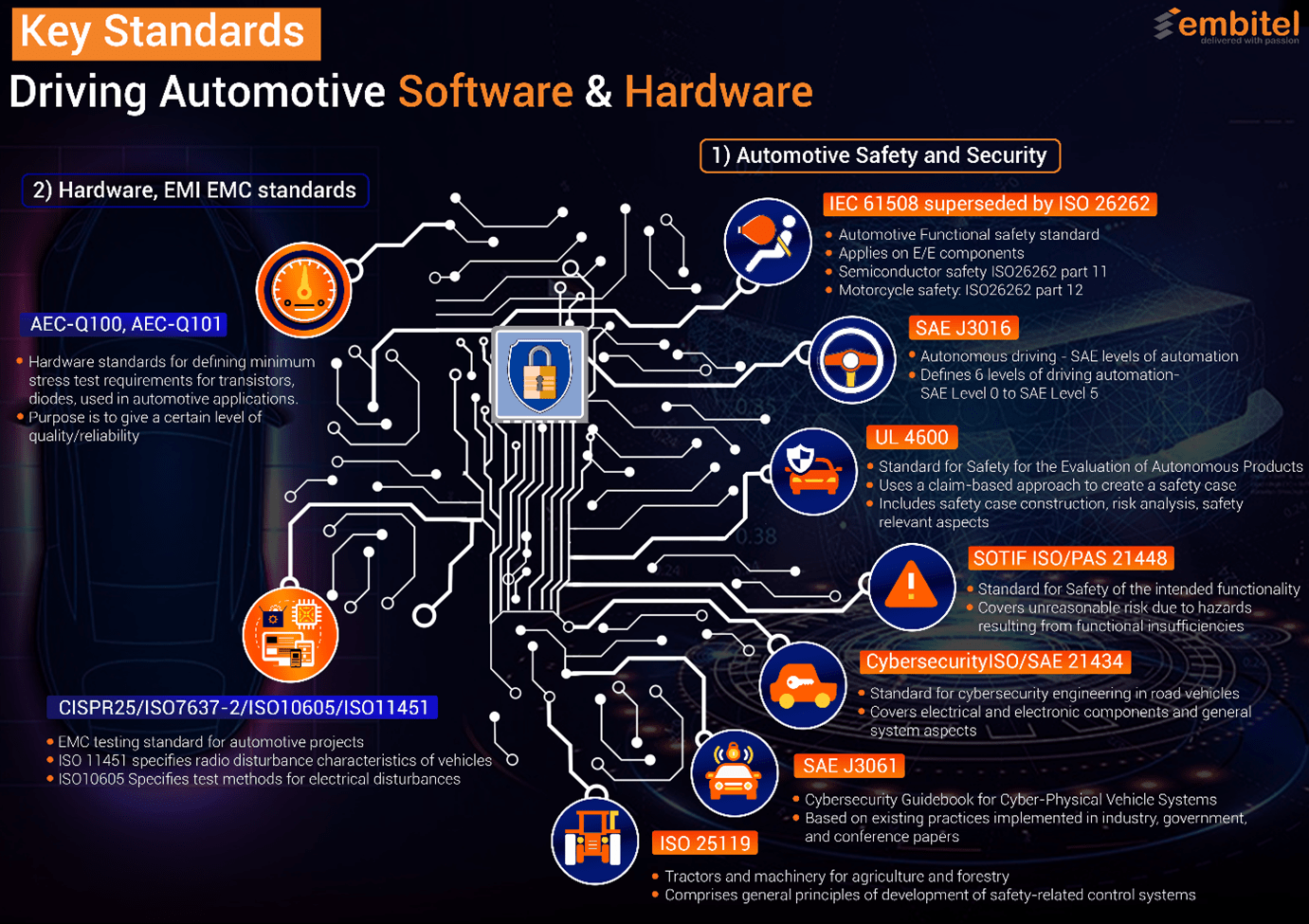 As technology partners to various OEMs and Tier-1 suppliers, we have supported them in the implementation of most of these standards.
A Snapshot of Our Services for ISO 26262 Compliant Functional Safety:
Consulting for HARA & Safety Analyses (including FMEA & FMEDA)
Gap analysis at technical and functional levels
Software coding and design implementation as per ISO 26262 Guidelines
Static and Dynamic Analysis of the code and Report Generation
Support for hardware unit design as per ISO 26262 standard
ISO 26262 complaint unit, integration and functional testing using tools like CANTATA, RTRT, Tessy, MX-Suite etc.
Automotive software/hardware development as latest Cybersecurity standard- ISO/SAE 21434
Support for safety analysis activities (FMEA, FMEDA, DFA, FTA) for ISO 26262 complaint solution development
Our Hardware Related Compliance Services:
CISPR, ISO/IEC compliant hardware solutions for automotive product development projects
Support for entire V-cycle of hardware development- hardware architectural design to hardware validation testing
Optimization of BOM cost
Hardware schematics
PCB Gerber file generation
Inter-ECU and Intra-ECU Com standards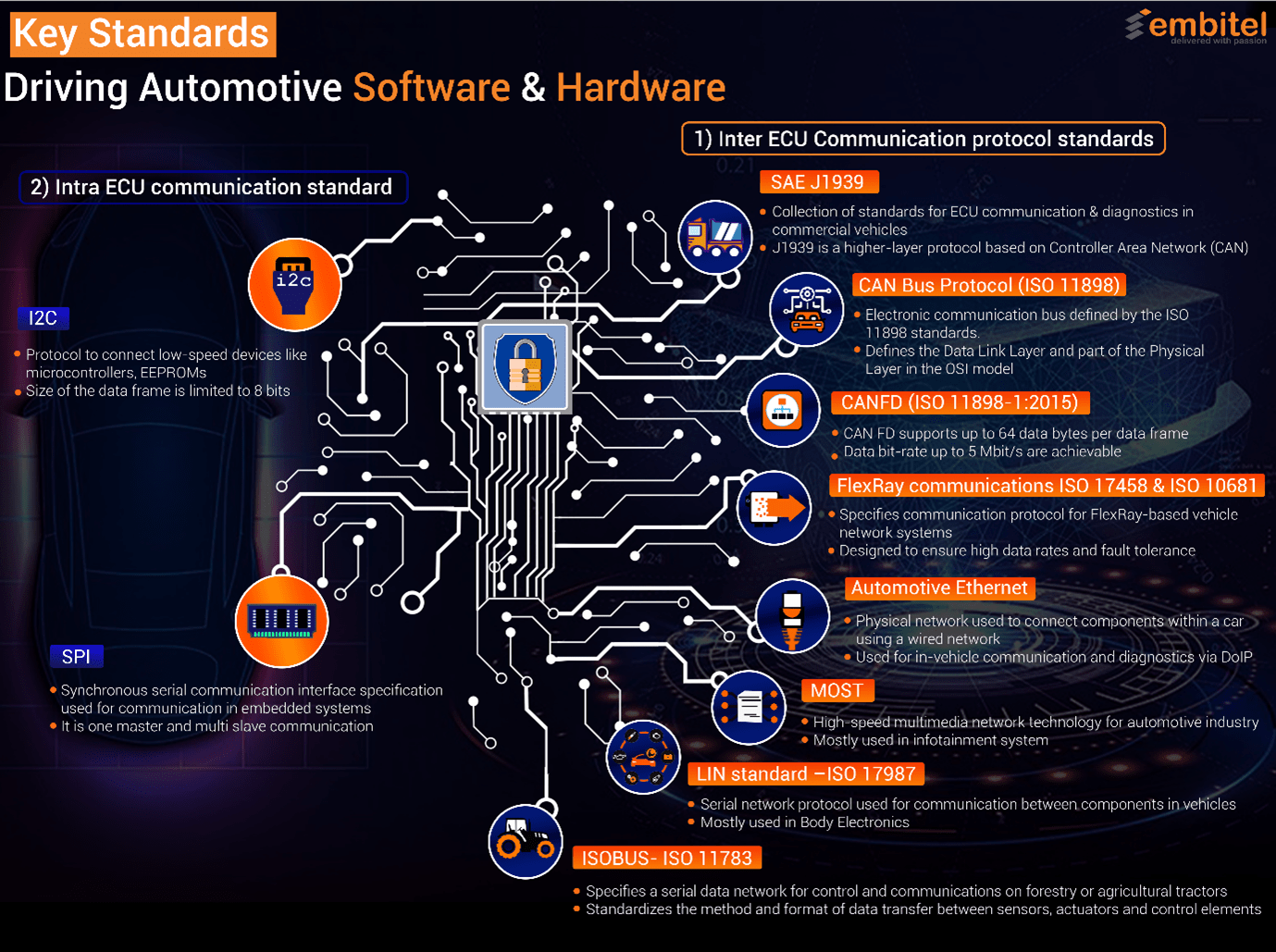 We Provide a Library of Automotive Protocol Stacks to Expedite Series Production for OEMs and Tier-1 Suppliers.
Pre-tested and ready-to-integrate protocol stacks to enable inter-ECU communication
Stacks are developed as per CMMI Level 3 and ISO9001:2008 guidelines
Coding guidelines conform to MISRA C
Proprietary tools for CAN, LIN configuration as per CAN Matrix or LDF file.
More standards soon! Watch this space.