Very recently, Electric vehicles have been rapidly gaining popularity as they are an eco-friendly alternative to gasoline driven cars. According to a report by International Energy Agency, the global Electric Vehicle ownership has shown a rapid growth of 54% from 2016 to 2017.
Studies also suggest that, Electric Vehicles (EV), as compared to fossil fuel cars, have considerably lower greenhouse gas emissions that can even be brought down to zero, provided green electricity is used for charging of EVs'.
The access to green electricity is also becoming a reality due to the paradigm shift in the global energy generation landscape. At the world stage, a lot of innovations and investments are happening in this space, and specifically in the solar power generation sector.
The global advisory firm, DNV GL in its Energy Transition Outlook 2018 has reported that 80% of global electricity production will be powered by renewable energy sources (solar energy and wind power).
Off late, tapping the abundantly available solar energy and its application as a power source for Electric Vehicles has become a necessity rather than a mere option for combating the hazards of environmental pollution. One of the most powerful use-cases, in this context, is 'Solar Powered' Electric Vehicle Charging Stations. Many stakeholders are already looking at Solar Powered EV Charging as the Next Big Thing!
So, What is the technology, behind the scenes, that is playing the role of an enabler? What are the key benefits of using solar PV panels for powering electric vehicles?
This is our quest for answers to these questions!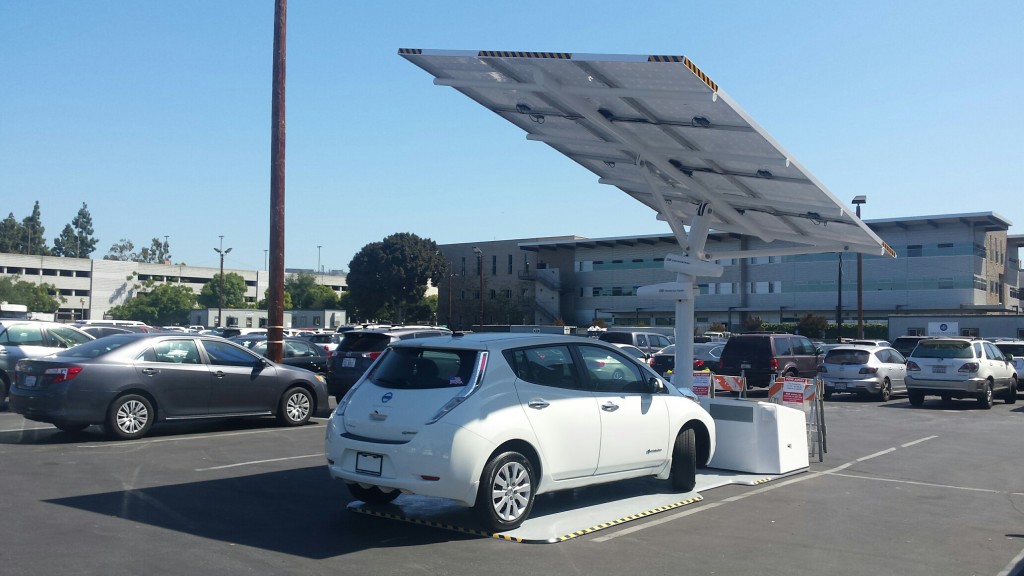 Image Source: beagreencommuter
Embedded Electronics Enabling the Usage of Solar PV System for EV Charging
Solar Panel charging installations for Electric Vehicles available today can be broadly categorized into:
Mobile Solar Charging systems that includes the rooftop solar panels used for charging the batteries of an electric Vehicle.
Fixed Solar powered charging installation, a ground based installation (grid based or off-grid) that includes direct charging installations/devices available at EV charging stations.
In this blog, we will talk about the technology behind the off-grid fixed charging installations. At its core, a solar energy charging system converts the photovoltaic energy from the solar panels into DC electrical energy; which is fed to the EV batteries.
Let us look at main components of a solar energy charging system for Electric Vehicles:
Solar PV Panels: A photovoltaic (PV) panel harnesses the solar radiation into electrical energy to be supplied to the electric vehicle batteries. In fast EV charging stations, large array ( ~300) of electrically connected solar panels would be installed to generate the required power to charge electric cars in a day.The angle of solar panel is one of the crucial factors in deciding the output efficiency of these panels. The other factors being the latitude, longitude and weather conditions.The solar panels are attached to moveable, motor-controlled solar trackers. Based on the inputs from the microcontrollers, these motor-run trackers move the solar panels axis to receive maximum sunlight any given time in a day.
Microcontrollers: The microcontrollers (such as Texas Instrument C2000, NXP P89V51RD2) used in a typical solar PV charging system have the responsibility of :

Ensuring maximum efficiency of solar power generation through the MPPT controllers.
Storing the extra energy generated from the solar PV panels into storage battery cells which.

Additionally, the microcontrollers are programmed to control the motor using a Pulse Width Modulation (PWM) technique to align the panels for maximum power generation.

Motor to control Solar Panel Axis Rotation: A bi-directional motor is used to control the solar trackers so that the panels are tilted at an angle where they receive the maximum sunlight at any given time in a day. The real-time information about maximum solar radiation is obtained through the Solar Position Algorithm.The Solar Position Algorithm calculates the sun's position based on the azimuthal and elevation values, based on the time, date and location of Earth. This information is used by the central microcontrollers to control the motors to rotate the panels at specific angles at which they would receive the max. solar radiation.
DC-DC converter with MPPT: An electronic DC-DC converter helps in converting the high power generated from solar panels to required EV battery voltage. These DC-DC converters use Maximum Power Point Tracking (MPPT) to support the PV panels to operate at the maximum power.Maximum Power from solar radiations is inherently non-uniform in nature and varies with temperature and time in a particular day. The DC-DC converter offers an interfacing between the photovoltaic panel and the load to achieve maximum power transfer without loss. The MPPT controller is connected to the output of the solar PV panel.In a typical photovoltaic generating systems such as the solar EV charging system, an MPPT can be enabled ( within the microcontroller) through :

Software implementation  as part of the firmware, or
As part of hardware implementation through System –On-Chip ( SOC) with certified ICs such as TI C2000.

The MPPT controller takes in higher voltage DC output from panels, and evaluates the best possible value of power from the panel to charge the battery and converts the power into optimized voltage levels to get maximum Ampere values.

Flowchart of DC-DC converter with MPPT.  Image source: rroij

Communication Interface between the EV battery systems and charging system: The battery monitoring system (BMS) of the electrical vehicle should communicate with the solar powered charging system to ensure an optimal charging without fail. Most often the charging devices communicate with the BMS of the electric vehicle either via a CAN BUS or Power Line communication. During this handshaking, following information is exchanged between the two systems:

Maximum capacity of the vehicle battery
Rate at which current is transferred
Temperature and other parameters related to the EV batteries

Interface: Most EV charging stations come with a Human-machine Interface to display various parameters including solar energy capture, the energy consumed by the EV battery while it is being charged. The number of display options on the HMI may vary with the manufacturer, to enhance the user experience.
EV Battery charging equipment: The Society of Automotive Engineers (SAE) specifies 3 levels of charging standards for electric vehicle charging equipment: Level 1, Level2 & Level 3- where the 'levels' indicate the charging power.

Level I Charging: A level 1 charging equipment uses standard household power outlet with 120 V circuit. Fully charging an EV using an L1 Charger can take 8 to 12 hours or even more, depending on the EV battery type. A Level 1 charging is best done at home overnight, when the vehicle usage is the least.
Level II Charging: A level II charging describes a 240 volt AC charging and is commonly used for daily commute. An LII Charger can fully charge an EV in 4 -6 hours, depending on the EV battery type. The LII charging equipment can be found in public spaces, residential settings, and commercial areas to facilitate easy EV charging.
Level III- DC Fast Charging: A level III charging equipment charges an EV through a high-voltage DC chargers (480 V plug) and supports charging up to 500 volts. In a fast charging mode, an L3 charger can supply an EV with 80% of charge in just twenty to thirty minutes.

Image Source: InsideEV
Key Benefits of Using a Solar PV Panel as an Energy Source for EVs
At this stage, we are witnessing the onset of widespread installations of Solar Powered Charging Stations across various cities of the world. Reasons for this growth in numbers are many. Let us look at some of the tangible benefits:
About 80% of a solar panel module can be recycled using advanced end-of-life recycling techniques. The end products of this recycling can be used for more productive processes. The International Renewable Energy Agency (IRENA) has observed that various materials recovered from solar panel recycling could be $450 million by the end of 2030.
The average lifespan of a solar panel manufactured today, is more than the 20 years. Contrary to the conventional batteries and inverters that need a replacement every 5-20 years of installation.
Improvement in technology is enabling solar energy to chart new records in terms of power generation and capacity.
Solar Energy is one of the cleanest options for fueling the electric cars.
Solar panels installed at homes can help significantly in saving electricity costs through a controlled charging schedule.
Prices of solar installations have reduced considerable over time, encouraging more people to invest in one of the most popular forms of renewable energy.
Solar Energy and EV: Steps taken by Governments and Automotive Companies
Over the past few years, many government bodies, automotive manufactures and other industry stakeholders have come forward to explore the new opportunities offered by Combining Solar and Electric Vehicle Charging.
Together they aim to not only encourage wide usage of EVS and solar PV Panels, but also find a sustainable alternative to the world's fast existing reserve of fossil fuels.
Let us have a glimpse of some of them:
Aimed at fully tapping the Solar+EV opportunities, The U.S. Department of Energy's National Renewable Energy Laboratory has decided to work with Great Plains Institute to explore the market-driven opportunities of combining solar energy generation for controlled EV charging.
GCL, a leading solar equipment manufacturer in China is building a solar production base, estimated to be around $721.19 million in Jiangsu province. In order to support country's EV revolution, the firm plans to collaborate with auto manufacturers to join the project and construct EV facilities in the province.
India plans to achieve 175 gigawatt (GW) of renewable energy capacity by 2022 – of which 100GW will be from solar energy sources, as part of the global climate change accord. The country seems to be tapping its solar energy generation capacity and harness it for charging up its EV revolutions. In a recent development, a solar powered DC charging station was installed in Mumbai, India – a first of its kind in the country. Developed together by Magenta Power and Exicom Power Solutions , the project aims to install more (100s) EV charging stations along Mumbai, to begin with, by the end of 2018.
Concluding Thoughts:
Global trends indicate that both the EV and Solar industry has been witnessing an exponential growth over the recent past. For example, the US has approximately 250,000 EVs and about 500,000 solar rooftops, and both industries are still growing exponentially.  While challenges exist in the way for the solar energy based electric vehicle charging systems to become a mainstream option, government policymakers and auto-manufacturers are exploring the feasibilities to address them.
Thus, the combination of Solar Energy and EV is mutually beneficial one wherein each one can open up new avenue of growth for the other, while also helping in reducing the eco footprint, quite significantly. Additionally, the PV-EV synergy is expected to open up new windows of business opportunities in the near future throughout the value chain while keeping up the clean energy commitment.