Breakthrough in Customer Experience with Adobe Experience Manager's Commerce Integration Framework (CIF)
AEM's extensions have been a relief to the commerce consumers. The new functional components add immense value to the customer experience and it's a win-win situation for all the parties involved.
CIF – Commerce Integration Framework
It is an extension for creating unified and consistent content and eCommerce experiences for users at every touch point while using your brand.
It is time to talk about the structure and design principles of CIF along with other integration options for using AEM and any commerce solution simultaneously.
CIF (Commerce Integration Framework) Components
Three factors form the core of the CIF – commerce core components, out-of-the-box accelerator storefront and commerce add-on and authoring tools.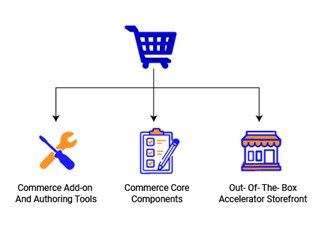 Commerce Add-on
The commerce add-on offers commerce experience management tools. The tooling is securely integrated into AEM sites and AEM assets to bring commerce connections into experience pages and associate products with marketing assets in Adobe Experience Manager Author and Publish.
Marketers get to try innovative commerce authoring tools to operate the product catalog and link customer experience and content fragments/assets to products with the help of product and category selectors.
Marketers can also directly access the product data from AEM's in-built global content search console.
PC – Adobe
AEM authors can access product data within AEM page editor simultaneously while editing pages or creating experiences. The 'drag-and-drop' option is available for authors to search and access products directly from the repository.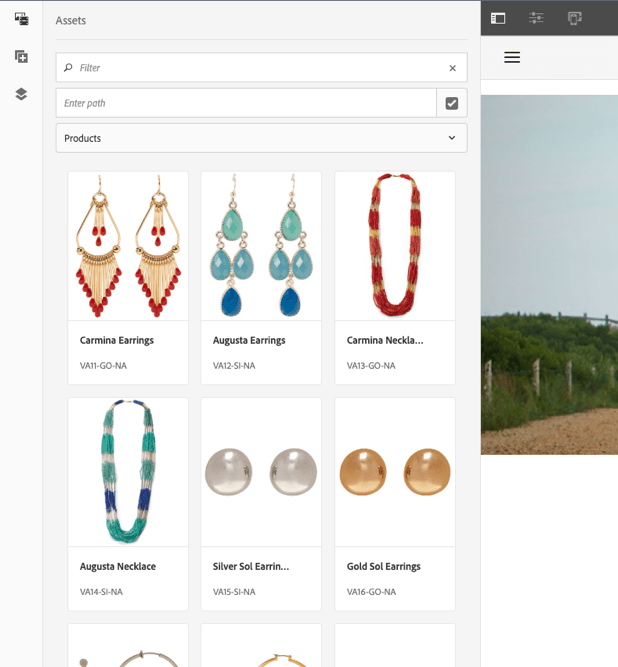 PC - Adobe
All Adobe Experience Manager deployment models along with AEM cloud service will be automatically deployed to all environments with the cloud manager program with Commerce add-on.
Commerce add-on can be downloaded from the software distribution portal for local development. AEM Web SDK or AEM 6.5 is used for deployment and hosted on-premises or by Adobe Managed Services.
Commerce Core Elements
The CIF core components include the following:
Product details and lists
Shopping cart
Checkout
CIF core components has marketing modules such as teasers, carousel, featured and related products. It is better to use customizable components as it minimizes the need for custom code in the project and quickens the time to market.
CIF core components are reusable and when they are combined with AEM components they offer server-side and client-side React components to create scalable and effective customer experiences.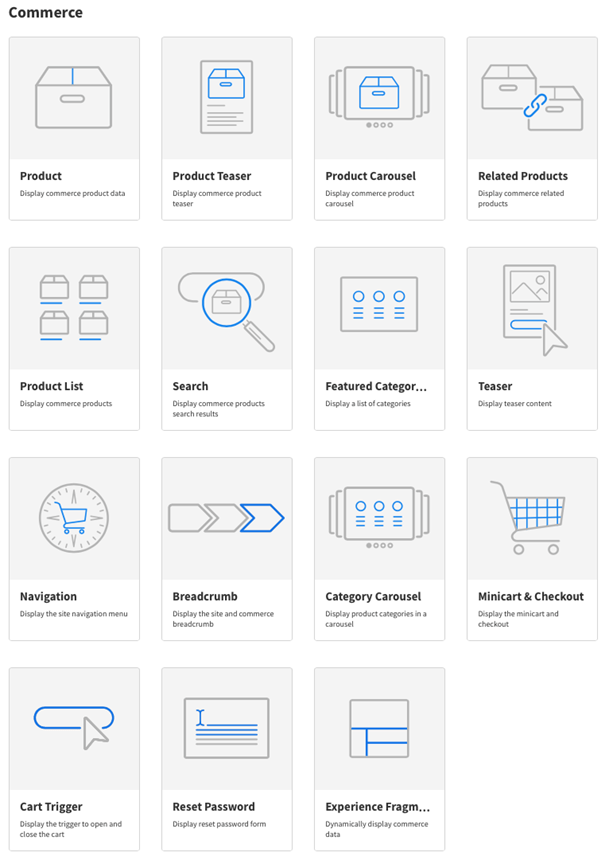 PC – Adobe
Adobe Experience Manager component library consists of a full list of all commerce core components including WCM (Web Content Management).
CIF core components support variable configurations of dynamic products and category pages. This facilitates customers to set up specialized templates for individual products or categories.
AEM's Multi-site manager lets you use CIF to create elaborate and strong eCommerce sites that have markets in various geographical regions, different languages and currencies.
AEM's multi-site feature is aligned with multi store configuration on Adobe Commerce. The AEM site can now be mapped to one or many stores with Adobe Commerce.
There is an option to access product preview and staged data and from Adobe Commerce in AEM Author environment. Page editors get visual notifications about non-published products. This helps a great deal in building experiences prior to publication.
Engaging product experiences can now be created effortlessly with content fragments or Experience fragments available in AEM.
The design methodologies for CIF core components are same as the ones used in AEM WCM core components and comes with built-in support to customize experiences. Developers can leverage these features at multiple levels and multiple sites anywhere at any time. Developers can utilize various product and category page URL formats that come with in-built SEO features based on their requirements.
CIF (Commerce Integration Framework) Structural Concepts are completely revamped and rescripted based on E2E planning.
CIF also blends well with AEM's cloud services. CIF is built on the principles of cloud native applications. The workflows and integration are seamless within teams.
The prime and significant feature of the new CIF is the efficient segregation of responsibilities and authenticity of content and commerce related information and data. Commerce solution takes care of product catalog management, shopping cart, payment and transactions, along with overall online shopping experience. AEM manages large customer experiences and terabytes of assets.
With the new CIF architecture, import and synching of catalog data into AEM is not needed. On the contrary, based on dynamic AEM template page, the commerce catalog is loaded from the eCommerce platform dynamically. Commerce transactions are handled directly from the customer's browser to the commerce backend and don't have to be directed through AEM.
This process works well for everyone in the teams involved; it is time saving and increases productivity. The merchants and product managers can concentrate on catalog management and marketing professionals can focus on offering better customer experiences in AEM.
The design of CIF facilitates seamless alliance of Adobe commerce and third-party solutions. The design is flexible to integrate all kinds of eCommerce backend solutions as headless and available to access through APIs.
With the availability of Adobe commerce's GraphQL schema, it becomes easy to integrate commerce solutions in cloud native with AEM via CIF. When commerce product experience management tools and CIF components come together, they support enrichment of all kinds of content in AEM.
The best thing about Adobe Commerce GraphQL schema CIF is that retailers can extend their projects beyond AEM and their websites. Custom data models and data from additional services can be easily included using an exclusive endpoint. Third-party solution providers and customers can also access the data through GraphQL. The overall time to market is easy as customers can create complex omnichannel scenarios and assist in adapting to the dynamic market trends and conditions.
CIF's operative principles, design elements and infrastructure were created to help the customers get unprecedented scalability when integrated with AEM. The eCommerce solutions that are conceptualized are easy to use, time saving and efficient, even when integrated with third-party solutions. We at Embitel provide end-to-end solutions for all things commerce. Schedule a call with our sales team to find out more: sales@embitel.com