Custom Ecommerce Website Development to Navigate the Coronavirus Crisis
The
coronavirus global pandemic
has had a definitive impact on the
shopping behavior
of people around the world. The business implications of the situation can last well into the decade.
With lockdowns being declared across various countries to contain the virus, offices have shifted to a work-from-home operational strategy. This period of isolation and uncertainty has resulted in a spike in online shopping and bulk-buying. The choice of products and purchase intervals have also seen a notable change.
This is just one of the scenarios that highlights the importance of building the much-needed bridge between a brick-and-mortar store and an ecommerce store. In other words, this is the perfect time for offline stores to begin their digital transformation journey by establishing an online presence.
Small and medium businesses can improve their visibility and enhance sales through custom ecommerce website development. This article takes a look at the advantages of ecommerce that offline businesses can explore during this pandemic crisis.

The Ever-Increasing Popularity of Ecommerce Stores
Several studies in the past have shown that the popularity of ecommerce stores is consistently on the rise.
For instance, a 2017 Statista report clearly indicated that while 28% of senior citizens in the U.S. preferred online shopping to brick-and-mortar stores, 41% baby boomers, 56% Gen X and 67% millennials vouched for the former.This trend indicates that the younger generation prefers the convenience of online shopping as opposed to the experience of shopping in a brick-and-mortar store. Senior citizens have also developed a notable level of comfort in shopping from online stores.

Another study of consumer behavior in the European Union indicated that Denmark had the highest penetration of ecommerce among EU countries, with 84% of its population opting for online purchase of goods and services. The other countries are not far behind as well.
A more recent study found that the ecommerce revenue in Europe is expected to touch 479 billion U.S. dollars by the year 2023. This indicates an increasing affinity towards online shopping, in general.
With the rising adoption of ecommerce among the senior population and the coming of age of a generation of tech-savvy youngsters who are making instant purchase decisions through online channels, it is imperative that traditional offline stores jump on the ecommerce bandwagon.
A 2020 study from Ipsos MORI amidst the coronavirus pandemic has found that there is a definitive rise in customers opting for ecommerce platforms to purchase goods that were otherwise bought in physical stores. The ecommerce affinity was particularly conspicuous in Italy, China, Vietnam and India. This underlines the importance of an online presence for businesses to boost sales in such trying times.
Custom Ecommerce Website Development
In the digital transformation journey of a brick-and-mortar store, there could be several challenges. Since there are a myriad of SaaS products in the market to ease the transition to ecommerce, strategy and resource management should be the primary areas to focus on.
There are three categories of activities for the setup of an ecommerce website:
Ecommerce Website Creation and Pre-Launch Activities
Optimizing the Ecommerce Store
Effective Ecommerce Marketing Strategy
Let us explore each of these points in detail.

Ecommerce Website Creation and Pre-Launch Activities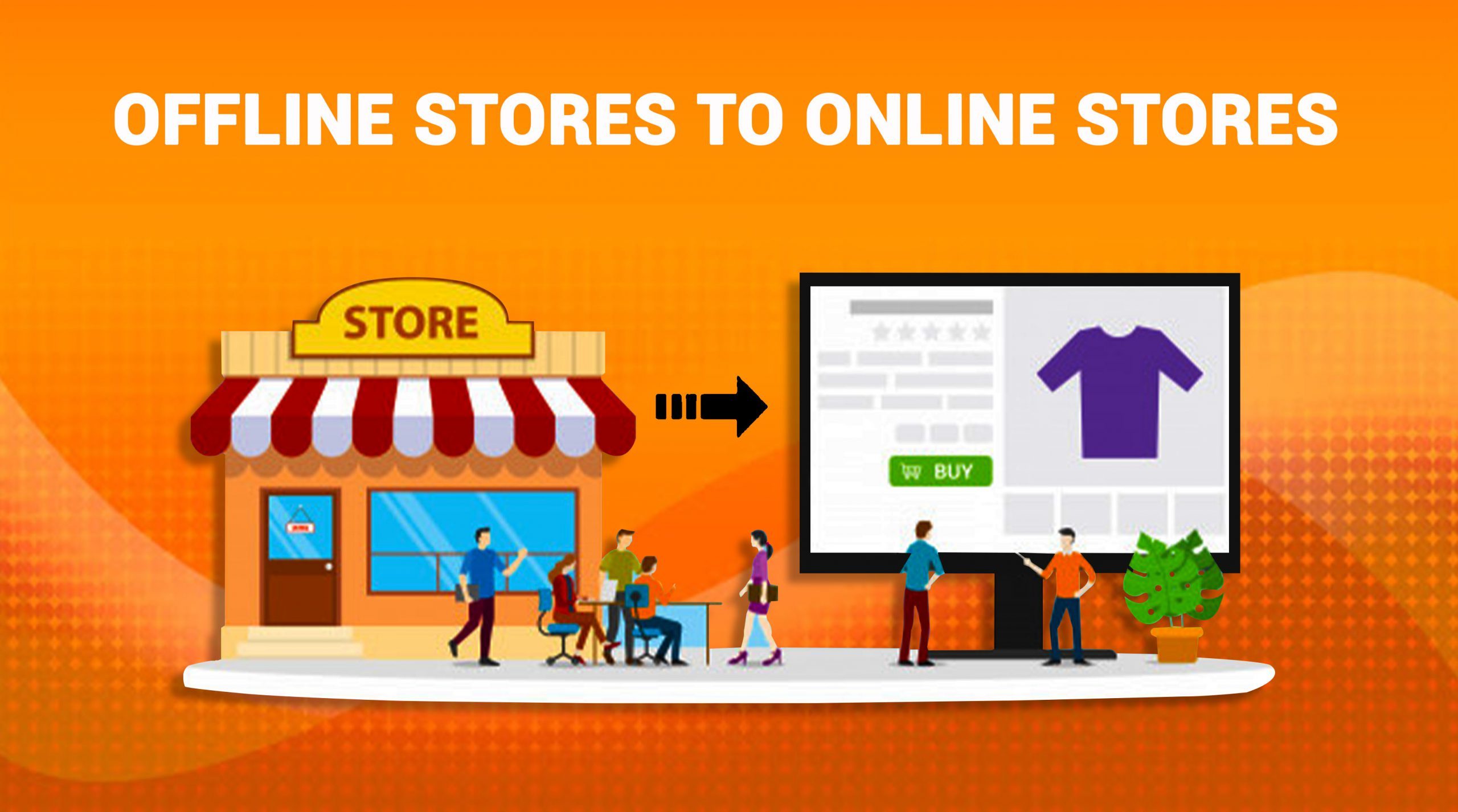 Understand who the target customer is – The first step in the journey of building a successful ecommerce website is the determination of the target customer. The website owner needs to understand who the primary customer is and how they will discover the website.Once this is established, it is easy to identify the approach that needs to be used to market the website to the customer base.
Identify competition – An equally important step is to assess the competition in the market. This includes visiting the websites of similar online retailers to understand their pricing, product range, delivery strategy and overall marketing pitch.
Selecting a domain name – Picking a domain name that the target customer can easily discover is a challenge in itself. This is where the question of prioritizing branding over discoverability comes into the picture. The store owner will have to decide how they plan to get the traffic to the website.If the priority is in traffic garnered through search engines, then keywords can be used in the domain name. On the other hand, if the retailer is planning to rely more on social media marketing, affiliate marketing or pay-per click advertising they can stick to their offline store name.An ideal scenario would be to identify with a name that reflects the offline brand and also has immense potential for discoverability through search engines.
Finalize products that will be sold online – When an offline store starts digital operations, it is recommended that they sell products from the inventory that would appeal to a broader audience. For example, selecting the bestsellers from your offline store would be a good start. As you see growth in website traffic and more engagement, you can gradually increase the number of products in the catalogue. You can also include products for which you have received special requests/bookings from customers in the past.
Optimize page titles and meta descriptions – Even if you are not able to write complete descriptions for all your products due to time constraints, ensure that you create catchy titles and meta descriptions for your webpages.
Consolidate great pictures of your products – Using original photos on your website can give you an SEO boost; so click great pictures for your website.
Decide on payment methods and shipping costs – Ensure that you configure easy payment methods that resonate with a wider audience. Also, try to offer a flat rate on shipping or introduce offers like discounted shipping charges for customers who buy more.
Organize your taxation and refund policy – It is easy to overlook these areas at the time of a website launch. However, bear in mind that these are critical for the success of your ecommerce store.
Optimizing the Ecommerce Store
Consider content marketing to drive organic traffic to the store; develop search engine optimized content.
Develop a responsive website design, quick page load and great user experience (UX).
Optimize product descriptions using keywords with high search volume.
Effective Marketing of Website
Take up marketing activities within your organization rather than outsourcing it. This way, you can monitor the customer engagement firsthand and draw important insights from it.
Use Google Search Console and Google Analytics tools to understand your customer behavior and website traffic details.
Develop a robust outbound ecommerce marketing strategy.
How Your Ecommerce Website Can Compete with Online Retail Giants
Provide quality niche products/services – One of the most crucial aspects of digital commerce is creating a niche for yourself. There may be several ecommerce giants out there, but your website can find a market share and thrive if you focus on unique products and services. You should also be mindful of the quality you are offering.Most mega-retailers have a wide array of products/services that would appeal to a large customer base. This, effectively, acts like a net to contain as many buyers as possible.However, if there is a competitor offering high-quality niche/customized products in smaller quantities (limited edition models), customers may forgo the plain vanilla version of products from large stores and opt for the unique products instead. This is where new ecommerce websites stand to gain.
Focus on shipping charges – It may be difficult to be on par with large retailers as far as shipping charges are concerned. Large stores get a lot of shipping perks from sheer volumes of products that are transported daily.If your target customers reside within the same locality as your warehouse, you can take advantage of your location by offering faster shipping than global stores. Customizing your packaging and shipping strategy is another point to consider. This further results in a more personalized experience for your customer – a win-win situation.
Take advantage of social media marketing – If you have marketing budget constraints, you can utilize social media channels for promotion of your products. Develop an understanding of how to target specific audience and reach out to new users. While creating marketing content, lay more focus on infographics, videos or images, as these are more appealing to customers these days.You can also consider mutually beneficial collaborations with influencers for the promotion of your products.
Focus on email marketing strategies – Email marketing is another powerful tool with a great ROI to increase your engagement with potential customers. Collect as many email addresses as possible and drive email campaigns if you have a valuable offering.
Provide multiple payment channels – Many of the retailer giants offer a wide range of payment options to customers. This empowers customers to pick a payment option they are most comfortable with.Having multiple payment options on your website may be a hassle in terms of revenue management. However, the benefits of offering multiple payment channels far outweigh the associated disadvantages.
Improve customer service – There are several aspects in which smaller stores cannot really compete with retail giants. This includes pricing and inventory. However, customer service is an area where they can gain a definitive upper edge.It is possible for new ecommerce websites to provide a more personalized customer service with ease. This, when combined with top quality products or services, will provide the store an unshakeable online presence.
Integrating Online and Offline Retail
Although shopping on ecommerce websites continues to grow in popularity, brick-and-mortar stores are not doing too bad either. There are many who still prefer the experience of in-store shopping, highlighted by the ability to try out products and the advantage of getting instant access to the purchased item.
Today, retailers are aware of the fact that ecommerce and offline stores can coexist and complement each other. Integrating online and offline retail is certainly the way to go.
Retailers have realized that the opportunity to create sensory experiences and socializing is higher in a brick-and-mortar store. In line with this, offline stores are investing a lot of money in training their staff to provide top-notch customer experience. And this is certainly not something a chatbot can easily provide!
It is also seen that popular brick-and-mortar stores are stocking up on products that are hard to find through creative partnerships. These unique offerings, along with sensory stimulation and meaningful interactions would ensure that offline stores continue thriving along with ecommerce stores in the highly competitive marketplace.