How Adobe's Live Search is Helping Online Merchants Create Rich Online Search Experiences
A lot has been talked about how ecommerce is the future. Especially, looking at its adoption during and after the pandemic.  This thought process has accelerated ecommerce adoption and investments in ecommerce technologies to leverage the huge increase in online shoppers. The moment also calls for an increased and razor-sharp focus on retaining the customer bases by enhancing the shopping experiences of the customers.
And one such key ecommerce feature that is often overlooked, is on-site search!
Most ecommerce businesses are missing out on revenue because their on-site search functionality is not advanced enough to cater the evolving needs of the customers.
Think from the perspective of a shopper who is visiting your e-store for the first time.
You may have some of the exclusive designer collections from best of the brands. What is the use if the shopper isn't able to search online and find the products that are relevant to them?
Chances are that they may stop right there frustrated and exit the website. What can be more disappointingfor you as an ecommerce site owner?
On-site search is one of the most underrated yet powerful strategy that an ecommerce website can possess. If implemented correctly, an incredible online search functionality can be the prime revenue generating feature in your entire ecommerce store.
Let's decode how an incredible on-site search feature compliments your ecommerce store and helps in enhancing conversions:
In the world of e-commerce, findability is deal breaker that decides whether your venture is going to hit the right chords with your customers. 60% of products bought online, go through a detailed online search process influencing buying decision , as per Volusion- an ecommerce software. If your e-store visitors aren't able to find what they are looking for, they will be less likely to purchase or worse, come back again to your e-store.


A robust and highly-efficient on-site search is indispensable to ensure a seamless, memorable shopping experience of your ecommerce store customers. So, if your key ecommerce business goal is to deliver incredible digital experience to your customers, focus on an impeccable on-site search strategy.


If a customer can't easily find a product in your webstore, he most likely will go and find it on a competitor site.


Ecommerce store visitors who leverage online search feature convert 2-4% more than those who don't.
An e-store with a well-defined product discovery process can go a long way in improving the conversion rates and average order values.
The Matter of the Fact
Even after being such a critical & a revenue-generating tool for successful ecommerce journey , reports show that ecommerce merchants haven't been able to implement a solid on-site search strategy or product discovery solution on their site.
While some are relying on outdated online search strategy, some merchants need to find fixes to key search issues with their ecommerce stores.
Let's look at some market studies that indicate in this direction:
61% of some of the top US-based ecommerce stores require their store visitors use the exact same product type jargon that is defined and used by website.
27% of these sites weren't wired to fetch results when a user misspelled a letter or character of the product.
Thus, it is a no-brainer that having a solid on-site search strategy that offers rich search experiences and lets an online shopper explore, refine and discover relevant results is indispensable for the success of an ecommerce business. No wonder, that there is a great focus from ecommerce stakeholders , specifically the ecommerce tech giants to create fast converting site search experiences!
Digital tech giant, Adobe's recent launch of Live Search feature is a case in point. With the new Live Search, Adobe aims to create a new benchmark for ecommerce product discoverability or in-store search.
So, What is Live Search ?
In its mid-quarter release in June 2021, Adobe launched the powerful Live Search, in a bid to enhance the online shopping experience and going by its motto to create "Memorable Online Experiences " .
Powered by Adobe Sensei, the Live Search feature uses AI and ML algorithm with real-time ecommerce data to create superior online search experience and deliver context-specific results as the user types in the query.
This means that Live Search offers you deep insights about online search queries entered by shoppers  . This information is helpful to fine tune your offerings and marketing strategies to showcase personalized product recommendations that are most relevant for each shopper.
Prior to the launch of Live Search, the search features available with Magento 2, the powerful ecommerce platform from Adobe Commerce, were supported by ElasticSearch.
And prior to that with Magento 1, most of on-site search functionalities were made available through third party integrations and extensions.
But now, Live Search replaces all the existing online search capabilities that were available with Adobe Commerce and Magento Open Source.
For ecommerce stores powered by Adobe Commerce, Live Search can be downloaded for free Adobe marketplace. It is made available set of standalone packages that can be easily connected to your ecommerce store as services.
Admins can seamlessly customise the search features along with the search facets, synonyms, and merchandising rules to suit their business model ( B2B as well as B2C) and goals.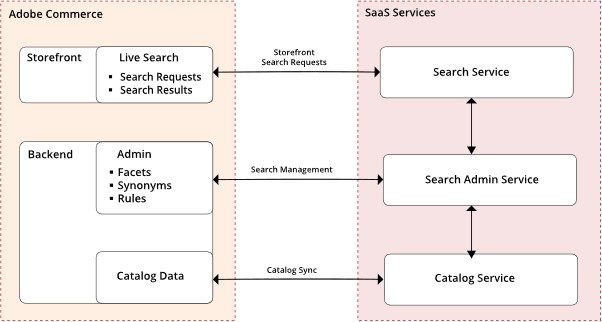 Image Source: Adobe.com
What are the features included in Live Search powered by Adobe Sensei?
Live Search, powered by Adobe Sensei, brings forth some of the most advanced and evolved formats of online search features to your ecommerce store such as:
AI-powered filtering, Synonym mapping,  customised merchandising rules – to name a few.
Let's decode some of these features and attributes that are made available for the online merchants and retailers with the launch of Adobe's Live Search solution :
Managing Synonyms in Search Query:
With the Live Search , as a ecommerce webstore admin , you can create synonym maps for online search term. This basically means that you can define search terms and supplement it with their synonyms so that your store visitors don't have to type them to navigate to the right item.
For example, if a site visitor is searching for "dog supplies", he will also be shown products that include titles like "Puppy supplies" "Canine" "Canine food" etc.
You can define two types of synonym maps: One-way Synonyms and Two way Synonyms.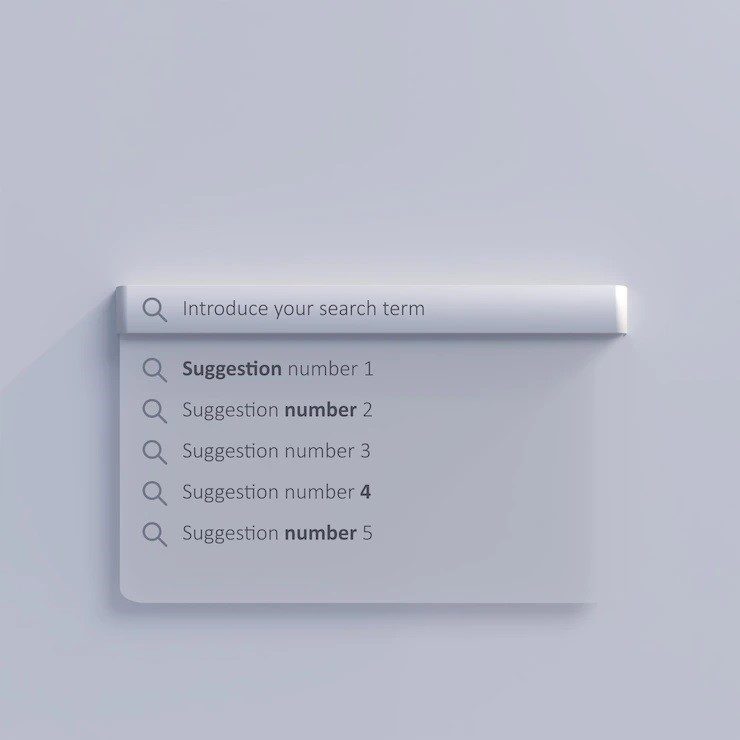 One-way Synonyms:
Sometimes search for one term should lead to another related product, but not in the reverse order to ensure a better shopping experience . For example, if your customer  is searching forwinter wear, he may be led to jackets – which is a relevant search result. But if they are shown winter boots or shawls, while searching for jackets- it might not be something they would be keen to find.
This is something you can prevent using the one-way Synonyms method. You can help your e-store visitors navigate in single direction by defining one-way Synonyms.
Two-way Synonyms :
The Two way Synonyms on the other hand broadens the scope for online search results for your shoppers. For example, a search for "pants" may fetch results with "Trousers", "Jeans" etc. so that the shopper doesn't have to type all the types of bottom wear to find relevant results.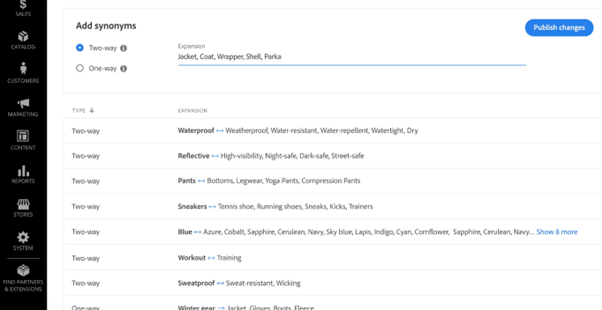 Image source: Adobe
Create advanced Search Rules:
You can leverage Live Search to set specific merchandising rules aligned with their business  goals. This features allows you to :
Boost products – This means you can make specific product lines appear on top of online search results
Bury products – On the contrary, if you want certain products to appear lower in online search results, so that certain other products get more visibility, then this feature can be used.
Hide products – In cases of low stock or a quality issue, you can use this feature to hide certain products and prevent them appearing in the online search results.
AI-powered Faceted Navigation & Search Recommendations
Powered by Adobe Sensei, one of the most powerful AI digital experience tool, you have access to a strong personalisation search solution that can help you turn visitor into customers. Using real-time data it uses "search-as-you-type" to greatly transform the shopper experience. This helps them to not only find the desired products but also explore a wide range of products that they didn't know about.
In a conventional setup, you would have to guess and identify most probable query for a given item to give an almost personalised online search result for your e-store visitor. This entails hours of configuring search rules and facet/filters rule in the backend. This is the problem that Live Search solves for you.
As an ecommerce merchant you don't have to bother about configuring and refining search results. Adobe Sensei will take care of it by automatically filtering online search results based on the gathered data .It processes the available catalog and customer data using advanced ML and AI algorithms to asses each query entered by the user and return the most relevant and customized result for the user, that too within a fraction of seconds.
Advanced Reporting Features:
It has got an intuitive dashboard and advanced reporting feature that lets you analyse trends , monitor and enhance on-site search experiences. Additionally, you can filter metrics depending on likes, impressions, clicks etc. You can gather actionable insights by analysing the changing trends, shopping behaviour and search queries and use it to fine tune your product information.
Adobe's Live Search is wonder tool offering huge opportunity for online retailers and merchants to offer personalized customer experience as they shop. And all these advanced search features are can be leveraged for free for ecommerce stores running on Adobe Commerce. The advanced tool is definitely going to transform the online product discoverability for the better!
At Embitel , we have been helping our global customers in navigating through ecommerce challenges and transform their digital commerce vison into a reality. If you are looking for a personalized solution for your ecommerce store, drop a mail at mailto:sales@embitel.com