How Automotive Ecommerce is Disrupting the Agri & Construction Sector
Thanks to the internet, there is more insight into the global supply chain as buyers and sellers are closer and more easily connected. Most consumer journeys in these sectors begin online via search engines, social media suggestions, online reviews, or digital marketing.
E-commerce is yet to significantly impact the agricultural industry, one of the primary reasons being the presence of well-established intermediaries who control the Agri & equipment supply chain. Agri-e-commerce adoption is considerably less evident in emerging regions. This is primarily because the barriers to agri-e-commerce adoption are more severe in these locations.
Many segments of the agricultural industry in developing countries have benefited from digital platforms, particularly mobile platforms. Mobile technologies are utilized to supply farmers with vital farming and market information and provide early warning systems to reduce the risk of losses.
As investors capitalize on the expanding usage of mobile internet and digital payment solutions by end customers and farmers to develop new go-to-market models for agricultural output, these platforms have considerable potential to disrupt these regions' agriculture supply value chain. This can have a significant impact on the agriculture industry in developing countries.
Since the beginning of industrialization, digital transformation has been one of the most significant achievements we have ever achieved. Even in the agricultural and construction OEM industries, digitization has resulted in modifications in nearly all processes through information-based data processing.
Industries across the board began to undergo irreversible change, revamping their previous business models to a more efficient online model, providing clients with an end-to-end experience of acquiring vehicles, tools, and spare parts.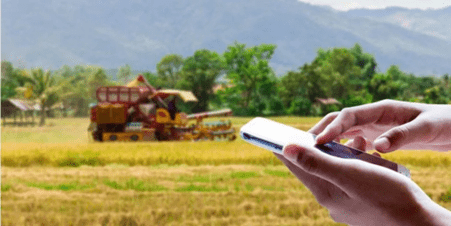 Image source : Krishijagran
Disruption of the Agricultural Value Chain
The rise in smartphone adoption over the years in rural areas has a significant impact on e-commerce. Mobile internet is the primary form of connectivity in most developing regions as many platforms facilitate digital payment solutions, a key e-commerce enabler for users.
Beyond Connectivity
It is not just about connectivity; the mobile operators also play an active role in the eCommerce landscape. Moreover, the trend is expected with mobile e-commerce to continue to rise further.
E-commerce Enablers in Agri & Construction Sector
The scale of the Agri e-commerce potential in a particular market is determined by various enablers, which can substantially influence an Agri e-commerce service's sustainability and scalability. Some external variables could affect a specific market's Agri eCommerce business model. In any given market situation, the key enablers of Agri e-commerce services are:
Internet Connectivity: Mobile internet penetration and connectivity facilitates buyers to access Agri eCommerce services.
Logistics Infrastructure: Logistics is an important consideration when purchasing or selling any physical commodity online. Markets with an established logistical infrastructure and addressing system are better suited to e-commerce, hence agri e-commerce.
Digital Payment Solutions: Digital payment systems, in general, facilitate e-commerce services. Mobile money is a handy payment alternative for different transactions, including online purchases, in developing regions where debit and credit card use is relatively low.
Agricultural Eagerness: Agri e-commerce providers must equip the agricultural sector for e-commerce to succeed. This means farmers can use mobile devices to receive order notifications and perform essential tasks. Farmers who have experience with formal value chains, understand quality standards, and have relatively high productivity are also advantageous.
E-commerce Awareness: Buyers who have previously used e-commerce services are more likely to be open to new e-commerce services geared toward the agricultural sector. The use of services increases consumer trust and appreciation for the advantages of online shopping, such as ease and choice.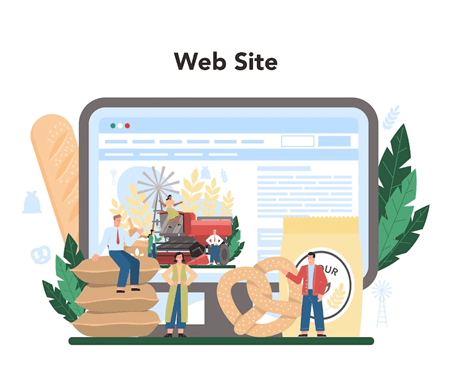 Benefits of Agri Ecommerce:
Let us analyse how embracing digital commerce can add significant value in the lives of the all the stakeholders associated with the agriculture sector viz. the farmers, the agricultural vehicle OEMs, the dealers and the distributors.
Transparency

Farmers benefit from greater transparency and visibility of market prices through online platforms, resulting in more equitable prices than a typical intermediary. This is frequently accomplished by eliminating intermediaries in the value chain and improving distribution system efficiency.

Financial Inclusion
Farmers can build a history of their transactions digitally using mobile payment solutions and other digital solutions on Agri e-commerce platforms, which could allow them to demonstrate their creditworthiness to financial institutions and other financial service providers.
Improved Customer Experience
A unique seamless customer experience can be achieved by capturing buying intent, analytics for product recommendations, generating insights, and commerce solutions for transactions, creating an integrated OEM ecosystem.
Enhanced Dealer Network
The dealerships are not replaced as a result of the digital revolution. Instead, the dealer network is enhanced by providing them with additional sales and marketing channels that they do not have access to with the traditional approach.
Cloud and Data
The consolidated raw data stored in the cloud can be used to generate insights that can be exploited for complex problem solving, understanding customer journeys, enhancing marketing campaigns, and discovering new avenues for growth.
Unified Platform
A unique omnichannel digital solution bringing the OEM, dealerships, and end customers onto a single platform can enhance the entire customer experience and integrations that facilitate auto finance, insurance, trade-in of used equipment, maintenance, repair, and replacement of spare parts.
Insights Monetisation
OEMs can leverage the generated data to keep the health of their products in check and diagnose issues proactively. The data can be further utilized to make well-informed business decisions, such as offering aftermarket services.
Operational Functions of Agri eCommerce

FARMER Farmer Acquisition

Farmers must be made aware of the existence of agri-e-commerce businesses. This may entail sending field agents to farmers to explain the business model and benefits of collaborating with other organizations such as co-operatives, farmer societies, or government agencies.

Farmer Education

Agri e-commerce companies may need to educate farmers on using their services. This is especially important in developing countries, where digital literacy is frequently low, and farmers have little experience with e-commerce services. Agri e-commerce businesses educate farmers by employing local field agents to teach farmers about crucial tasks such as how to purchase a product they wish to buy. While these activities effectively upskill farmers, they necessitate a large number of employees and extensive travel to reach farmers in remote areas. As a result, several agri-e-commerce companies use alternative training methods to cut costs.

Pre-financing

Further, brands in the agri-e-commerce industry can extend assistance to the farmer community  in distinct ways to make their overall experience smooth and to help enhance quality and productivity . From helping them obtain financing options and thus reducing dependency  on high-interest finance from intermediaries to help them get receive credit from partner organizations through agri-e-commerce businesses- there are numerous ways to assist the farmers.

BUYER Omni channel Marketing

Agri e-commerce companies utilize marketing to increase platform awareness and usage. Services, in particular, extensively highlight the advantages of agri-e-commerce.

This is an essential role in agri-e-commerce since the service provider must increase demand while also meeting the supply of equipment.

Data-Driven Customer Service

Agri e-commerce enterprises may need to give customer care to buyers who have questions about delivery or payment.

This assists the agri-e-commerce company in increasing customer satisfaction among existing customers. Larger platforms offer a customer care line or an in-built chat facility to provide this assistance. Customers may approach dedicated teams that can address their questions through numerous means. Support is more informal with smaller agri-e-commerce enterprises, but it is still a vital client necessity.

Returns

A high proportion of customer returns hurts an agri &equipment OEMs e-commerce business's brand and raises customer service expenses to recruit people to resolve complaints. There is also the expense of replacing the item or issuing a refund. As a result, agri-e-commerce companies may need to develop a return policy with farmers.

CORPORATE Logistics

Intermediaries conduct logistics from the farm to the buyer in the traditional agri supply value chain. The agri e-commerce business might have to take on logistics tasks in addition to acting as an intermediary. This can be accomplished through collaborations with third-party logistics companies or by investing in logistical assets. Instead of controlling delivery assets, hiring third-party delivery companies to deliver orders minimizes upfront costs and allows flexibility to meet demand.

Quality Control

Interim intermediaries usually are in charge of quality control in the conventional agricultural value chain. To recruit and keep clients, it is necessary to maintain high-quality standards. Buyers quickly lose faith in sites that offer faulty produce, and negative experiences propagate swiftly.

Platform

Customers can have access to farm e-commerce platforms through a variety of means. While online and app-based solutions are the most frequent, unstructured supplemented service data (USSD) routes, allow agri e-commerce enterprises to reach feature phone users. IT skills are required for agri e-commerce enterprises to design and manage technological platforms that will enable consumers to purchase equipment and vehicles online.

Payment Facilitation

Payment collecting (buyers) and payment distribution are two further functions that an agri & equipment e-commerce OEM may conduct (farmers). Agri e-commerce services, in general, encourage buyers and farmers to utilise digital payment methods, which helps to speed the transaction process and shorten the settlement duration.

On the buyer side, digital payments give a quick and efficient solution to handle payment reversals, assisting agri e-commerce enterprises in building confidence and saving money. Nonetheless, due to the necessity for technological integration and commercial arrangements, online payments raise platform expenses.

Regulation

Agri e-commerce enterprises must adhere to the regulatory environment of the nations in which they operate, as agricultural value chains are frequently regulated and entail government engagement. For example, the Indian government imposes a minimum price for some agricultural items and mandates a legal separation between e-commerce companies and suppliers. Agri-e-commerce businesses may require legal competence or the collaboration of specialized partners. This may impact profitability and prevent agri-e-commerce companies from seeking to disrupt certain agricultural value chains.

About Embitel:

Aimed at smoothening the digital transformation for automotive OEMs, Embitel has curated automotive ecommerce solution - A comprehensive digital experience package to streamline automotive OEM's business Operations.

The unified auto ecommerce platform caters to the digital transformation aspirations of a wide range of vehicle segments especially the agriculture and construction OEMs, light vehicle OEMS, truck and buses OEMs.

Write to us at sales@embitel.cp, to know how your business can gain significant ecommerce benefits, including enhanced global reach, deeper customer insights, personalized CX, new avenues of marketing.