How Magento 2 Migration Provides a Competitive Edge to Ecommerce Stores
In a time where social distancing is encouraged for our safety, ecommerce stores are the need of the hour. Customers prefer to have their purchases delivered to their doorstep rather than risk stepping into a crowded store during the government-imposed quarantine. Online shopping has become a safe and convenient option for consumers around the world.
So, how can offline retailers make the best of the situation and provide a smooth and safe shopping experience to their customers? By setting up an online store backed by a robust ecommerce platform, of course!
In line with this, the implementation of Magento Commerce has an edge over other ecommerce platforms due to its ingenious features and ability to deliver exceptional customer experience.
Online retailers with stores operating on older versions of Magento should consider an immediate migration to the latest Magento 2 platform.
Migrating from any ecommerce store platform to Magento 2 is easy when store owners opt for reliable Magento 2 migration services or seek the help of expert Magento developers to guide them with the process. Here is an insightful Magento 2 migration guide that focuses on:
Magento 1 to Magento 2 migration

Magento 2 migration steps
Benefits of upgrading to Magento 2
Risks of not migrating/upgrading to Magento 2
Magento 2 migration issues
Magento 2 migration cost and timeline

Migration from other platforms to Magento 2

PrestaShop to Magento 2 migration
Opencart to Magento 2 migration
Shopify to Magento 2 migration
WooCommerce to Magento 2 migration

How Magento 2 will resolve the existing pain points of customers and store owners
Magento 1 to Magento 2 Migration
3 important reasons for upgrading from Magento 1 to Magento 2 are:
Magento no longer provides updates to Magento 1 versions.
Magento 2 provides improved results and enhanced site performance.
Any changes made to the Magento 1 platform will have to be repeated in Magento 2 whenever store owners decide to upgrade their ecommerce platform.
Before carrying out the migration process, adhere to these prerequisites in the Magento 2 migration checklist:
Create a backup of the Magento 1 website such as the database, folders and files.
Decide what features and data need to be retained in the Magento 2 website and what has to be removed.
If Magento 1 extensions/themes are compatible with Magento 2 then integrate the same. If not, then check for compatible extensions, themes and custom code on the Magento 2 marketplace that are equivalent to or match the current Magento 1 themes and extensions.
Use the cloned database of Magento 1 site to carry out the migration process rather than using the live store.
Use Magento 2 Data Migration Tool for migrating critical data like store settings and configuration, production information, order history, categories, customer data, etc. from Magento 1 site to Magento 2 site.
Magento 2 Migration Steps
Magento 2 migration can be carried out by hiring experienced Magento developers. The migration process broadly involves 4 steps: data migration, theme migration, extension migration and customizations migration.
Here is a step-by-step look at what needs to be done at a high level:
Review the extensions on your current website and identify the ones that will have to be migrated.
Prepare the Magento 2 store for migration. This involves the following steps:

Setting up of the Magento 2 hardware system that is in alignment with the Magento 1 system
Ensuring that the system meets all the Magento 2 system requirements
Installing Magento 2.x and Data Migration Tool
Making custom adjustments to the Data Migration Tool, if needed

Next is the dry run phase. It is advisable to test all the migration steps in a test environment before the actual migration is executed. Dry run includes the following activities:

Copying Magento 1 store to a staging server
Completely migrating the cloned Magento 1 store to Magento 2
Testing the Magento 2 store thoroughly

Initiate the migration. This involves the following activities:

The Data Migration Tool should have access to the Magento 1 and Magento 2 databases. The relevant ports should be opened in the firewall.
Stop specific activities in the Magento 1.x Admin Panel.
Stop all Magento 1.x cron jobs.
Manually copy the Magento 1.x media files to Magento 2.x
Using the Data Migration Tool, move the data from Magento 1 database to Magento 2 database.
Reindex all the Magento 2.x indexers.

If desired, you can make changes to the migrated data.
Incrementally capture data updates from Magento 1 store and move these to Magento 2 store.
The final step is going live. This involves the following steps:

Put the Magento 1 store in maintenance mode and stop incremental updates.
Start the Magento 2 cron jobs.
Reindex the stock indexer in Magento 2 system.
Hit pages in the Magento 2 system to cache pages before customers.
Modify the DNS and load balancers to point to the new production hardware.
The Magento 2 store can be operational now.
Benefits of Upgrading to Magento 2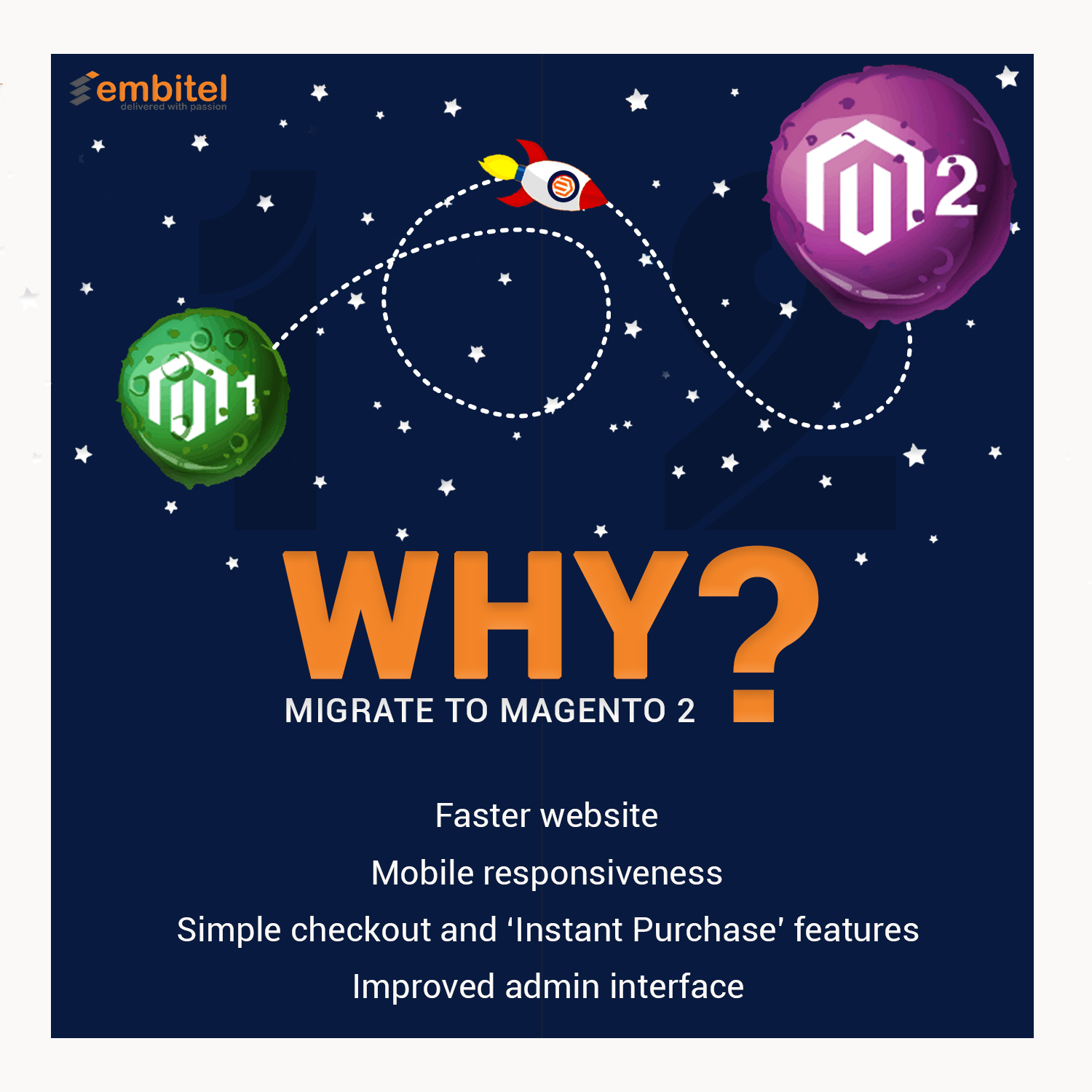 The Magento ecommerce platform has been successfully serving small, medium and large-scale ecommerce enterprises around the world so far. However, since the announcement of the end of official support for Magento 1 versions from June 2020, it's imperative that online stores switch to Magento 2 at the earliest to gain an upper hand in the world of ecommerce.
Those who have migrated to Magento 2 are enjoying the following benefits:
Intuitive UI
Supports PHP 7
User-friendly checkout method
Easy navigational capabilities
Default full-page cache setting
Increased page load speed
Database optimizations
Improved and powerful inventory management
Over 30 security improvements
Live chat support
Powerful message queue framework
Improved indexers
Excellent performance capabilities
Better B2B infrastructure
According to a study conducted by Stax (a global strategy consultancy) on the business value offered by Magento 2 migration, the benefits of upgrading to Magento 2 which offers native B2B functionality, multi-site capabilities and comprehensive security standards include:
Improved website conversion rates
Increased site traffic
Increased average order value
Ability to drive revenue growth
Easy-to-use content development functionality which enabled cost savings of up to 62% when developing and maintaining new content
Cost savings of up to 91% when using an average Magento 2 extension rather than building comparable functionality on prior platform
Greater efficiency was achieved by purchasing from Magento 2 extension marketplace, as they offer built-in premier extensions that reduce the time and money spent on implementing key capabilities.
Risks of Not Migrating/Upgrading to Magento 2
Losing the edge to outmaneuver competitors
Operating on outdated software can be cumbersome and expensive if the site crashes
Missing out on improved site performances, greater efficiency, cost savings and higher search engine rankings provided by Magento 2 features
Violating PCI compliance
Old Magento 1 versions are pervious to security attacks without updated support
Taking the risks into consideration, it is wise to jump on the Magento 2 bandwagon before it is too late!
Magento 2 Migration Issues
Many ecommerce store owners have already recognized the competitive edge that the new version of Magento Commerce has to offer and begun the migration process from Magento 1 to Magento 2 platform. While some migrations have been simple and smooth sailing, some others have been experiencing issues during and after the process. Here is a list of some of the common Magento 2 migration issues that one may face, along with effective solutions:
Slowing down of website operation: During the Magento 2 migration process, operations can slow down for myriad reasons. It is prudent to plan the migration carefully and to learn how the Magento migration process works.

Solution: To combat this issue, store owners can carry out the migration process during their off season, keep the customers informed of the migration and request their co-operation until the migration is completed.

Lowering search engine rankings: Ecommerce site rankings can lower due to change in URL, duplicate content, store redesign, broken links, etc. during and after the migration.
Theme/extension incompatibility: Magento 2 platform may not have the same customized themes and extensions that ecommerce store owners used in Magento 1 platform. This incompatibility or inconsistency in themes and extensions can result in poor UX.

Solution: The good news is that Magento 2 offers more than 5,000 extensions; therefore, finding a theme or extension equivalent to the existing Magento 1 theme is definitely easy.

Risk of losing valuable site information: Many shop owners are known to carry out the migration process by themselves. However, migration of important customer data and product information can be difficult.

Solution: In order to ensure safe and thorough migration of data from the existing ecommerce store platform to Magento 2 platform, it is important to have a backup of the Magento 1 website and also to prioritize the data. Migrate crucial data first then move down the priority list. Another viable option can be to hire an expert Magento 2 migration services company to carry out the process.

Mismatch of entities in the document: This is an error code that you may come across during volume check migration. This occurs as a result of inconsistency in the record count of Magento 1 and Magento 2 databases.

Solution: This issue can be fixed by running the Data Migration Tool in delta mode to transfer incremental changes.
After migration, it is very important to run full tests on the Magento 2 website repeatedly before going live. Tests must ensure all Magento 1 features have been migrated to Magento 2 successfully as well as the optimum functioning of shopping cart, payment methods and shipping setup on the Magento 2 website.
Magento 2 Migration Cost and Timeline
The cost of Magento 2 migration for small and medium-sized businesses with minimum customizations can vary from approximately $5,000 to $50,000, respectively. It can take anywhere between 2 to 5 months for the migration process to be completed. Addition of features and customizations to the new platform can increase the Magento 2 migration timeline.
The factors that affect the cost of migration are:
Customization: Every business has specific concerns when it comes to seasonal shopping patterns, shipping methods and sales tax. Therefore, the Magento 2 store will have to be customized accordingly. This may affect the cost and time of migration differently for different businesses.
Extensions: Businesses usually opt for customized extensions to give their customers an optimum shopping experience. If the old platform extensions don't match the new Magento 2 platform then time and money will have to be invested in creating compatible extensions for the new site.
Site redesign: Magento 2 platform offers an excellent opportunity to upgrade ecommerce stores with enhanced features site redesign. This will, of course, require additional time and money to execute.
Magento holds the top position among the global ecommerce platforms with over 25% market share. So, it's not a surprise to learn that many store owners are migrating from other ecommerce platform solutions like WooCommerce, Shopify, Opencart, PrestaShop, etc. to Magento 2.
Migration from Other Platforms to Magento 2
PrestaShop to Magento 2 Migration
Here are some reasons why migrating from PrestaShop to Magento 2 sounds reasonable:
Magento is the leading ecommerce platform that is used by business in the US, the UK, India and China.
While PrestaShop is commonly used in industries such as online marketing, Internet and telecom, web hosting and the like, Magento claims extensive usage coverage among most business categories. It ranks first among 200 different categories like shopping, clothing, arts & entertainment, and so on.
Magento is the leader in top 10K, 100K and 1M sites.
Magento 2 boasts of power functionality, wider community and more ecommerce opportunities.
There are specific modules available for PrestaShop to Magento 2 migration via data files and API.
Opencart to Magento 2 Migration
Although Opencart is not as famous as other ecommerce platforms like Shopify and PrestaShop, it is used by a small number of businesses. Lack of flexibility, functionality and commercial options can be hindering for businesses using Opencart. If store owners desire a sophisticated site design, rich features, customized themes and extensions to suit their business requirements, they should definitely switch to Magento 2.
There are a few third-party tools that can be used for Opencart to Magento 2 migration, to transfer and synchronize data between the two systems.
Shopify to Magento 2 Migration
While Shopify is a hosted ecommerce platform, Magento is an open source ecommerce platform. Advantages of switching from Shopify to Magento 2 are:
Since Magento is an open source type, it allows store owners to modify existing features to meet their site requirements.
Magento allows owners to set up multiple languages and currencies on their websites for different customer groups.
Store owners can set up many sites and manage these from one admin panel.
Magento supports several third-party extensions.
Hire expert Magento developers to switch from Shopify to Magento 2 or use third-party tools to carry out the migration, as the standard migration tools offered by Magento may not check all the boxes.
WooCommerce to Magento 2 Migration
WooCommerce is a WordPress plugin that is easy to install and use. Therefore, it is more commonly used than Magento. However, simplicity of WooCommerce translates to limitations when it comes to gaining a competitive edge over one's competitors. While WooCommerce is home to numerous websites, Magento ranks first in ecommerce platforms for online stores that offer flexibility, scalability and powerful performance.
To keep with the times and not be left behind, it is advisable to switch to a more robust enterprise solution like Magento 2. There are a few third-party tools and exclusively designed modules that can be used for migrating from WooCommerce to Magento 2.
How Magento 2 Resolves Existing Pain Points of Store Owners and Customers
Existing pain points of store managers and customers who use other ecommerce store platforms or older versions of Magento 1 platform include:
Losing customers as a result of lagging page load speed
High cart abandonment rate because of slow checkout process
Limited number of orders per hour
Limited number of page views per hour
Decreasing mobile conversions
Discontinued security updates
Lacking advanced reporting and analytics tool
No new features to upgrade the site and user experience
Here is how Magento 2 resolves the existing pain points of store owners and customers:
Magento 2 uses the latest PHP which, in turn, will improve the site speed, performance and flexibility.
6-click steps to checkout in Magento 1 is reduced to 2-click checkout process in Magento 2, thus, increasing page speed, reducing cart abandonment and improved caching.
Most customers shop using smartphones and tablets. Magento 2 offers support for responsive mobile sites which, in turn, take the customer's shopping experience to a whole new level.
Lightning-fast page loading speed and responsive mobile themes can also help in improving search engine rankings of the sites.
Magento 2 claims capacity for significant increase in page views and orders per hour compared to Magento 1.
Receiving official security updates for the latest versions of the Magento platform will keep hackers away.
Magento Business Intelligence is provided for advanced reporting and analytics.
New features are provided with every release. Store owners can also take advantage of the offerings from Adobe like stock images galleries.
Leverage our decade-long experience in the implementation of sophisticated ecommerce solutions for a global customer base.
Through our extensive suite of e-commerce service offerings, we deliver accelerated growth for customers in multiple business domains.

Meet our Ecommerce Leaders

With more than 20 years of work experience, Arun is at the helm of the ecommerce business operations at Embitel. He has been closely associated with each project undertaken by the team and has ensured successful delivery within desired timeframes.
His ability to understand the pain points of customers and assist in crafting pioneering business solutions for their digital transformation makes him the one of the mightiest leaders you could find!
Arun Kumar | Head of Ecommerce Business Unit
'Mighty Leader'

Sharad is a visionary founder with a penchant for software, industrial automation, electronics and connected cars.
He has been instrumental in the accelerated growth of Embitel since inception through his efforts in building cross-functional expertise among business units.
Sharad Bairathi | Founder and Managing Partner
(A visionary with a people centric mind-set)