How to Build a Successful Mobile App-based Business on Magento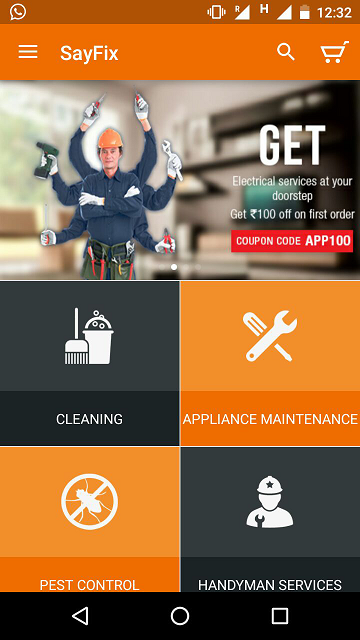 SayFix is a hyperlocal home upkeep services provider that makes its services available to customers through an Android app, and recently also through online and phone booking. When SayFix chose Embitel as their technology partner, both the teams had one goal: to disrupt this niche segment.
Since the launch of the SayFix app in October 2015, the numbers speak for themselves.
Over 7000 app downloads
Over 12000 customers
over 90% returning customers.
What can an aspiring internet business learn from this success story of building an app-based service model?
Nandkishore, VP-Marketing for SayFix, shares valuable learnings with Embitel Technologies.
SayFix is a tech-based platform connecting service-seekers and service-providers. What role does technology play in your business operations? How will it help you achieve your future business goals?
At SayFix, we are diminishing the gap between the service seeker and the service provider via technology that has the potential to help us reach customers across miles with just a click of a button.
The main problems faced by our service-seekers is their lack of time to get work done on their own, lack of credibility, no accountability, exorbitant prices quoted by vendors and few options or alternatives. On the other hand, the problems faced by service providers revolve around no assured business and underutilized capacity.
So we've developed a simple user-friendly technology platform that acts like a hub where service seekers and service providers meet. With this cutting-edge user platform, we are able to carry out operations ensuring quality service and prompt delivery, every single day.
In the future, we aim to make SayFix the first choice provider for such services throughout India. The role that technology is going to play in achieving this cannot be taken for granted. If we were to take that technology away, everything that we are today would come to a standstill. Our next scale of operation to reach this goal is definitely going to be heavily influenced by technology.
SayFix has an Android app built on Magento platform. What prompted you to choose Android and Magento? What features of the platform have been useful for the specific requirements of your business?
At SayFix, our main goal is to offer home upkeep solutions to as many people as possible. Since Android is a widely used platform, it is definitely worthwhile for us to choose it. It also offers ease-of-use, easy downloads and is cost-effective.
But we've evolved to an approach that's 'app-centric' rather than 'app-only', allowing us to lay emphasis on our website too and knock on the doors of customers who don't have Android phones.
Our goal is to be at the top in the service ecommerce industry, we wanted to create a unique yet effortless experience for our customers, similar to shopping from giants like Flipkart or Amazon. We studied the collaborative ecommerce and service ecommerce industries, and we then chose Magento. It's quite popular already among top ecommerce players, so we were assured of its stability and effectiveness.
There are several advantages to Magento that we've been able to tap.
It's flexible. We have been able to adjust the entire system according to the services we're selling. Even as we go ahead, we can manage or reset attributes without changing the admin panel.
All the vital features required to operate are already integrated, such as user accounts, a shopping cart, management of the offerings, and management of transactions. This also makes it cost effective.
Magento also has a great responsive front-end design. This makes all the difference when it comes to UX, and we've had the ability to tailor this to our needs.
Another function we've found very useful is the ability to watch and control the entire system. We are able to collect a large amount of useful data about customers such as their likes and browsing behavior. The Magneto support tools also provide a comprehensive report on the app's usage and performance and factors that cause malfunctions.
What are the challenges you faced during tech development? How did Embitel as your technology partner help you overcome these and achieve your goals?
The entire integration process was initially very time- and energy-consuming. It was a gigantic task with many challenges in development but, having an exclusive and dedicated tech team from Embitel, we were able to overcome the problems without much hassle.
Whether it was about designing the customer's purchase journey from end to end, or incorporating innovative features that we at SayFix had set our heart on, Embitel has helped us raise the quality of the UX immensely.
In terms of tech expertise, Embitel has helped us lay a solid technology foundation for our business and has assisted us in deciding our next course of action and enhancements.
Based on your experience, please share dos and don'ts for other online businesses regarding successful development and launch of an app.
Through our app development journey we have constantly fixed glitches and have added features to enhance user experience. Having a visually-engaging experience that's as easy as an in-store one is crucial. Here are some dos and don'ts to be mindful of while developing an app:
Dos
Always understand the customer and his journey. Take pains to learn why and how a customer will discover your app, how a service is selected and how a purchase is made, before you begin your development phase.
Remember to remain consistent while developing and adding features. Pay attention to detail. Ensure that the flow remains similar for purchase of different products or services. Upgrade regularly with newer features.
Simple and light, yet beautiful, should work to overcome a slow internet connection, and ensure your app doesn't occupy much space on the phone. The overall design should be pleasing enough to install and retain.
The design should facilitate ease-of-use and intuitiveness. The flow of information and content should be logical.
Don'ts
Never rush the design. Spend ample time on design in order to get the best user experience.
Don't wait for the perfect version. Develop the minimum viable product, go live and keep adding features. Start with basic features and keep updating instead. Remember, a perfect product is an obsolete product.
What is Magento Android App SDK?
The Magento Mobile Software Development Kit (SDK) for Android includes a library of Android resources to make it faster and easier to create a full-featured Magento mobile application. It also offers a sample application that can be customized by merchants to accelerate development. With this SDK, Magento partners can more easily create Android applications to help grow their mobile sales.Adapted from Magento.com