[Live Webinar] The Future of Digital Commerce in Connected Car
How Will Digital Commerce Change the Ecosystem of OEMs?

The advent of the connected car and digital commerce technologies has widened the scope of relationship among OEMs, dealers and vehicle owners. Digital transformation is an opportunity to look beyond the traditional revenue streams of vehicle sales and after-sale services.
Leveraging not just the increasing presence of a digital onboard environment but also the inclusion of 3rd party devices could open the floodgate of future possibilities. The entire ecosystem of OEMs, B2B/B2C service providers and payment providers needs to gear up for an extended customer relationship that presents business opportunities and promises additional revenue streams.
Join us in the webinar to understand and get ready for the Future of Digital Commerce in Connected Cars.

Key dimensions of change and how these are interconnected

New business models as part of the new ecosystem

An outlook how big data, marketing automation and augmented reality will drive even more change

Webinar Agenda
Explore revenue streams offered by the digital future of cars

Daniel Rebhorn, founder, Diconium GmbH

How an agile and scalable ecommerce platform can support the trajectory of the digital commerce in connected car

Sandeep Mukherjee – Head of Customer Engagement & Commerce Business India – SAP Hybris
Date: Thursday, September 08, 2016
Time: 3.30 PM IST

About the Speakers-: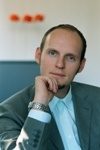 Daniel Rebhorn, Managing Partner – Embitel Technologies and Founder – Diconium GmbH
Daniel heads the Organization, Technology and Operations within Diconium. He is directly involved in the operational delivery of ecommerce solutions and is poised to replicate this model at Embitel as well.Daniel is an industry veteran with a strong entrepreneurial vision and plan for the business group. He brings his extensive experience in the field of ecommerce to the table.

Sandeep Mukherjee, Head of Customer Engagement & Commerce Business India – SAP Hybris
Sandeep has over two decades of IT experience that encompasses driving business strategy, solution sales and consulting across various industry sectors such as retail, consumer, travel, hospitality, telecommunication, and public sector. He is currently the Head of Customer Engagement & Commerce Business for India at SAP Hybris