Webinar on Contextual targeting in e-commerce
Embitel and manthans has sucessfully conducted a joint Webinar on Contextual targeting in ecommerce" on Wednesday, December 12, 2013 , 3:00 PM CET | 7:30 PM IST 10:00 PM SGT | 9:00 AM EST .
What can ecommerce providers do to increase sales and ROI? How by using behavioural insights and context-aware targeted, ecommerce providers can target the right customer with the right offer during their customers site visit?
Join this webinar as Daniel Rebhorn, Chairman from Embitel and Lyle Walker, VP Customer Analytics from Manthan Systems discusses on how to get more out of your ecommerce store and provide their insights on:
What are the insights that can be tapped on ecommerce portal for contextual targeting?
Use cases for  analytics (contextual targeting, demand prediction, inventory management etc  by ecommerce portals)
Concept of SoloMo (Social local and Mobile) and its advantages.
Live use case demo of contextual targeting on ecommerce portal
Convert site visitors into buyers through right offers and content marketing.
Identifying purchasing patterns to facilitate sales
Improve overall end user experience through behavioural insights and personalization
Avoid show rooming in ecommerce sites
Better conversion rates with a cost-effective implementation
Better demand prediction
Better merchandising and planning
Meet The Experts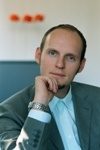 Daniel Rebhorn
Chairman
Embitel

Daniel is founder of dmc digital media center Gmbh, Germany and also one of the managing directors of Embitel Technologies, India. He has studied computer science at the University of Stuttgart and has worked on ecommerce domain since the time of its inception. He is responsible for development and success of many popular e-retail sites like Neckermann and Kodak. He has also played the role of an IT consultant for various companies in the areas of engineering and quality control. He has been an entrepreneur since 1992 and brings enormous leadership capabilities to the table.
Lyle Walker
VP Customer Analytics 
Manthan Systems
As VP of Customer Analytics and Insights at Manthan Systems, Lyle combines his retail, technology and marketing background to support retailers in providing the optimal customer cross-channel experience. With over 10 years' merchandising management experience at leading US grocer and 15 years' experience at world-class retail technology companies, Walker is a recognized industry expert in Customer Analytics and Loyalty solutions.