High-speed brushless DC (BLDC) motors are commonly used in various industries due to their efficiency, compact size, and high power-to-weight ratio. These are key components in Electric Vehicles, providing efficient and reliable propulsion, contributing to improved energy efficiency, and driving range.
We, at Embitel, develop customized motor control solutions to operate modern high-speed BLDC motor up to 1,00000 rpm with six step trapezoidal control. High power to weight ratio makes BLDC motor ideal for high-speed applications where size and weight are crucial parameters to consider.
Interested in more details? Take it up with our consultants.
BLDC motor for high-speed application refers to having high efficiency, compactness, low cost & less maintenance. Our solution offers precise control over the motor speed and current even at high rotational speed.
Embitel's control solutions of high-speed BLDC motor are intended to support blowers and compressors for medical application (dental drills, spindles, surgical tools, ventilator, respirator, centrifuges) and turbo charger application.
Our customized solution provides the control of high-speed BLDC motor both with position sensor (Hall sensor/ Encoder) and sensor-less operation. In recent days, Sensor less control gaining momentum with increased reliability particularly for ultra high-speed operation.
BLDC Motor Controller Architecture and Block Diagram
High-Speed BLDC Motor Control Solutions Offered by Embitel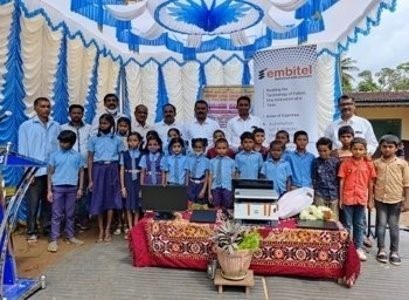 Six step trapezoidal control with position sensor (Hall Sensor/Encoder)
It employs Hall Sensors or an Encoder to detect rotor position and switches the motor windings in a six-step pattern, ensuring efficient commutation and precise control of the motor's rotational speed and direction.
Closed loop speed control
Closed-loop speed control in high-speed BLDC motors is a control system strategy used to regulate and maintain the motor's speed at a desired setpoint. It ensures that the motor operates at the desired speed, compensating for variations in load, voltage, and other factors.
Sensor-less six step trapezoidal control
Sensor-less six-step trapezoidal control is a technique used to drive high-speed BLDC (motors without relying on external position sensors. It employs the back-electromotive force (EMF) information from the motor windings to approximate the rotor position, enabling efficient and cost-effective control in high-speed applications.
Current control
Current control in high-speed BLDC motors involves regulating the electric current flowing through the motor's windings to maintain precise torque and speed, ensuring optimal performance and stability during rapid rotational movements.
Critical Speed Control Application for Ventilator and Respirator – High-Speed BLDC Motor Control Solution Use Cases
For medical applications, the air delivery subsystem plays a crucial role in maintaining accurate pressure and flow control.
To meet this requirement, Embitel offers specialized BLDC motor drives designed specifically for air breathing equipment like ventilators and respirators. These customized solutions from Embitel ensure high performance, whether using sensored or sensor-less BLDC motors.
By employing our control solution, precise speed control can be achieved to match the desired air flow for ventilators. Additionally, our motor drives operate with minimal noise and vibration, enhancing the overall user experience.
Frequently Asked Questions
Related Pages and Services to High-Speed BLDC Motor Control Solutions