Embitel conferred the IEI Industry Excellence Award 2015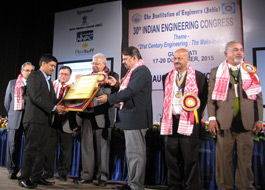 December 22, 2015, Bengaluru, India
Embitel Technologies was honoured to receive the IEI Industry Excellence Award 2015 in the category of Engineering Services & Consultancy, in recognition of our cutting-edge work in the past year. The award was presented by the Hon'ble Governor of Tripura Tathgata Roy on December 18, 2015, at the Inaugural Ceremony of 30th Indian Engineering Congress at Guwahati. The event was conducted by The Institution of Engineers (India).
The Institution of Engineers (India) is the world's largest multi-disciplinary professional engineering society in the realm of engineering and technology and has completed 96 years of existence. It established the IEI Industry Excellence Award in 2008 to recognize industry leaders for their innovation and excellence in engineering operations and, thereby, to lead their industry in a competitive manner. Past recipients of this coveted award include Siemens Technologies and TCS.
About Embitel Technologies:
Founded in 2006, Embitel Technologies is known for its cutting edge and innovative software solutions. We offer top-of-class services in product engineering, digital commerce and mobility/IoT, with a unique mix of embedded tech + mobility/IoT, and digital commerce + mobility/IoT.
Headquartered in Bengaluru, India, with offices in Germany, the UK and the US, and representation in Sweden, France and Israel, Embitel has partnered with clients globally. Our motto is "Delivered with Passion" – an experience which our customers & partners have shared with us for over 9 years of business collaboration & success.
Media contact: Nitin Amlani, Marketing Manager, Email: nitin[at]embitel[dot]com