A Detailed Overview of Adobe Experience Cloud
Digital transformation has created a sea of changes in every industry today. Organizations must reflect more on their experiences with given factors like huge chunks of data, amplification of devices, and growing customer needs/demands. Companies that are far-sighted know the importance of what a great customer experience can do to the business and the brand. It is one of the key differentiators that help you stand out in the market and makes you a leader.
In order to offer an exceptional experience to the tech-savvy customers of the present era, businesses need an intelligent ecosystem and great design. Businesses need to cope up with the rising trends and fulfill their digital experience expectations and online shopping behavior by leveraging advanced technologies to their full potential.
But the question is, which digital platform can feed to the instantaneous evolution of customer behavior? The answer to this is any Digital experience platform like Adobe Experience Cloud. A complete digital platform unifies all the digital capabilities that include marketing intelligence, advertising, commerce, content management, campaign management, data analytics, and visualization into one native solution.
What is Adobe Experience Cloud?
Adobe Experience Cloud consists of Adobe Advertising Cloud, Adobe Marketing Cloud, Adobe Analytics and Magento Commerce Cloud in a single easily obtainable platform. It is pre-integrated with Adobe Experience Manager (AEM) as a headless content management platform.
It helps you to provide great customer experiences by creating customized web applications, automating and managing tasks related to online advertising, collecting information and managing campaigns. Experience Cloud is built on the Adobe Cloud Platform, leveraging Adobe Sensei's machine learning and artificial intelligence capabilities. And because it's from Adobe, Experience Cloud integrates with Adobe Creative Cloud and Document Cloud.
Why Choose Adobe Experience Cloud?
In order to meet the demands of the customers, companies should get their customer experience management (CXM) practices right. But the uneven spread of data and legacy systems hinder delivering personalized experiences at a large scale. Adobe Experience Cloud helps you to overcome such obstacles and helps you furnish reliable experiences for each customer, at any time and on any platform.
According to the industry analysts Forrester and Gartner, Adobe Experience Cloud was cited as the highest-rated digital marketing solution for being an innovative one in multiple categories. The best thing about Adobe Experience Cloud is it is an open, scalable, and secure platform that easily integrates with any other current technology stacks. And with a robust ecosystem of partners, you can amplify the effectiveness and innovation even further.
Components of Adobe Experience Cloud
Adobe Marketing Cloud: This comes with a consolidated set of reliable solutions that allow marketers to create experiences that are unique to their brands, connect and proactively engage with the customers. It also includes Adobe Experience Manager (It's part of the marketing cloud), Adobe Target, Adobe Campaign, Adobe Social, and Adobe Primetime, to help brands manage, personalize, set up and optimize campaigns and customer journeys.
Adobe Advertising Cloud: It is the first platform for managing overall advertising across traditional television and digital formats. Making the best of the features of Adobe Media Optimizer and recently acquired TubeMogul (an enterprise software organization for branding and advertising), Adobe Advertising Cloud eases the delivery of audio, video, display, and search advertising across multiple channels, screens, and touchpoints.
Adobe Analytics Cloud comes with predictive intelligent mechanism that helps businesses to convert insights into actions in real-time by integrating audience data exclusively across all Adobe clouds. Furthermore, it combines Adobe Audience Manager (data and audience management platform), and Adobe Analytics, and detailed audience segmentation across all marketing mediums. Since the open APIs and Adobe Sensei (Adobe's ML and AI platform that enables companies to effortlessly create, make informed decisions and market target audience better) in the Adobe Analytics Cloud are accessible, brands leverage to collect, rationalize and understand huge amounts of their own data and then translate into specific customer profiles.
Apart from the above-mentioned three components, Adobe Experience Cloud can be integrated with the Adobe Creative Cloud and Document Cloud.

Benefits of Adobe Experience Cloud
Delivering authentic and rich end-to-end experiences:

The future of customer experiences is dependent heavily on intelligent systems like Adobe Sensei. Adopting AI and cloud technologies for customer engagement enhances the customer journey. It will be a win-win situation for both.

Adobe Experience Cloud platform is a powerful tool that combines content and data in a common interface. It forms the base for rich end-to-end digital experiences.

Effortless integration with other platforms

Magento and the headless architecture of AEM are integrated using an API/connector to deliver a holistic customer through experience-driven commerce solutions. Magento and AEM have about 1000+ extensions from the marketplace and native APIs are available for any two-way integration.

Adobe and Magento launch upgrades and security patches frequently and provide continuous support to the teams. You will not only save time but money as well.

A single portal to combine data & content:

Adobe Experience Cloud offers a single gateway to companies where they can integrate their businesses to measure, improve, and customize user journeys at all touchpoints throughout the lifecycle. The Adobe Experience Cloud keeps every aspect of the company in sync and secure. Since it comes with several tools, companies can leverage to convey and extend the model to fit their requirements. This is done by allowing different systems like content management, loyalty, and analytics solutions, to communicate smoothly with one another, which surely improves overall efficiency.

Paperless Customer Experiences:

Adobe is giving a new dimension to the paperless customer experiences with enhanced integration between Adobe Experience Cloud and Document Cloud. Working together, Adobe Sign and Adobe Experience Manager Forms eliminate the cost and discontent of manual, paper-based processes for enrollment, onboarding, and service across the customer journey. The whole process has ultimately helped many organizations to go completely digital with credit card applications or government benefit forms or some other medical forms.

Simplified and sophisticated creative workflow:

Every great experience starts with great design and now the availability of Creative Cloud along with Adobe Experience Cloud has provided new heights to whole creative workflows. Marketers can now easily pull in content from Creative Cloud Libraries and edit images in Adobe Campaign to create and deliver personalized emails. Adobe Analytics and the Adobe Social Publishing Panel are also now available in Premiere Pro CC, enabling creative teams to publish video content across social media channels and receive real-time insights. In addition to these, Adobe Experience Manager's digital asset management system can now automatically synchronize content based on shared metadata across Clouds to ensure that only the latest version of campaign assets is used.
Architecture Diagram of Adobe Experience Cloud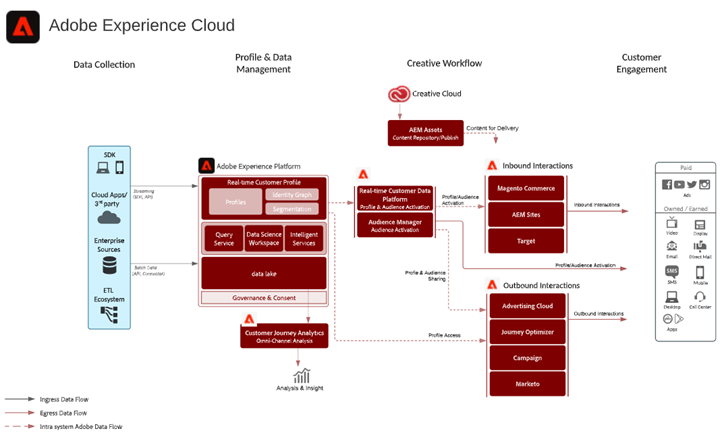 Image Source – Adobe
Overview of Experience Cloud assets
Experience Cloud Assets provide a single, centralized repository of marketing-ready resources that you can share across solutions. An asset can be anything digital. It can be a document, image, video, or audio. They can have multiple depictions and sub assets too.
Asset services consists of:
Asset storage, management interface, embedded selection interface (acquired through solutions).
Implementations with Creative Cloud, Experience Cloud collaboration, and Experience Cloud solutions.
Using assets improves stability and compliance, it helps brands with instant availability to customers and saves time for you and your customer. You can streamline workflows as shown below for example:
Social: Publishing on social channels, Facebook, Twitter, LinkedIn, Instagram, Google+
Target: Create experiences for A/B and multivariate tests.
Media Optimizer: Launch ad units and campaigns across various channels.
Campaign: Engage assets via email newsletters and campaigns.
In Adobe Experience Cloud Assets, you can:
Navigation via Experience Cloud Assets
Use the Toolbar
Edit, search and interpret assets
View Full-Screen Assets and Asset properties
Asset sharing with Adobe Experience Manager
Run Usage reports
Adobe Experience Cloud compatibility
Adobe Experience Cloud provides resilience and limitless flexibility and expansion. Small, medium, or large enterprises can make the most of these features. Compatibility expands furthermore and offers high security and better performance for lesser cost with the help of service enablers. Adobe Experience Cloud offers single data depository and cloud hosting features enables companies to deliver and enhance time-to-market capabilities.
Small Businesses can leverage the personalized platform and go for a month-on-month subscription. Medium and large businesses can optimize an all-inclusive solution with B2B functionality.
Adobe Experience Cloud is built to work in sync with Creative Cloud and Document Cloud. Adobe's Creative Cloud is an all-in-one platform to cater to all of the company's creative requirements and Adobe Document Cloud offers the most extensive tools for digitizing document workflows. These business subscriptions are merged with Adobe Experience Cloud through the Adobe Cloud Platform and Adobe's engine for cross-cloud integration. Together, these combined providing aids brands with all things they need to design and deliver outstanding experiences.
Great design leads to a greater customer experience. Creative Cloud combines with Adobe Experience Cloud to simplify and boost creative workflows. Marketers can now easily retrieve content from Creative Cloud Libraries and edit images in Adobe Campaign to generate and deliver customized emails. Along with this, Adobe Experience Manager's digital asset management system (DAM) now automatically organizes content based on shared metadata across clouds to ensure that only the current version of campaign assets is used. Adobe Analytics and the Adobe Social Publishing Panel are present in Premiere Pro CC, helping creative teams to publish video content across various social media channels and get real-time insights.
Adobe Experience Cloud Debugger Extension
The Adobe Experience Cloud Debugger extension for Chrome inspects your web pages and analyzes issues and helps you with implementing Experience Cloud solutions.
The Adobe Experience Cloud Debugger can help you understand and regulate the executions.
It is optimized to show what Adobe solutions are implemented based on the analysis of Analytics, Target, Audience Manager, Ad Cloud, Launch, Dynamic Tag Management and Identity service feature.
You can use the Adobe Experience Cloud Debugger extension with the other Adobe activation solutions for any workflow as mentioned below:
Use Adobe Experience Platform Launch to insert code that activates Adobe Experience Cloud solutions on your pages.
Utilize Adobe Experience Platform Auditor to test all the implementations.
Wield the Adobe Experience Cloud Debugger extension to debug issues found by Auditor or to check other information about implementations.
The above steps can be performed in any order but make sure you follow them.
The debugger can run on any web page, but any non-public data is only available in the extension if authenticated into the Experience Cloud in one of your open Chrome tabs.
Collect the information through the Debugger and understand how your Experience Cloud solutions are executed. For instance:
Platform Launch: See which property, environment, build is implemented on a page.
Target: See which activities you can and cannot and why.
Other Features
Adobe Experience Cloud consists of Page Builder to create custom pages, Adobe Business Intelligence, Magento Order Management with various implementation options and advanced analytics to recognize potential customers and Magento Market Platform with 1000 plus extensions made available for you.
Adobe's PWA (Progressive Web Apps) studio allows you to create and manage powerful PWA. Edge Out is an extensive feature of PWA from Adobe's PWA studio. It helps you in building your own PWA through a headless API. Seamless Omni-channels content delivery is backed by sensible Artificial Intelligence/Machine Learning (AI/ML) personalization. Adobe Sensei enables you to clout the AI/ML-driven personalization through an API.
Long story short, it is best to go with an all-in-one platform like Adobe Experience Cloud to integrate a complete digital commerce experience and minimize your operational expenses instead of incorporating different technologies and creating chaos.
Conclusion
Be a brand that delivers exclusively, consistently and be there for customers whenever and wherever they are. This will build a stronger bond with your customers which gives brand loyalty and growth to your organization.
Adobe Experience Cloud is a complete and extensive platform that brings in outstanding solutions, extensive data and content systems, a strong partner ecosystem, and an incredible expertise in experience delivery.
Embitel Technologies is a partner of Adobe and Magento and has delivered exceptional services to numerous clients globally. To make the most of the Adobe experience cloud solution and enhance your digital retail performance, contact our team and get a premium Adobe Experience Cloud consultations and flourish your business.