The Rise and Rise of Adobe Experience Manager (AEM) – An Overview
If there has been any technology or tool that has rose to fame in a short span of time, then undoubtedly it is Adobe Experience Manager. AEM has everything that is going for it – from technology to architecture, upgrade features and more. Customer testimonials are the validation that AEM is a lasting tool for years to come. So, what's the big deal about AEM? Let's check out.
What is AEM?
In layman's terms, AEM – Adobe Experience Manager is a CMS (Content Management Solution) created to solve the troubles of digital marketing professionals and developers. It is all about delivering the best user experience through a website.
AEM (Adobe Experience Manager) is a combination of digital asset management and content management system to give best customer experiences across all platforms like mobile, web, email and social media. It simplifies the flow of management and delivery of a website's content.
AEM comes with five modules – sites, assets, mobile, forms and community – together they make a great CMS platform and deliver high traffic websites and mobile applications.
Who Benefits From Adobe Experience Manager?
From retail, manufacturing and financial services to media and entertainment, almost all industries use AEM for data centralization, easier workflows and to scale customization. Navigating the tool is simple even for non-technical marketers.
The interface is user-friendly with in-built features and the drag- and- drop functionality is the icing on cake!
Typically, Adobe Experience Manager is used to solve issues like:
Inconsistency due to data silos and stumbling customer experiences.
Delay in optimization and updates because of inefficient workflows
Outdated technology stack with a dearth of scale and flexibility of cloud-based solution.
Absence of DXP (Digital Experience Platform) or D2C (Direct-to-consumer) channel to collect customer data and customer engagement.
AEM with other Adobe Products
Adobe Experience Manager is part of Adobe Experience Cloud, Adobe's digital experience solution. It can work along with Adobe Analytics, Adobe Target, Adobe Audience Manager, Adobe Commerce Cloud, and Marketo Engage.
Integration between these solutions enables you to do data analysis from various sources, build customer segments, create collective customer profiles, and provide custom-made experiences throughout different channels.

Adobe Experience Manager Technology
AEM is based on Apache Sling framework concepts. It is a java application built on OSGi (Open Services Gateway Initiative) framework using Apache Felix engine (a community effort to implement OSGi framework under Apache license). This makes the Adobe AEM CMS one the most powerful component of the Adobe Marketing Cloud. Apache Sling uses JCR (Java Content Repository, built with Apache jackrabbit) object database to store required information.
Apache Sling comes with its own HTTP server that can be used as a Web Application with an application server called Jetty web server (basic server functionality with a servlet framework). Now that Apache Sling is a passé, Adobe expanded the features of Sling to produce their own enhanced version of Apache Sling called the Adobe CRX (Content Repository eXtreme).
At the time of conception, CQ 5 (older version of AEM) functionality was transferred to Granite (UI framework). CRX or Granite managed most of the low-level functionalities like data persistence, event management and user management.
The adobe digital asset management and adobe content management features were provided using WCM (production ready core components) / CQ (older version of AEM) on top of Granite / CRX core. Ever since CQ is upgraded to AEM, there is no looking back.
AEM (Adobe Experience Manager) serves as a hybrid CMS. There is something for everyone.
For designers, it gives strong and user-friendly options to build front-end applications. For marketers, it provides management and optimization of content for their core channels without external dependencies. For developers, it grants the power to create, access, and reuse content elements for seamless customer interfaces across projects.
AEM Architecture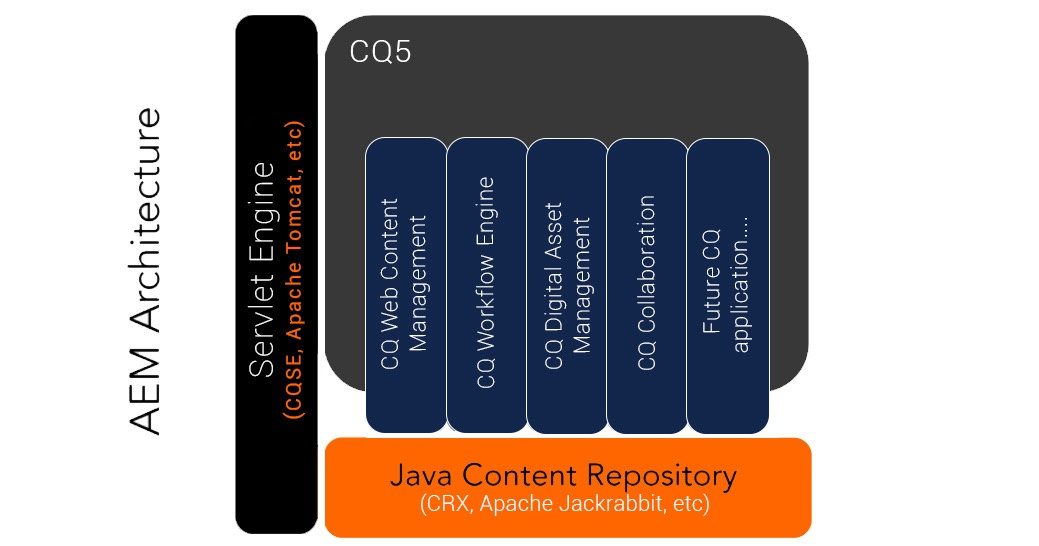 The diagram above shows the basic architecture of Adobe Experience Manager with its interdependencies. It can be from its own internal management or a third-party counterpart.
Servlet Engine
Servlet engine is a server which has each of the AEM instances running as a web application. It can be any Servlet engine that supports Servlet API 2.4 or higher versions. CQ WCM (Web Content Management) might not need any additional application server but it surely needs a Servlet engine. To cater to this requirement, CQ WCM is equipped with CQSE (CQ Servlet Engine). And voila, it is free to use.
Java Content Repository (JCR)
JCR, Java Content Repository is a storehouse of content which is not dependent on the actual implementation. JCR is a combination of a web application (which follows JSR-170 compliant API plus temporary data storage in the form of a session) and a Persistence Manager (includes persistent data storage like a database or file system).
CQ 5
The infrastructure of CQ5 (former name of Adobe Experience Manager) allows interoperability and seamless integration with other CQ applications. This applies only for applications that are integral part of CQ5 and any other custom-made applications that are developed for the platform.
Applications like Web Content Management and Workflow Engine were developed to support CQ5. Adobe Digital Asset Management and Social Collaboration are few of the best features that are available along with various other product features. Apache Sling and OSGi (Apache Felix) are the technologies that are used predominantly in AEM.
Apache Sling is a Web Application structure where centralization of content applications happens using Java Content Repository like Apache Jackrabbit or CRX to store and retrieve content. Apache Sling is embedded with AEM. Some important factors about Sling are:
Apache Sling is utilized to process HTTP requests to store and interpret data.
REST (Representational state Transfer, software architectural style API) principles are the basis for Sling, and this makes it easier for development of content-based application life cycles.
Sling maps Content objects to their specific components that reproduce and process the incoming data.
It is equipped with server-side and AJAX-based scripting support. It can be used with scripting languages like JSP (Java Script Pages) and Ruby and many more.
AEM Adobe Experience Manager is built on OSGi technology which is a dynamic module system for Java. CQ WCM (Web Content Management) is a tool responsible for generating and publishing pages to the website at real-time.
CQ Workflow Engine is an easy to use and powerful process engine running on a CQ5 platform. There is a provision for a Java API and RESTful HTTP interface for the required access by applications outside of the platform. Within this framework itself, all the requests for generating or publishing content will be managed including approvals and signoffs.
CQ Components which are actually a set of widgets, supports the required logic in defining the actual content. It includes components and templates like Text, Image, Column control etc.
CQ Widgets are entities that work like building blocks and perform specific user functions such as editing of content, include radio-boxes, buttons, dialogs, etc.
Adobe Experience Manager Capabilities
DAM (Digital Asset Management) – AEM DAM is a tool that helps editors to store content and manage the lifecycle of assets (videos, documents, images) throughout the websites under a clear folder structure. DAM allows the editors to access the project files from different locations. The drag and drop features make the whole process of editing and publishing data really smooth and easy.
Creative Cloud Integration – Continuous monitoring of user data, analytics, creating campaigns, targeting definite users or groups is what is required of a marketing tool. Adobe Experience Manager which is a part of AMC (Adobe Marketing Cloud) makes it easy to be integrated with Adobe Analytics, Adobe Target, Adobe Campaign, and other Adobe features. It seamlessly integrates with third-party tools, thereby providing scale and flexibility for the users.
Better Search – Adobe Experience Manager facilitates in minimizing search time while looking for the right media. It allows you to add and access tags and metadata to files that are uploaded in the cloud. It improves overall team performance.
Task Management – AEM keeps the dashboard chaos free by providing specific workspaces for individual projects. Continuous feedback, comments, and analysis support improved workflows within the teams.
Video Management -– Adobe Experience Manager helps you to use diverse types of videos on multiple screens. With the help of user insights and analytics, you know your customer behavior and can manage content subsequently. You can boost customer experiences, increase brand awareness, and retain loyal customers.
Visual Media Conversion – With this tool you can instantly convert any files into varied formats and engage customers across various channels and platforms.
Personalized Content – Customization is a quintessential aspect of a good brand or company. Everyone appreciates custom-made content and experience. AEM platform helps you deliver personalized content through a single user interface with all the necessary tools. It helps in quick service and reaching the right customer at the right time.
Project Dashboard – Adobe Experience Manager's Project Dashboard supports project management in a centralized environment. Projects are linked together through logical grouping of resources. Users can add several types of information into projects. It could be tasks, project information, assets, websites, external links, or team information.
How Much Power Can AEM Give You?
The power you have with Adobe Experience Manager deployment is limitless. AEM's user-friendly interface makes it simple for the team to create, design and manage content which is interactive and gives responsive digital experiences.
AEM gives you access to develop unlimited variations of the website. It could be delivery type, format, styles, etc. without really working on multiple sets of assets. AEM helps in seamless working of creative and marketing teams by integrating with Adobe Creative Cloud.
Customized and targeted experiences can be provided through data retrieved from Adobe Analytics. This, in turn, helps to know the customers better, analyze their user behavior and make any improvements on the website for good.

Adobe Experience Manager Developer Role
An AEM developer role is the most crucial one in the product life cycle. He/she should be well versed in technologies like Sling, JCR and OSGi, apart from Enterprise CMS.
Let us have a closer look at an AEM developer's role and responsibilities:
UX Design (User Experience)
Development of AEM begins at wire-framing/structural stage. Including architects and AEM developers during your planning stages will give you an edge over the implementation. This helps AEM developers get insights about user experience, user interaction and a small amount of information about architecture.
Front-end Development
An AEM developer should know the front-end code thoroughly. AEM developers will have scope to know task runners like Gulp/Grunt, NPM and Node.js and then get started with the actual front-end development using CSS, HTML, JavaScript, jQuery.
AEM Component Development
Most of the AEM component development happens using HTML Templating language (formerly called Slightly). This stage combines dialog building (in XML), and client library development (explicit to AEM development). These tools let you add content dynamically to the components via information from the dialog box. Overall logic can be deduced using HTML Templating language, and the complex ones can be accomplished by Java code.
AEM OSGi and Servlets Development
Any AEM developer must have good knowledge about OSGi framework, OSGi service, annotations and life cycle of the OSGi component. Thorough understanding of Java development should be able to guide developers through OSGi and Servlets Development.
AEM DevOps and Production Support
An AEM developer will still be responsible and involved even after the actual development is completed. This is because of oncoming CI/CD (Continuous Integration/Continuous Development) systems like Jenkins, the code can easily move to any environments like Dev, Staging, Pre-Prod, and UAT.
The production movements still has to happen manually to ensure that all the processes are completed following a checklist.
Why Digital Asset Management(DAM) in AEM is a game changer in your business goals?
It is imperative today that the massive amount of data and information that companies have is not only securely stored but also easy to retrieve and use when needed. Today a lot of enterprises have adopted DAM in their business processes. DAM is efficient no doubt about that, but have you tried DAM in AEM for your assets? If not, then the below video is for you. We have made a comprehensive list of the advantages of DAM in AEM.
Check out:
Conclusion
Marketing is beyond providing a web customer experience. One should be able to create efficient campaigns, monitor analytics and reach targeted audience constantly.
Adobe Experience Manager has also gone over and above plain website management. It is a wholesome provider of solutions to mobile sites, mobile applications development, ecommerce, campaign management and overall content marketing. Along with other AMC (Adobe Marketing Cloud) solutions, AEM is a pathfinder in digital marketing.
At this juncture, of objectives and growth, companies should go for a service provider who is trusted and associates with your company goals.
We at Embitel help you design build and deliver seamless digital experience and drive customer engagement. With our Adobe Experience Manager services, get the best of fully integrated CMS, DAM (Digital Asset Management), Digital Enrolment and AEM Cloud Integration for your websites for a cohesive digital experience.