Magento and Adobe Experience Manager: The Most Modern CMS Meets the Ecommerce Powerhouse
The key to a successful Ecommerce business is no longer merely a great shopping experience. But a personalized customer experience! Adobe after acquiring Magento, has been putting in efforts to enhance site capabilities to merge content and commerce together.
This would lead to better customer segmentation and targeting, better content management and will also enable quick changes across the customer touch-points. Additionally, the stakeholders will be able to put in focused efforts on content as well as the catalog leading to the improvement in business processes.
After the acquisition of Magento by Adobe, the path to such innovations has become clearer. And the integration of Magento with Adobe Experience Manager has been a huge step in this direction.
Adobe Experience Manager, known as AEM in ecommerce parlance is robust content management system equipped with digital asset management capabilities. Once integrated with Magento, it delivers an unmatched customized experience to online shoppers.
Magento did provide a CMS, but as the business scaled up , the need for a dedicated CMS is felt. Although open source CMS solutions are out there in the market, they have their pros and cons. With AEM, the symbiosis between the content and commerce is at a different level. Thanks to Commerce Integration Framework (CIF), the integration of Magento and AEM is a seamless one.
We will talk about these new terms in our blog. But first, let's delve deep into the features that AEM and Magento together will bring to the table.
The Magic that AEM and Magento is!
Customer Experience is at the core of AEM. The platform is built on the premise that content and commerce have to work together to uplift the overall customer experience. Magento is great but it has its limits as far as content and digital asset management is concerned. But when Magento and AEM meet, it's like the best of both worlds (CMS and Commerce).
Commerce Integration Framework (CIF) plays the cupid in this integration. The role of CIF is to let AEM access the Magento instance and enable the transfer of catalog data using the GraphQL (a query language that fulfills queries using the existing data). In addition to enabling the catalog data transfer, CIF also provides a storefront that can help users accelerate the integration of commerce. We will talk about CIF in detail when we explain the CIF architecture and how it enables Magento and AEM integration.
But let's first check out some of the striking features of AEM and CIF:
CIF provides an out-of-the-box storefront that can accelerate integration of commerce data
CIF enables deeper integration with Magento and thus enhances AEM authoring experience
AEM CIF core components are designed to be used with minimum or no modifications
Provides a perfect platform to combine commerce and marketing content
A Comparison Table- Magento vs Magento + AEM
| | |
| --- | --- |
| Magento | Magento + AEM |
| Content and UI are tightly bound; limitations on storefront User Experience | Provides a rich store front experience with features like page builder and PWA studio |
| Absence of certain features limit the marketing capabilities within the ecommerce platform | Components like Product Teaser/Product Carousel enable creation of experience pages |
| Additional tools required to enhance the customer experience | Single platform for both brand and commerce experience |
| Ability to market and merchandise the product a headwind | Seamlessly infuses commerce capabilities and ability to market |
| To manage connected experience across devices is a challenge | Magento and AEM together has robust omnichannel capabilities |
The Value Adds of Magento and AEM Integration
It enables the marketer to bring the brand to life with built-in page builder, Product Carousel, Product Teaser, etc.
By integrating the marketing capabilities in the ecommerce platform, the demand for products can be driven.
Seamless omnichannel experience is the USP of AEM and it helps marketers to extend the reach of the ecommerce brand.
With integrated Magento and AEM, there is enhanced speed and agility in managing both the brand and commerce experience using a single tool.
The integration of Magento and AEM strives to make every moment shoppable by providing the enterprise the capability to market and merchandise the product.
How Does Magento and AEM Integrate?
In its pursuit of integrating commerce systems in its suite of solutions, Adobe has developed the Commerce Integration Framework (CIF). After the release of its revamped version, CIF has completely changed the approach towards commerce integration to support complex commerce scenarios.
Magento acts as the ecommerce backend solution that stores the business logic and commerce data. CIF on the other hand, enables this integration between Magento and Adobe Experience Manager with a well-defined architecture.
It provides a set of tools, components, code and documentation to accelerate integration between AEM and Magento.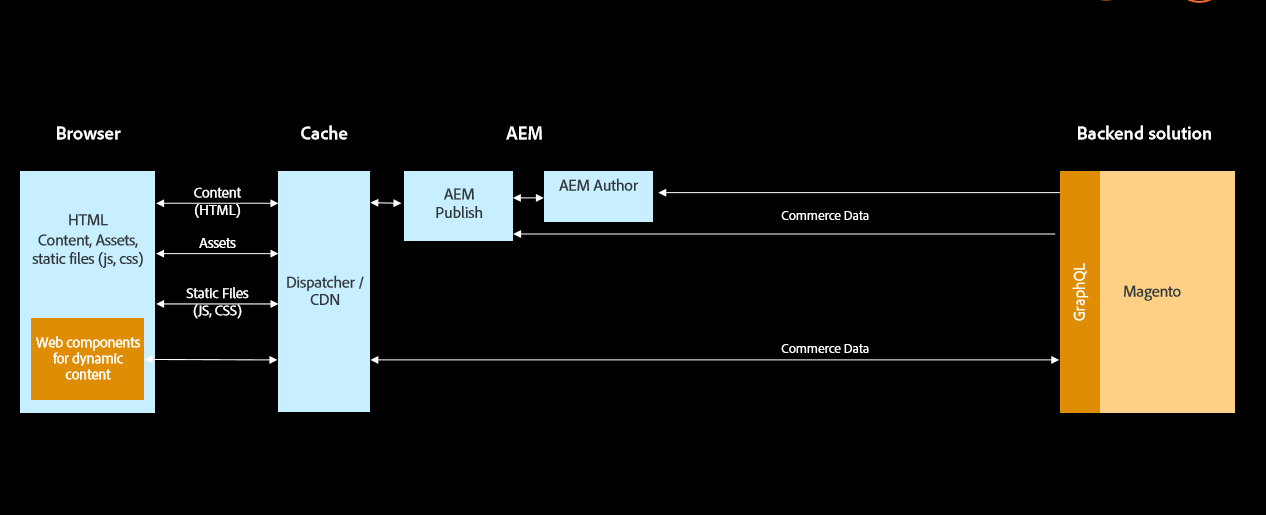 Different Components that Make AEM-Magento Integration Possible:
AEM Venia Storefront: It is a production-ready reference storefront that is designed to implement a B2C commerce website. It can be used to rapidly start an ecommerce project using the power of Magento, AEM and CIF.
AEM CIF Components: The basic components that are common across ecommerce implementation are provided by CIF. These include Product List, Search Bar, Navigation, etc. They can also be easily extended. These components are designed to easily connect to Magento over GraphQL.
AEM Commerce Connector: These are links between the Magento products and the commerce console of AEM. They also provide authoring features like product/category pickers. These features help create marketing campaigns efficiently.
The AEM storefront is a mix of Magento and AEM where AEM powers the UX and Magento takes care of the commerce backend. Everything is in a headless way, i.e., UX and Commerce data are not tightly bound to each other. This is the secret recipe for providing omnichannel experience that AEM proudly claims.
The static content such as product and catalog pages are rendered utilizing server-side components such as Product Detail and Product List. The data is provided by Magento over GraphQL.
On the other hand, the dynamic content such as inventory, geography-specific price, delivery schedule, etc. are rendered using client-side components.
The Big Picture!
The impact of AEM and Magento Integration on commerce market has been noteworthy. Small businesses planning to scale up have lapped up the idea of a headless way of managing their commerce site.
The advantage of one tool doing it all, is also a good idea considering the number and varieties of SKUs to manage. Advanced analytics also help the marketers understand the customer journey and optimize the experience accordingly.
In today's marketplace, building experience matters the most. AEM is equipped with every weapon in a marketer's arsenal to win the experience war. And with Magento integrated to the platform, the ecommerce market has to brace itself for a big leap.