Embitel Technologies: Magento 2 Trained Solution Partner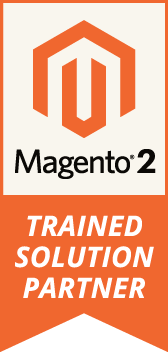 Bengaluru, India
In recognition of Embitel's expertise and rich experience in successful Magento Ecommerce implementation, Magento Commerce has chosen Embitel to partner in delivering the much-awaited Magento 2 advantage for digital commerce businesses.
Now a Magento 2 Trained Solution Partner, Embitel has a dedicated team skilled in extracting the best of Magento 2.
Here's a look at some of the benefits digital commerce businesses can expect from suitable implementation of Magneto 2:
Innovation – Magento 2 is loaded with APIs to implement features customized for business and customer experience. It has a modern tech stack with modular architecture thus enabling innovation at the desired pace for businesses to stay ahead of the game.
Agility– The bouquet of powerful self-serving marketing, merchandising and operational tools allows business owners the agility required to keep up with changing consumer behavior and expectations. Also, the simplified external integrations enable the roll-out of new features and functionalities at breakneck speed.
Scalability and Performance – From improved server-load performance and reduced page-load time to cost-effective and faster, flexible upgrades, Magento 2 takes care of any tech hurdle in the face of business scalability and performance.
"After thorough study, practice sessions, and work on a case study, there's no doubt we can execute a project to full potential on Magento 2," says Resmi Sudha, Senior Software Developer, Magento, at Embitel.
Arun Kumar, Embitel's head of Ecommerce, says Magento 2 has great improvements, especially for businesses with large data, and can be used to great benefit with correct implementation. "We were already a preferred solution partner for Magento Ecommerce Implementation and Cloud & Mobility Solutions in India, the Middle-east, UK and the US," he points out. "So with our rich experience and our team's dedication, we are ready to do justice to this exciting new upgrade on such a trusted platform."
Magento 2 is currently available in Merchant Beta version and is soon due for General Availability release.
About Embitel:
With almost a decade's experience in digital commerce technology, Embitel has developed a deep understanding of the importance of unique needs of each business. Embitel's expertise is put to use to develop custom solutions to maximize every business's potential through Strategy and Consulting, Design and Usability, Systems and Technologies, Digital Marketing, and Managed IT services in Digital commerce, mobility and cloud. Our efficient offshore/onsite project management and delivery services are backed by international delivery experience in both B2B and B2C projects.
A CMMi level 3 company, Embitel has a process-oriented approach designed to deliver the best solution across 3 measures – quality, time and cost.
Media contact: Nitin Amlani, Marketing Manager, Email: nitin[at]embitel[dot]com