ReTechCon 2016 – Digital Retail in Digital India, where disruption will be the only constant
Emibtel Technologies, in collaboration with SAP, is proud to be a part of ReTechCon 2016 and the story of Digital Retail in Digital India.ReTechCon, the annual conference for sharing knowledge on technology in Indian retail, is being held on 15thand 16th June 2013 at Mumbai.
Digital India is an initiative of the Government of India to ensure that government services are made available to citizens electronically
Digital India has three core components:
The creation of digital infrastructure
Delivering services digitally, and
Digital literacy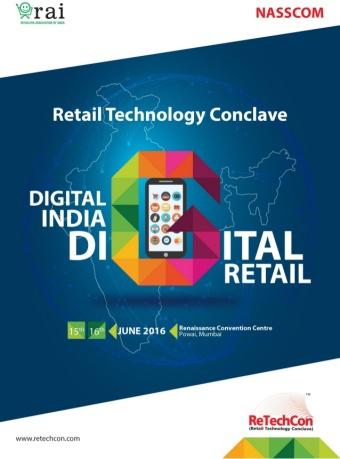 Will Digital India prove to be the much-needed nudge to fulfill the aspirations of the rural India? And will the retail industry play its pivotal role in realizing this dream?
The discussions at the Retail Technology Conclave (ReTechCon) 2016 will revolve around the various aspects of digital transformation of retail to aggregate demand of the rural consumer and create effective supply chain mechanisms to fulfill the aspirations.
In particular, ReTechCon will serve as a platform to deliberate on possible solutions across omnichannel commerce, customer experience, SCM, payment gateways, digital marketing and merchandising.
Embitel's digital commerce team at ReTechCon 2016 – showcasing a hybris-based solution for online grocery
Embitel's hybris digital commerce team will be participating at ReTechCon 2016 along with SAP India to showcase 'CPG LaunchPro 100'.
CPG LaunchPro 100 is our hybris-based Rapid Deployment Solution for B2B/B2C grocery, FMCG and consumer packaged goods (CPG) businesses that enables businesses to launch their online channels in as little as 100 days with no CAPEXinvestments through a flexible pay-per-use cloud-based solution
Learn more about the features and benefits of LaunchPro 100

"The Embitel and SAP team will interact with participants to understand the digital transformation challenges retailers face and share ideas and solutions," says Arun Kumar, head of digital commerce at Embitel.
About ReTechCon:
ReTechCon is a one of its kind knowledge-sharing and networking platform focused on the technology aspect of the retail business.
The brainchild of the Retailers Association of India (RAI), for 10 years now ReTechCon has been the country's largest congregation of CIOs/CTOs, technology service providers and experts in the retail technology domain.
About Embitel Technologies:
Embitel Technologies is a leading digital commerce agency offering end-to-end B2B and B2C ecommerce solutions based on SAP Hybris omnichannel commerce suite.
We provide end-to-end services, right from strategy and consulting, systems and UI design and development, to managed IT services.
With over 10 years of extensive experience backed by our passion for quality in delivery, we have partnered with global businesses to enhance their ROI through speed-to-market technology solutions.
Know more about our Ecommerce Services Suite here.