M-commerce: Get into the Pockets of Your Customers and Stretch Your Business Across Borders
M-commerce provides a platform for users to buy, sell, transact and fulfil their needs through handheld wireless devices like mobile phones. It has become an ubiquitous part of the lives of most e-commerce customers and is growing remarkably. M-commerce has also revamped and simplified the shopping experience of customers.
Nowadays everyone uses smartphones for reading news, playing games, watching videos, taking photos, etc. The world is in the pocket of customers and businesses are leveraging the opportunity to sell through this channel. Subsequently, M-commerce has proved to be a roaring success for many businesses around the globe.
What is M-commerce? How is It Used?
M-commerce is an umbrella term to indicate all types of monetary transactions that are performed using a mobile device. This includes mobile shopping, mobile banking and mobile payments.
Mobile shopping is a subtype of e-commerce. It is an extension of e-commerce services that are compatible on mobile phones. Companies design and develop M-commerce platforms on smartphones to make product purchases easier for customers. The smartphone must have an internet connection enabled to complete purchases. The payment is done via mobile banking and goods or services are delivered online or offline depending on the nature of the product.
Thus, without going out to a physical store and assessing availability or affordable rates of products, one can just browse and select the product through the mobile e-commerce app and order instantly.
Why is M-commerce Considered as a Revised Form of E-commerce?
According to statista.com, there are nearly 4.32 billion active mobile internet users around the globe. To put it simply with an example, the apparel industry has roughly 4.32 billion customers to whom businesses can reach and generate huge revenue.
Also, web based commerce has a smaller target audience base when compared to mobile commerce. People are more comfortable purchasing through mobile apps rather than from an e-commerce website through a laptop/desktop.
Businesses can implement appropriate strategies to onboard users quickly through mobile commerce. This leads to improvement in conversions and revenue.
Here is a graphical representation of how m-commerce has seen exponential growth in recent years: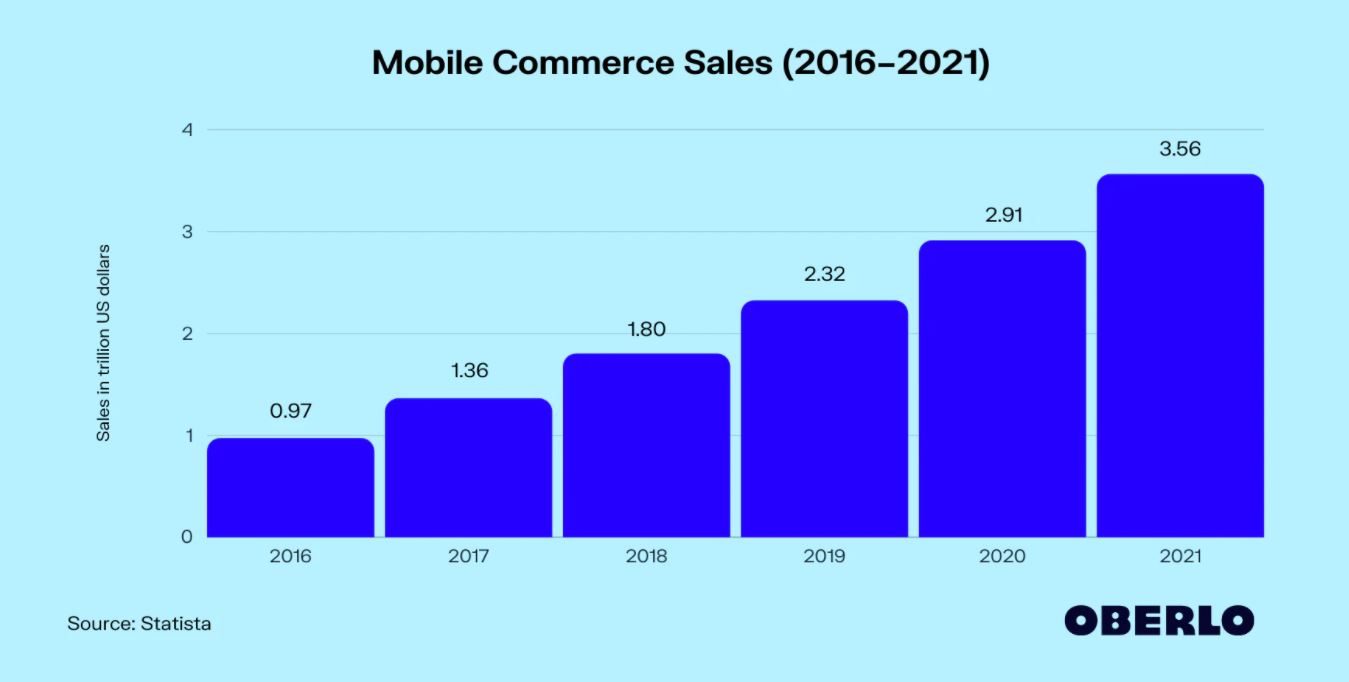 Source Image: oberlo.com
Types of M-commerce
Mobile commerce is broadly classified into 3 categories:
Mobile Banking

Previously people had to physically go to banks for any kind of transaction. With technological advancements, internet banking came into the picture. And now, it is the era of mobile banking, which offers customers all banking services at their fingertips.

Financial organizations have developed mobile applications for secure and effortless transactions. Through various promotions and perks, these institutions are reinforcing online banking and encouraging customers to go digital.

Mobile Shopping

With the retail sector going horizontal, E-commerce is booming and mobile shopping is prospering to new levels. Companies that had a presence on both E-commerce platforms and mobile shopping apps, along with the right marketing strategies, have flourished even during pandemic times. Customers access mobile apps or website pages on mobile phones, explore catalogs, choose required products, pay, and get their products delivered at their doorsteps. Businesses trying to improve the customer experience, are offering less delivery time and better user interface to boost their sales.

Mobile Payments

Financial institutions have started offering mobile apps to make payments for electric bills, phone bills, ticket booking, etc. They are also used for effortlessly making payments to individuals. Payments for in-app purchases, Netflix, and accessing paid digital content on mobile are done through M-commerce compatible devices as well.
Advantages of Mobile Commerce
Monitoring KPIs

Businesses can use mobile commerce platforms to track essential KPIs and implement counter-strategies, if needed, to close gaps and improve performance. Some of these KPIs are:
Mobile traffic to the e-store
Engagement time on the mobile app
Frequently ordered items
Value of the orders
Logging time
Conversion rate
Accelerated Shopping Experience
Companies who deliver the finest customer experience get a competitive advantage in the market. Websites are slower and less responsive than mobile applications. With mobile shopping apps customers can browse, research, and buy products quickly.
Today, customers anticipate such speedy check-out capabilities on e-commerce platforms.
Customer Notifications
Customers can be easily notified about new offers, launches, and services through mobile commerce applications. Companies can entice potential customers and complete the buying process instantaneously by sending such personalized messages.
Businesses use tools like push notifications to communicate with customers in real time. Companies can analyze consumer behavior on the application and track login timing. Subsequently, they can send personalized targeted promotions at the time of the day when the user is active. This improves the prospect's chances of becoming a buyer.
New Marketing Alternatives
In mobile-friendly commerce platforms, retargeting can be more effectively used. It is possible to market competitive products on apps after a customer expresses interest. Third-party applications can be seamlessly incorporated. Integration of social media applications with the app can help drive customers back and forth to the website and social media handles.
This will allow customers to share products with others and try things recommended by friends or influencers. As a result, m-commerce platforms provide a channel to expand the audience base, resulting in greater conversions.
Reaching the Unreached
Mobile phones have a higher penetration rate than laptops and desktops. Essentially, there is a sizable untapped market that is entirely reliant on mobile phones. Businesses can convert these users into prospective buyers by creating mobile-friendly websites and applications.
Barriers for M-commerce
M-commerce platforms on old phones

Some m-commerce applications aren't compatible with older phones. Crashing of app or inability to display new features may result in a negative customer experience.

Unstable network connections

The purchase journey can be ruined by slow network connectivity. Customers may be discouraged from making a purchase as a result of delayed loading and transaction issues caused by an unreliable internet connection. However, we anticipate that this issue will be resolved with the advent of 5G.

Security concerns

Customers are hesitant to transact on their mobile devices due to security risks. These days, there has been a surge in mobile transaction fraud – virus attacks, identity theft, hacking, etc.

Fear of theft deters users from entering bank account information on mobile apps, thus resulting in incomplete purchases.

Inconvenience due to Mobile screen

In comparison to desktop e-commerce websites, mobile screens are smaller. Smaller screens can make it difficult to get detailed product resolution. This may lead to hesitancy in completing purchases through the phone.
How Adobe Mobile Commerce Helps in Minimizing These Barriers?
Adobe Commerce, formerly known as Magento, is a leading ecommerce platform that provides best-in-class user experience. The platform includes mobile-friendly check-out tools as well as responsive themes that load quickly.
The platform has also been tailored to create Progressive Web Applications (PWA) effortlessly. PWAs are superior to the conventional apps as they offer the following benefits:
Device compatibility
Ability to withstand unstable internet connection
Instantaneous page load
Multiple search options (Image and voice search)
Adobe Commerce enables third-party app integration, customization, and extensive functionality while maintaining security.
The Order Management System on this platform is both adaptable and convenient.
Adobe Commerce also offers Business Intelligence tools for gaining insights, analysing top customers, increasing engagement time and running promotions effectively to boost growth.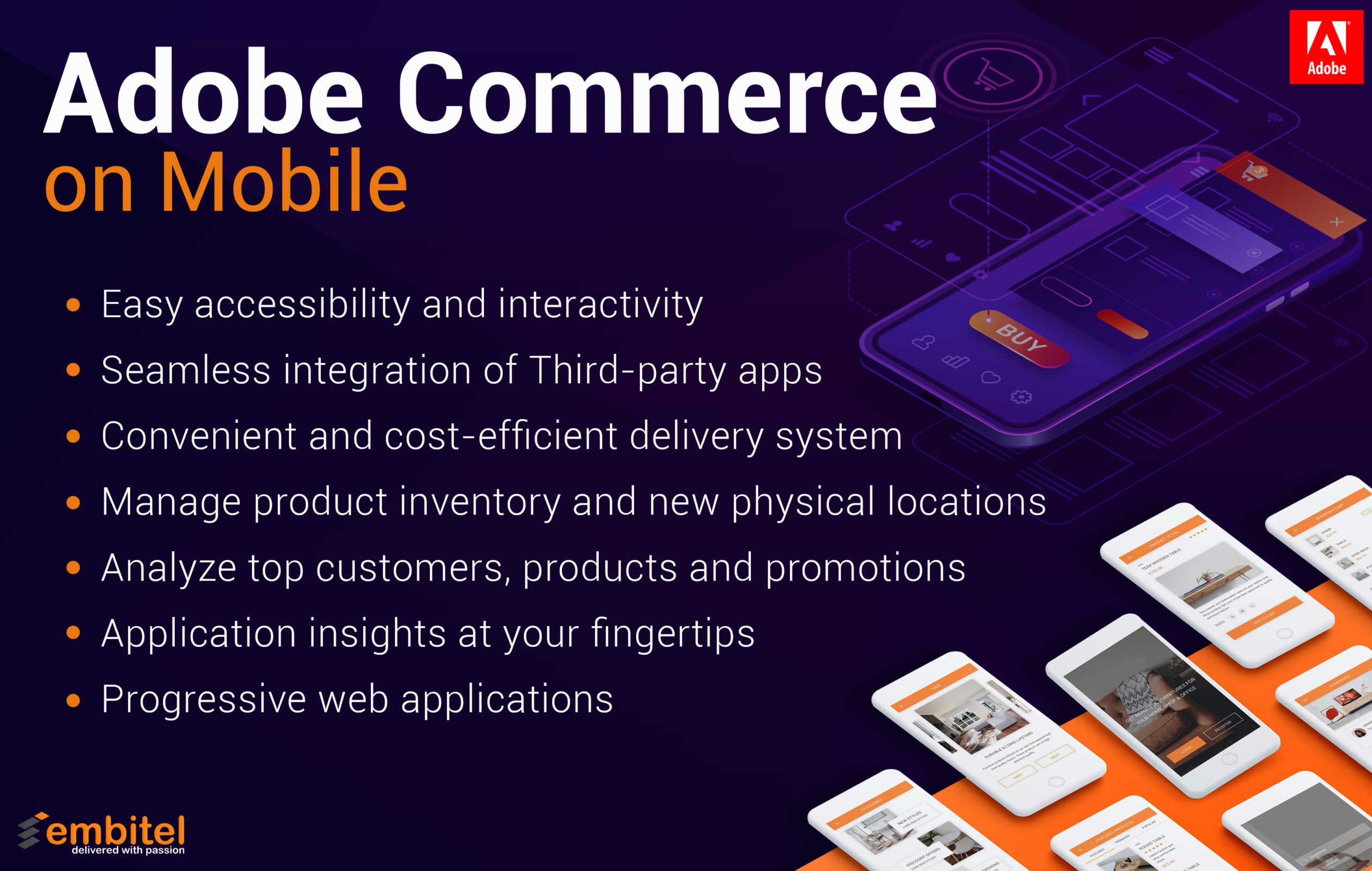 Industries That Have Adopted Mobile Commerce
Mobile commerce has successfully established its presence in almost all businesses. The potential to convert a prospect into a successful sale is proven to be more effective through M-commerce. Some of the industries in which mobile commerce is rampant are as follows:
Retail sector
Finance
Marketing services
Ticket booking
Entertainment
Healthcare
Pharmacy
Fashion
Hotel/Hospitality
Food industry
Thus, the future is bright for M-commerce. And mobile commerce app development is a must for business expandability.
Author's Note
It is important for businesses to position themselves competitively across all the channels and mediums, with M-commerce being the top priority. If you are looking to expand your business through the implementation of a robust and secure mobile commerce platform, our consultants can help you with a transformative strategy. Drop us an email at sales@embitel.com for a free consultation.