CES 2017 automotive spotlight: Augmented Reality (AR) based Heads-up Display (HUD)
Consumer Electronics Show (CES) needs no introduction. Over the years it has become a mecca for technology geeks, gizmo lovers, OEMs, suppliers and the entire innovation ecosystem of the consumer electronics space.
CES 2017, held in Las Vegas, was no different.  We witnessed some awe-inspiring innovations and concept announcements in areas of AI (Artificial Intelligence), Virtual Reality, Self-driving Cars, Electric Cars, Smart TVs,  Smarter Homes, Wearables and Bots.
And the technology press found its show stopper at the usual dazzler: Automotive Tech!
The show stopper was the Head-Up Display (HUD) technology integrated with Augmented Reality (AR).
Though Heads-up Display for Cars has been a talking point for some time now,  during CES 2017 the world witnessed the production-ready solutions of automotive heads-up display  showcased by some of the renowned global automotive suppliers.
What is Heads-up Display for Cars?
In case your newsfeed has missed out on car HUDtech-related updates, here is a brief about this next-gen automotive navigation and safety feature:
The Head-up Display (HUD) is a multimedia system projecting real-time data that's critical for the driver in the context of concurrent driving conditions.
All this information can be displayed on the windshield, combiner glass or a projector screen to mitigate driver distraction and offer safety and convenience.
[Know more about the critical hardware modules of our Head-up Display solution for cars – Freescale/NXP i.MX6 platform, TI DLP Pico projector, voice recognition and gesture control modules]

And here is a quick snapshot of the end-user features offered by the production-ready HUD design

Augmented Reality and Head-up Display:
Cameras, sensors (LiDAR-based), WiFi and GPS modules are the essential building blocks of AR-based heads-up display.
While the cameras and sensors detect, monitor and guide surroundings as well as driver and pedestrian movements, WiFi and GPS connectivity ensures that the car stays connected with other vehicles and road infrastructure.
Thus the real world is augmented with critical information on the driver's windshield, with an aim to declutter and reduce driver distraction.
AR-complemented HUD ensures that driver takes the most informed decision, is informed in advance regarding the potential danger, and makes driving more pleasant and a safe experience with an added thrill out of sci-fi movies!
AR integrated Heads-up Display (HUD) announcements at CES 2017
Featuring Harman International, Continental Automotive, DigiLens Inc, Visteon Corporation, and Panasonic Automotive Systems.
Harman's Life-Enhancing Head-up Display Solution – Harman has probably the most apt name for their Car Heads-up Display solution.
Harman's Life-Enhancing Intelligent Vehicle Solution (LIVS) concept is integrated with Augmented Reality (AR) and has a lot of substance to justify its catchy name.
Harman's Car HUD system displays added markers for other cars on the road detected by sensors. This feature continuously informs the driver about the proximity of other vehicles and their speed.
The heads-up display projects street signs over the screen at intersections. This is very useful as it is not always easy to locate street signs in the less augmented real world, leading to driver distraction.
Continental and DigiLens partnership for next-gen projection technology – For AR to be successful and effective, an advanced projection technology and displays are must-haves.
DigiLens has developed compact projectors with high-resolution displays, typically used for augmented reality glasses.
Leveraging DigiLens technology at CES 2017, Continental proposed a heads-up display (HUD) that projects over a larger area of the windshield than current projectors.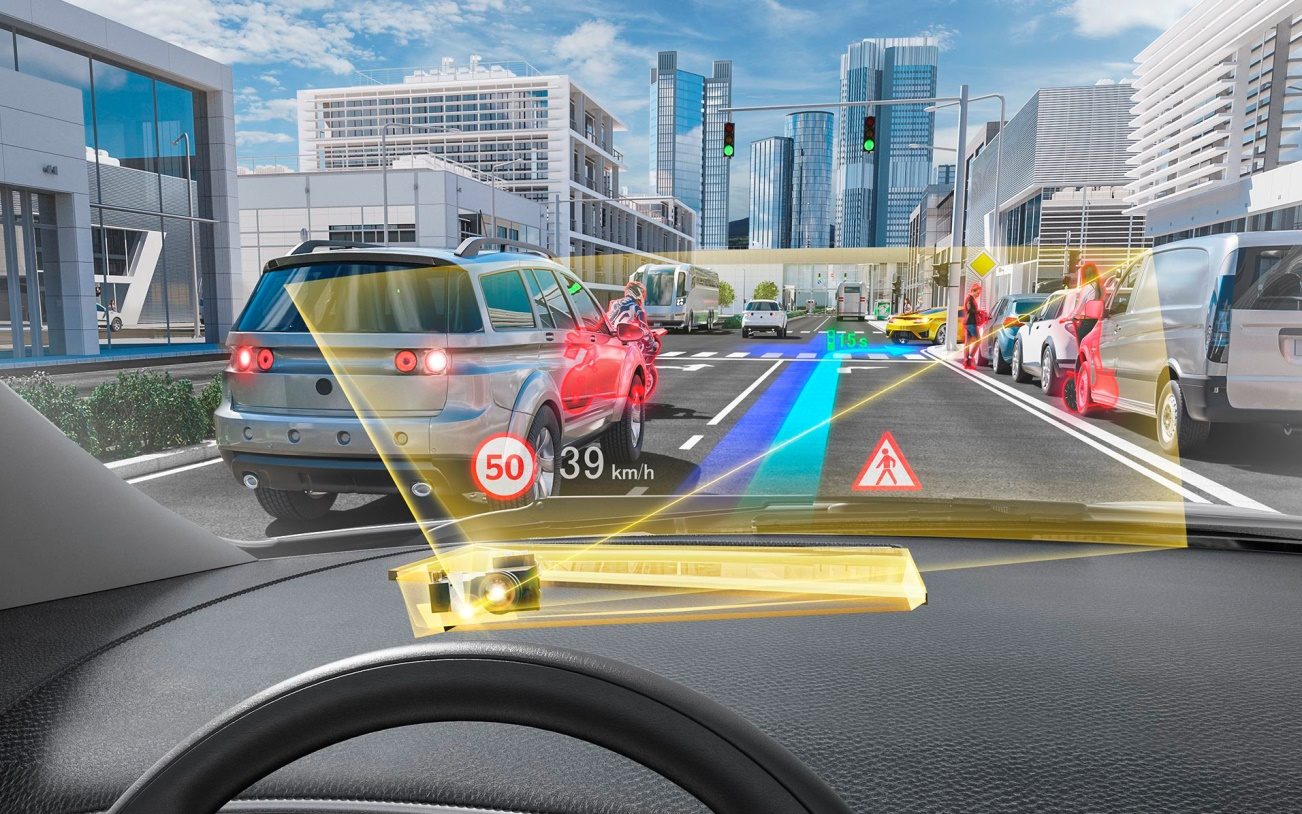 (Source – Cnet[dot]com)
Visteon's sensor-driven automotive heads-up display (HUD)– Capturing V2I, V2V and pedestrian data using sensors, Visteon's head-up display projects simple graphics on the windshield.
The car HUD system displays markings of other cars on the road, highlighting potential dangers for a driver.
The color-coded display shows, for example, a red graphic around a car ahead that's applying brakes. It also highlights pedestrians on the side of the road.
Panasonic's next-gen heads-up display integrated with augmented reality (AR) –Panasonic claimed that this is one of the world's most sophisticated HUD systems.
This HUDsolution also replaces the traditional instrument cluster by displaying all the informationon the projector.This ensures that many of the car's physical controls are replaced by gesture and voice recognition controls
Panasonic Automotive's Car HUD (Head-up display) Specifications:
Projects very large virtual images of up to 12-degrees horizontal and 5-degrees vertical into the driver's line of sight, at a distance of 10 meters (33 feet) in front of the vehicle.
The HUD system uses eight cameras: rear, front, night vision, a down side view camera, two additional side view cameras and two cameras which track the driver's head and eyes.
These cameras will not only detect the side of the road and use thesereference points to place the AR imagery in front of the driver, but also update the AR imagery as per the movements of the driver's head.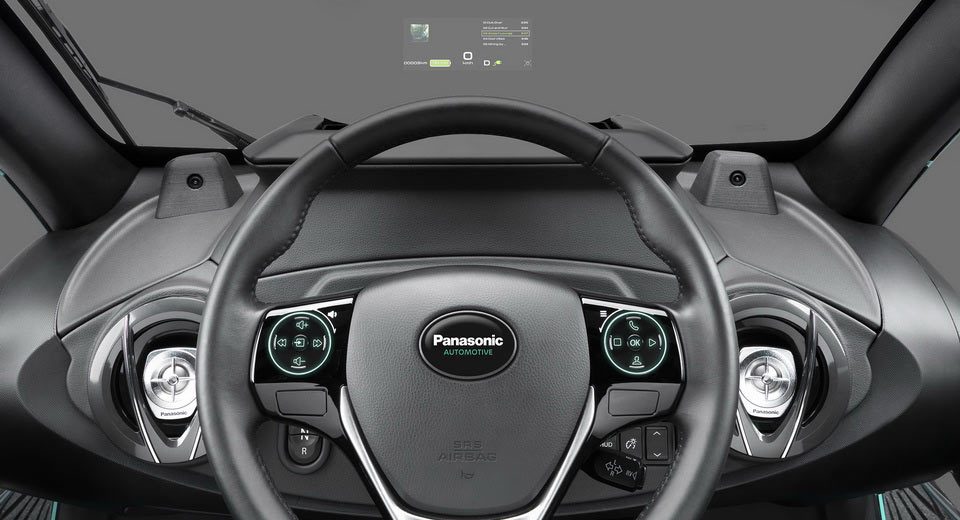 (Source – Carscoops[dot]com)
Head-Up Display market: what is the potential for growth?
IHS Automotive, that provides business insights on the automotive industry, has predicted HUD sales to reach 9.1 million units by 2020.
Future Market Insights (FMI) predicts a healthy double-digit CAGR of 23.2% in terms of value and 30.6% in terms of volume for the global car HUD market in its assessment report for 2015-2025.
A Markets & Markets report states that the market in APAC is expected to grow at the highest CAGR of 28.62% by 2020. This growth is attributed to the increased penetration of luxury cars and the rising purchasing power in growing in countries such as China and Japan.
Technology challenges of Car HUD development project
The technology deployed in a Car Heads-up Display is similar to the technology used in fighter jets display.
Developing an HUD solution requires talent with specialized skillsets and domain experience.
While undertaking a heads-up display development project, an OEM and/or automotive supplier may come across following pain-points:
Investments in R&D and technology
Increased time-to-market and losing out on competitive advantage
At Embitel Technologies, our consistent R&D and development efforts have helped us design a production-ready solution for the HUD product.
Our automotive developers have leveraged their experience in automotive infotainment systems and cloud-mobility engineering to design this state-of-the-art heads-up display system.
With a reference design of Car HUD system, time for developing advanced features and customization is reduced considerably (down to 6 months from an average of 2.5 years). Needless to say, this means reduced development cost too.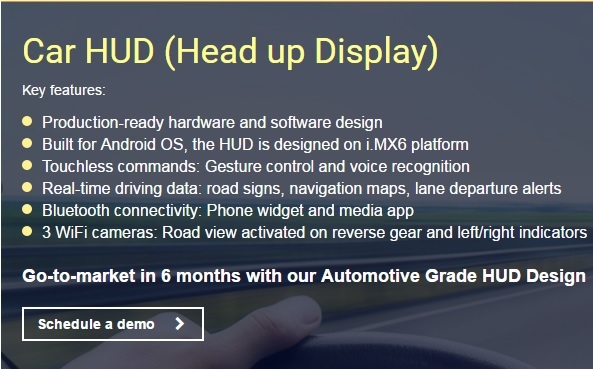 Referrences –
https://www.cnet.com/roadshow/news/augmented-reality-in-the-car-steps-towards-production-at-ces-2017- harman-continental-visteon
http://www.carscoops.com/2017/01/ces-2017-panasonic-debuts-next-gen-head.html