What Makes Functional Safety Consulting So Important for ISO 26262 Compliance?
Every year, millions of lives are affected by the lack of safety mechanisms in vehicles on our roads. There are instances of engine fire, airbag malfunction, and ADAS failures that claim innocent lives.
From innovations in advanced driver assistance systems to safety features such as ABS and airbags, the­ automotive industry is rapidly evolving to enhance both convenience and safety. However, as innovation propels forward, the need for robust functional safety measures becomes paramount.
According to a 2016 study by the National Highway Transportation Safety Administration (NHTSA), over 90% of vehicle accidents are caused by human error, highlighting the urgency to implement comprehensive safety standards.
Ensuring the safety of road vehicles requires a collective effort from all automotive stakeholders. The ISO 26262 standard plays a crucial role in guiding this endeavour, providing a comprehensive framework for functional safety in the automotive industry.
OEMs, tier-1 suppliers, after-market suppliers, and IT solution providers are recognizing the importance of adopting this standard to address safety concerns and mitigate risks.
However, widespread adoption of ISO 26262 does come with its fair share of challenges. For OEMs, implementing the standard across complex supply chains and ensuring consistent compliance poses a significant hurdle.
On the other hand, suppliers face the task of meeting stringent safety requirements while maintaining cost efficiency. Additionally, IT solution providers grapple with the need for extensive testing and verification to meet the ISO 26262 standard's rigorous demands.
In this blog, we will examine how functional safety consulting enables the automotive ecosystem to adopt the safety culture in entirety.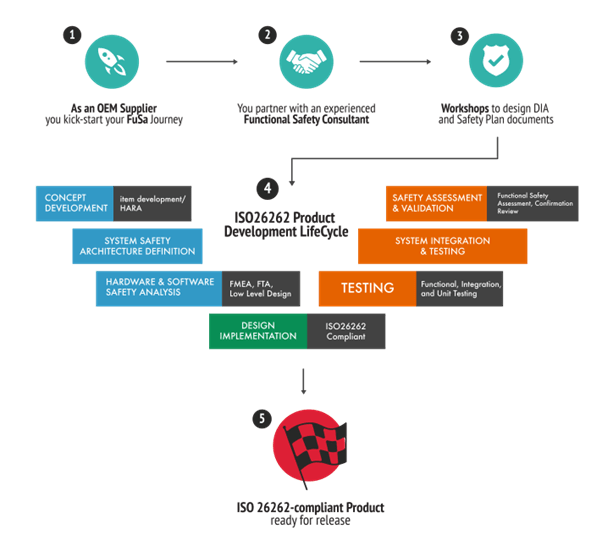 Role of ISO 26262 Compliant Functional Safety Consulting
The need for 'functional safety consulting as a service' stems from the fact that it is an expertise and skill intensive activity. A guiding light in the form of a functional safety consultant shows the direction in which the safety-critical automotive project must move forward.
In principle, FuSa consulting is different from developing ISO 26262 compliant software. It can be seen as the first step towards building such solutions.
When an organization does not have a proven safety culture and is not matured enough in terms of ISO 26262 adoption, it requires handholding to develop ASIL grade automotive solutions. FuSa consulting is all about providing this assistance to such organizations.
The scope of FuSa consulting is vast. An organization may need this service, not necessarily for developing a solution, but to achieve ISO 26262 competency or establishing safety culture.
Let's explore all such scenarios that FuSa consulting covers:
Gap Analysis: First Step to ISO 26262 Compliance
To kick-start the journey towards ISO 26262 compliance, a thorough gap analysis is conducted within the organization. ISO 26262 consultants perform a comprehensive analysis of the safety practices and systems. This assessment identifies gaps between the existing processes and the standard's requirements. The insights gained from the gap analysis serve as the foundation for tailoring the implementation of ISO 26262.
For instance, the hazard analysis lacks comprehensive documentation and fails to address all potential hazards and associated risks. Based on these findings, the consultant recommends improvements such as implementing a systematic approach, defining clear risk assessment criteria, and ensuring traceability of safety requirements throughout the development lifecycle.
Processes and Framework Rollout: Preparing for ISO 26262 Compliance Journey
A critical aspect of ISO 26262 consulting is assisting organizations in understanding the necessary processes and frameworks related to ISO 26262 standard.
ISO 26262 consultants guide organizations in rolling out the necessary processes and frameworks to ensure compliance. This includes recommending suitable ISO 26262 tools, assisting in preparation of templates, guidelines, and checklists that align with the standard's requirements. This aids in streamlining safety practices and establishing a robust safety culture.
To illustrate, let's consider a scenario where a global automotive supplier offers its Safety Framework as a comprehensive package. This framework, supported by experienced consultants, provides a robust and customizable solution for organizations to align their processes with ISO 26262.
Navigating Typical Functional Safety Activities as per ISO 26262
Execution of essential Functional Safety Management (FSM) activities is the foundation on which the rest of the safety lifecycle is built.
ISO 26262 consultants play a pivotal role in executing essential FSM activities such as hazard analysis, safety planning with project management, safety reviews, audits, assessments, and confirmation reviews. For example, they may facilitate Hazard and Risk Analysis (HARA) sessions to identify potential hazards and associated risks in the automotive system.
Consultants also help in defining safety plans, safety goals, and safety integrity levels, enabling organizations to align their safety activities with ISO 26262 requirements.
Let's consider a project where a consultant collaborates with a cross-functional development team to ensure compliance. During the Development Interface Agreement (DIA) phase, the consultant facilitates discussions between the client and its OEM partners, aligning safety goals and expectations. The consultant assists in creating a comprehensive safety plan, conducting safety reviews and audits, and performing assessments to ensure that safety work products adhere to ISO 26262 requirements.
Assigning Tasks and Driving Safety Work Products
During the safety lifecycle, there are numerous work products to be created starting from HARA to safety requirement specifications (SRS), Technical safety requirements (TSR), functional safety requirements (FSR) and so on. As part of FuSa consulting, the team members should be assigned tasks based on their experience and skill-set to drive these safety work products.
In a project focused on developing a safety-critical system, the consultant collaborates closely with team members, ensuring clear responsibilities and milestones are established. They provide guidance on creating safety-related work products such as safety cases, safety requirements specifications, and safety validation plans. By actively managing and monitoring the progress, the consultant helps the team stay on track towards achieving functional safety objectives.
However, functional safety consulting does not stop at active management and monitoring. When a cross-functional team works on a safety critical project like ADAS or Braking ECUs, creating work products like the SRS becomes tricky. Outlining the specific requirements that must be addressed in the SRS such as safety goals, necessary safety mechanisms based on ASIL, etc. are taken care of by the consultants. Such important details, if missed, can jeopardise the project at various levels.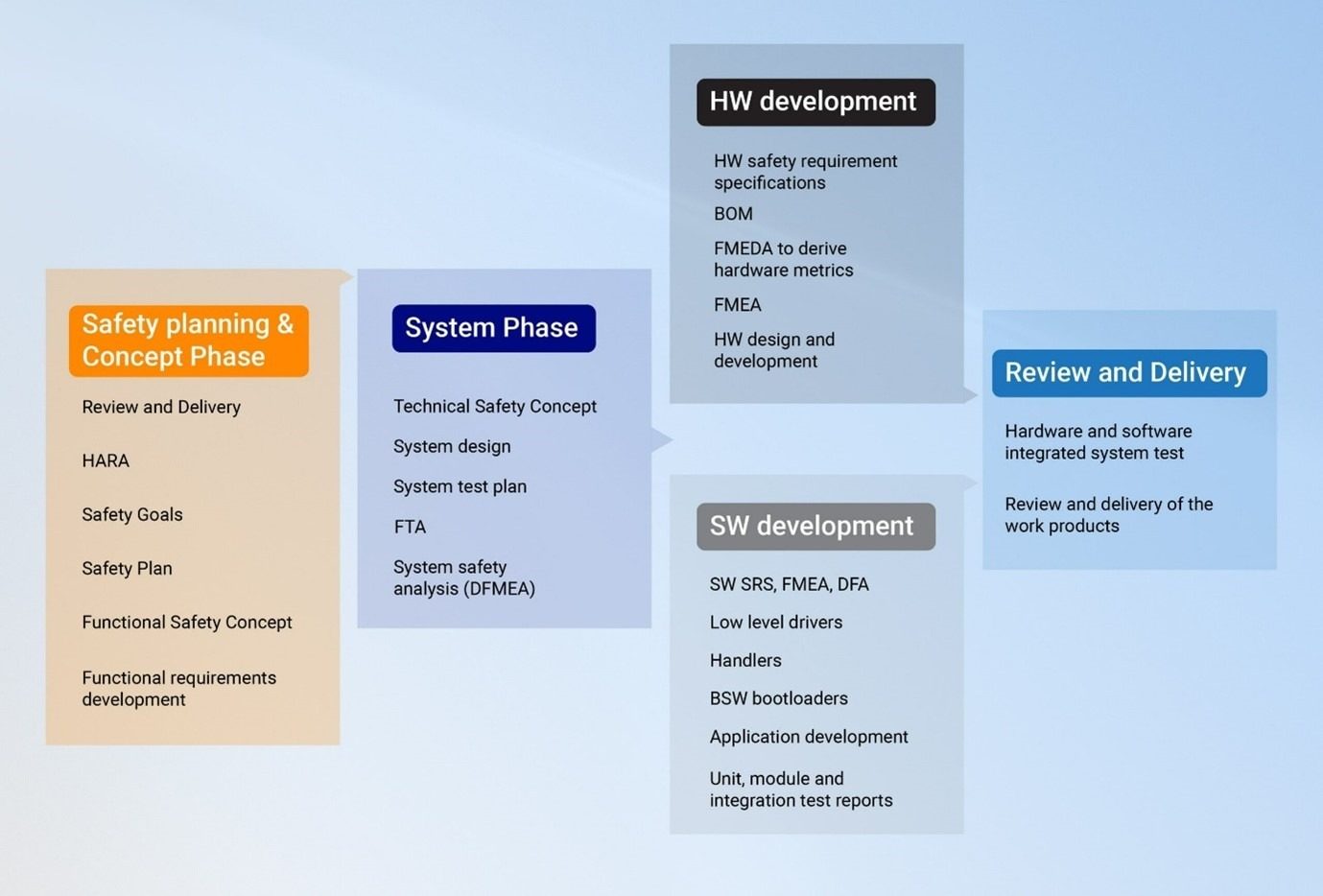 Assistance in Streamlining the ISO 26262 Compliant Software and Hardware Processes
ISO 26262 standard applies to both software and hardware aspects of an automotive solution. While part-6 of the standard deals with the software development guidelines, Part-5 of the standard ensures that hardware development processes in automotive systems align with functional safety requirements.
ISO 26262 consultants provide invaluable guidance in implementing robust software and hardware (HW) lifecycle processes throughout the safety lifecycle. Here's a detailed analysis of what goes into consulting for software and hardware design of an ISO 26262 compliant solution:
Analysis, testing and design specifications for software: What makes an ISO 26262 compliant software different from a non- compliant one is its adherence to the guidelines provided in the standard. Initiation of product development at the software level requires input from various work products derived in the earlier phases of development.

The planning for the software development includes coordination with the product development at the system and hardware level. FuSa consulting is all about keeping track of all such dependencies.

From providing recommendations for establishing coding guidelines and conducting software safety analyses to applying verification and validation techniques, a lot goes into successful planning for software development.

Safety Analyses, design, and testing of hardware: During the development of hardware components for an ISO 26262 compliant solution, Part-5 of the standard needs to be followed.

The following aspects are covered in this:

Specification of hardware safety requirements
Hardware design
Evaluation of the hardware architectural metrics
Evaluation of safety goal violations due to random hardware failures
Hardware integration and verification


Functional safety consultants guide the team in selecting hardware components that meet the required ASIL. Based on the ASIL, they help define diagnostic mechanisms to ensure fault tolerance.

In addition, the consultant reviews the HW design, offering recommendations on hardware redundancy, fault detection, and fail-safe mechanisms. By integrating these safety mechanisms, the consultant enhances the overall safety of the ECUs.

Another very important role of consulting in terms of hardware is the selection of safety analysis methods to be deployed. ISO 26262 standard recommends the evaluation of hardware architectural metrics such as LFM, PMHF, SPFM etc. Whether to choose FMEDA, FTA, DFA or all of them is a choice that FuSa consultants and their team have to make.

We have already mentioned that FuSa consulting is not restricted to development of a safety-critical automotive solution. When an organization aims towards establishing a safety culture, it must take care of a number of factors. Continuous process improvement, assistance in confirmation reviews, audit and certifications assistance, support for tool qualification, etc. are often expected from functional safety consultants.

At times, specific non-automotive organizations develop SEOOC (safety elements out of context) products, such as Tire Pressure monitoring sensors, specialized camera module, etc. Such organizations seek functional safety consulting to help them develop SEOOC products intended for ASIL grade automotive use-cases.

Conclusion
ISO 26262 consulting plays a vital role in guiding organizations towards achieving functional safety in the automotive industry. From conducting gap analyses to facilitating process rollouts, training teams, and driving safety work products, consultants offer comprehensive support at each stage of the ISO 26262 journey.
By leveraging their expertise and real-world experience, consultants empower organizations to embrace functional safety practices effectively, thereby ensuring the safety of road vehicles and enhancing the overall trust and confidence of customers.