IoT Gateway and IoT Platform Development Projects: the Best Practices
IoT gateway devices are the lifelines of many successful IoT applications, especially in the industrial automation domain.
In typical internet of things applications, IoT Gateway Devices are responsible for managing:
IoT network device compatibility,
IoT security,
Configuration management of IoT devices
Device to IoT cloud connectivity & more
Following are some of the best practices to keep in mind before kick-starting an IoT Gateway software and hardware development project:
Scalable & Cost-effective design
Support ramp-up/ramp-down of IoT sensors network
IoT gateway device compatibility with ZigBee, BT, WiFi, 6lowpan, Modbus, Enocean & more
Commercially viable solution-BOM, design & development costs
Configuration & Power Management
IoT Gateway Device should be easy to configure and deploy
Most IoT applications also require remote management of the IoT Gateway
Your IoT Gateway design should have low power footprints
System Recovery and crash handling
IoT developers should pay special attention to system recovery and crash handling functionality
IoT Gateway Device should recover from crash & report the crash reasons
IoT Gateway security
Secure the IoT gateway devices using data encryption mechanisms and security certifications( TSL/SSL).
Use TPM (Trusted Platform Module) and TEE (Trusted Execution Environment) for IoT gateway device hardware security
Support for IoT Gateway Development, Hardware Consulting & Testing
IoT Gateway Device and Sensor Nodes Communication

IoT Gateway and interface development to enable communication with network(s) of multiple IoT sensors
Expertise in integration with popularly deployed sensor nodes based on Zigbee, Bluetooth, LoRA, Zwave, 6lowpan and WiFi protocols
Secure Device Registration

Ensuring secured communication between the cloud and the IoT gateway through

Device Authentication using SSL certificate
Authentication using device MAC ID and key generation
IoT Hardware Design Consulting

Requirement gathering and analysis workshops with our IoT Consultants
IoT Architecture design and BOM cost optimization
Schematic and Layout designing
Signal Integrity Testing, Prototyping and Production support
IoT PoC development for IoT gateway design evaluation
IoT Gateway Software Development & Testing

Device configuration management to facilitate communication between IoT Gateway, sensor nodes and the IoT cloud server
Support for firmware-over-the-air (FOTA) updates for IoT Gateway and Sensor Nodes network
Message storing to manage lost connection - the fetched data is stored and sent again when the connection is retrieved
Expertise in designing portable IoT software: Compatibility with various hardware platforms and OS
Ensure IoT gateway device compatibility with major IoT communication protocols – Zigbee, BLE, EnOcean, LoRA, Modbus, Z-wave, 6lowpan.
Support for testing your industrial IoT gateway devices
Maintenance and Support Services for IoT Gateway Device

Support for field testing and deployment
Data collection, analysis, and performance tuning
Bug fixing and support in making the production software more stable
Handbook: Design Best Practices for IoT Product Development Teams
Learn about the hardware design best practices related to IoT Sensor Nodes, Gateway, FOTA and necessary certifications
Suhas has over 25 years of experience in Embedded Engineering & Software Development. He is well-known, among his peers and customers, for his ability to ensure timely delivery of IoT projects. He has been instrumental in the successful completion of some very challenging and large scale IoT projects at Embitel

Suhas Tanawade, Senior Delivery and Account Manger, IoT
(Mr.Perfectionist)
[IoT Gateway Video] 'Off-the-Shelf' v/s 'Custom Built' Solution: Our IoT Consultants Help You to Resolve this Dilemma
Customer Success Stories in IoT Gateway Platform, SCADA and Battery Management System
Industrial IoT solution for UPS Battery monitoring System
Business Challenge:
The existing UPS network could not effectively predict the rate of drainage of the battery charge.
This meant that, as an industrial automation supplier, our customer found it difficult to deliver advantages of no downtime and lower cost of ownership to its clients.
Embitel Solution:
Design and development of an IoT solution using industrial grade network of sensors for data collection and battery monitoring
Design and development of a data aggregator and storage system
Embitel Impact:
our client now has the ability to ensure

Zero system downtime due to Predictive Maintenance (PdM) of the in-service UPS
Reduction in overall cost of ownership for the clients

The designed industrial IoT and automation solution also enabled our customer to address the load balance challenges during the charge and discharge cycles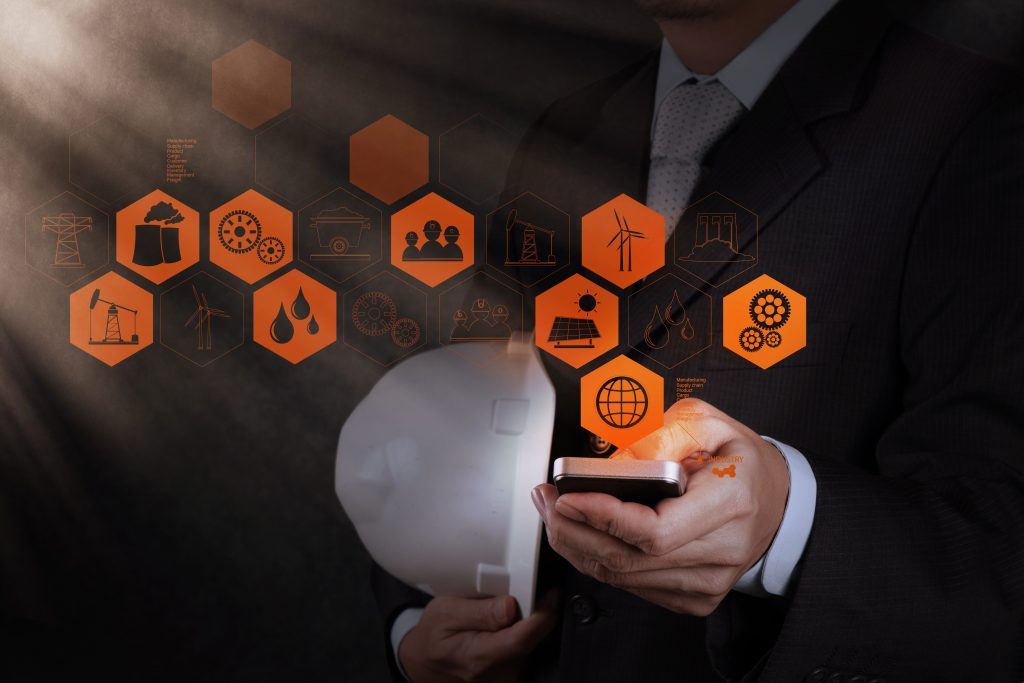 IoT Platform & SCADA solution for the Solar Tracking System
Business Challenge:
Our client, an Indian Subsidiary of one of the Global Pioneers in Renewable Energy generation had a mandate to improve the efficiency of their existing solar power open field implementations
Efficiency of the Solar power generator has a direct impact on the output (generated power) and the subsequent RoI of the open field deployments
Embitel Solution:
Our IoT and Industrial Automation team developed hardware & software solutin for a Solar Tracking system along with a SCADA system for monitoring, and a PC application for configuration
Embitel Impact:
Our solution addressed the main concerns of efficient power generation and monitoring
The Industrial IoT (Internet of Things) platform also helped reduce the cost of field operations
Our customer was able to increase the field coverage, including the irregular corner and fringe boundaries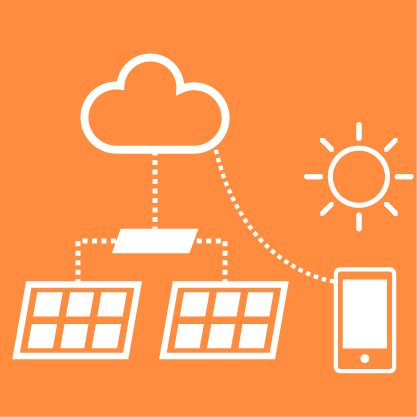 IoT Control Room Gateway Development for Solar Tracking System
Business Challenge:
The client, an Indian Subsidiary of one of the Global Pioneers in Renewable Energy generation had collaborated with Embitel for the development of IoT based Solar Tracking System.
The control room gateway device that was being used in the existing solution had a complex architecture & involved high BOM cost.
The client wanted to develop a custom-built control room gateway device in place of the existing one.
Embitel Solution:
Custom development of Control Room Gateway Device hardware and peripherals
Development of software modules to support Modbus communication , I/O module and analog communication between the Control room gateway device and other systems in the Solar Tracking Solution.
Redesign and custom development of HMI and SCADA systems
Embitel Impact:
The Custom developed Control Room gateway device, integrated as a replacement for the off-the-shelf device, helped reducing the overall cost by substantial levels.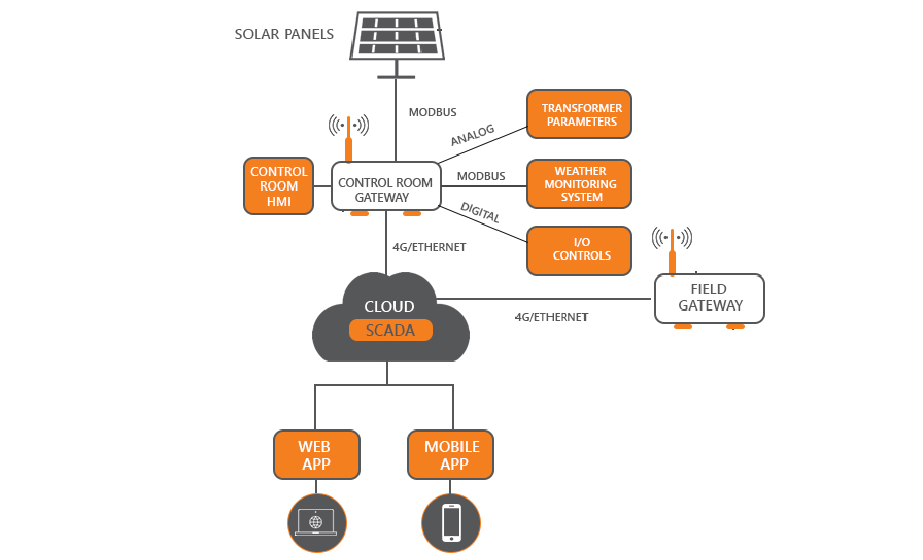 What are Zigbee Gateway devices?

Zigbee is a popular open communication protocol for wireless devices. A Zigbee gateway device enables data connection between IoT Sensors and devices within a Zigbee network and devices that are part of the network.
A Zigbee gateway basically offers a universal channel to connect Zigbee based IoT Sensors, devices and systems to IP-based networks.
Some popular use-cases of Zigbee Gateway include home automation, automated energy management solutions, healthcare monitoring systems and more.
  What are some of the most commonly deployed IoT wireless communication protocols?

The modern Internet of Things (IoT) ecosystem is powered by several protocols (recognised across the Industrial Automation industry), for establishing a seamless communication.
Some of the most widely used wireless IoT protocols include

ZigBEE,
Modbus Protocol,
Bluetooth Low Energy (BLE),
EnOcean,
Z-wave and more

Zigbee: It is based on IEEE 802.15.4 standard. Zigbee is a is a low-power, low data rate wireless communication protocol used for applications that requires low-bandwidth data transfer.
Modbus: The Modbus protocol is one of the most commonly used communication protocol for industrial automation applications such as SCADA. Modbus is an open-source, flexible protocol that is based on serial communication.
BLE: Bluetooth Low Energy ( BLE) is a wireless personal area network technology designed especially for applications that required low power consumption.Like its classic predecessor ( Bluetooth) , BLE uses 2.4 GHz radio frequencies and also permits dual mode systems to use a common radio antenna.
Enocean: Developed and maintained by Enocean Alliance, this is the only wireless standard based on energy harvesting technology. Enocean standard is mainly used for energy-efficient building automation solutions.
Z-wave: Z-wave is a wireless standard that uses low-energy radio waves to establish connection with the devices. One of the striking features of the Z-wave protocol is its interoperability at the application layer. This helps various Z-wave based hardware and software to smoothly operate together.
  What is an IoT platform?
In simplest terms, an IoT platform is a multi-layer solution offering a seamless connection between remote hardware (IoT Gateway devices and IoT sensors) and a web-based cloud.
An IoT Platform also facilitates host of other functions such as multi-level security, data aggregation , processing and analysis.
An IoT platform is often perceived as a set of built-in tools that enables all these functions to develop a scalable and cost-efficient internet of things (IoT) system.