What is Car HUD market potential? Answers from the global research reports

Car Heads-up Display is a remarkable innovation – it's useful, mitigates distraction and looks cool. While offering enhanced safety and convenience with its accessible display, Car HUD also offers one of the most sought-after qualities in today's world: connectivity with your cellphone.
This all-round experience lets users make, reject and answer phone calls, read messages, access media and apps through their car dashboard or windshield. Hence mitigating driver distraction
The Car HUD system also offers new revenue streams for OEMs and Suppliers by enabling data and media consumption through an in-car platform instead of cell-phones or other hand-held devices. This shift in mode of consumption also provides access to driver behaviour data to OEMs' and Suppliers.
Advantages of the Heads Up Display for cars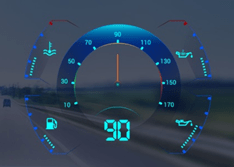 Is the Heads Up Display just another gizmo that does nothing more than the dashboard? Research conducted at the Technical University of Munich reveals exactly what the HUD offers:
The research team evaluated the "eyes off road" time'that's the visual demand or interference experienced when performing secondary tasks such as using the phone or radio while driving.
In low-speed situations, the eye off road time was reduced by 15-20% as compared to traditional displays.
In high speed situations, the reduction in "eyes off road" time went up to 25%!
Conclusively, the HUD projects information efficiently (within the driver's viewing range) and makes it easier to access, thus enhancing safety significantly.
How does the Head-up Display reduce distraction yet let the driver access data?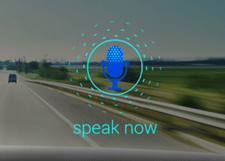 The HUD displays real time driving data coupled with road signs and lane departure alerts as it continuously monitors the set safety parameters. But the ability to reduce distraction comes by enabling 'touch less commands.' Integrated gesture control and voice recognition modules allow the driver to a hands-free experience without distractions.
Users can attend or reject, or even make calls using simple hand motions or voice commands. Messages can be opened and replied to by simply narrating the response.
A microphone picks up the voice from the user,and directs it to a voice recognition engine which processes it.
Operations are performed once the predefined command key words are identified. The commands are recognised and interpreted using the data dictionary to perform the actions which can be as simple as saying "Answer the call" or "Reject".
The voice recognition module also consists of a speaker, used for voice output for navigation and during calls. Similarly, gestures such as swipes and waves are picked up the infrared camera or gesture control sensor.
Head-Up Display market: what is the potential for growth?
In 2012, the sales of the HUD were found to be 1.2 million units. IHS Automotive, that provides business insights on the automotive industry, has predicted sales to reach 9.1 million units by 2020.
Future Market Insights (FMI) predicts a healthy double-digit CAGR of 23.2% in terms of value and 30.6% in terms of volume for the global car HUD market in its assessment report for 2015-2025.
The FMI report has further analysis: the windshield segment dominated the automotive market in 2014, trumping the market for combiners. This preference for windshield display is expected to stay, says the report.
Head-up Display installations – market segmentation by car type
Amongst the types of cars, there has been a noticeable demand for the car HUD in premium vehicles. But as per FMI, the SUV and sports cars segments will see a steady rise in CAGR in the coming years, so we can safely say the usage of the car HUD is spreading.
Different research sources have found Europe to be the recent and current popular destination for the car HUD, but they are also agreed on the APAC region witnessing the highest CAGR in terms of value as well as volume in the coming years.
A Markets & Markets report states that the market in APAC is expected to grow at the highest CAGR of 28.62% by 2020. This growth is attributed to the increased penetration of luxury cars and the rising purchasing power in growing in countries such as China and Japan.
The challenges in Car HUD development
As technology that has been used fighter jets, developing the Heads Up Display is no small task. Intensive R&D efforts go into creating a high-quality product that delivers a top notch UX, therefore it requires significant expertise, time and monetary investment.
When commissioning Car HUD development for cars, an OEM or supplier should be prepared for heavy investment and an extended time to market.
Embitel offers a production-ready design of the HUD, developed using our experience in automotive infotainment systems and cloud-mobility engineering.
With a reference design of Car HUD system, time for developing advanced features and customization is reduced considerably (down to 6 months from an average of 2.5 years). Needless to say, this means a reduced development cost too.
The Head-up Display for Cars is a new age product that offers safety, convenience and style. Few vendors have the capability to develop this product, but automotive brands offering this product to end users enjoy the early bird benefit of satisfying customer needs and being on top of the game.