How Technology is Enabling Improvement of In-Cabin Air Quality: Insider's Insights
A car cabin can have hundreds of dangerous chemicals in the form of gases and particulate matter. The most common of them are VOCs (volatile organic compounds) such as carbon dioxide, carbon monoxide, benzene, and formaldehyde.
Although a car cabin is insulated from the outside atmosphere to a large extent, the HVAC system of the car takes in outside air, conditions it and lets it enter the car cabin. However, the pollutants in a car cabin are not limited to CO2 and CO from outside; VOCs are also emitted by car components like seat foam, carpets etc. To make matters worse, particulate matter is expelled by car brake system as well.
These pollutants have always been a matter of concern for car buyers, OEMs, and the governing and monitoring authorities. Policy makers have in past, made cabin AC filter mandatory in the cars. However, these are not highly effective against particulate matter which are less than PM 2.5 or ultra-fine particles.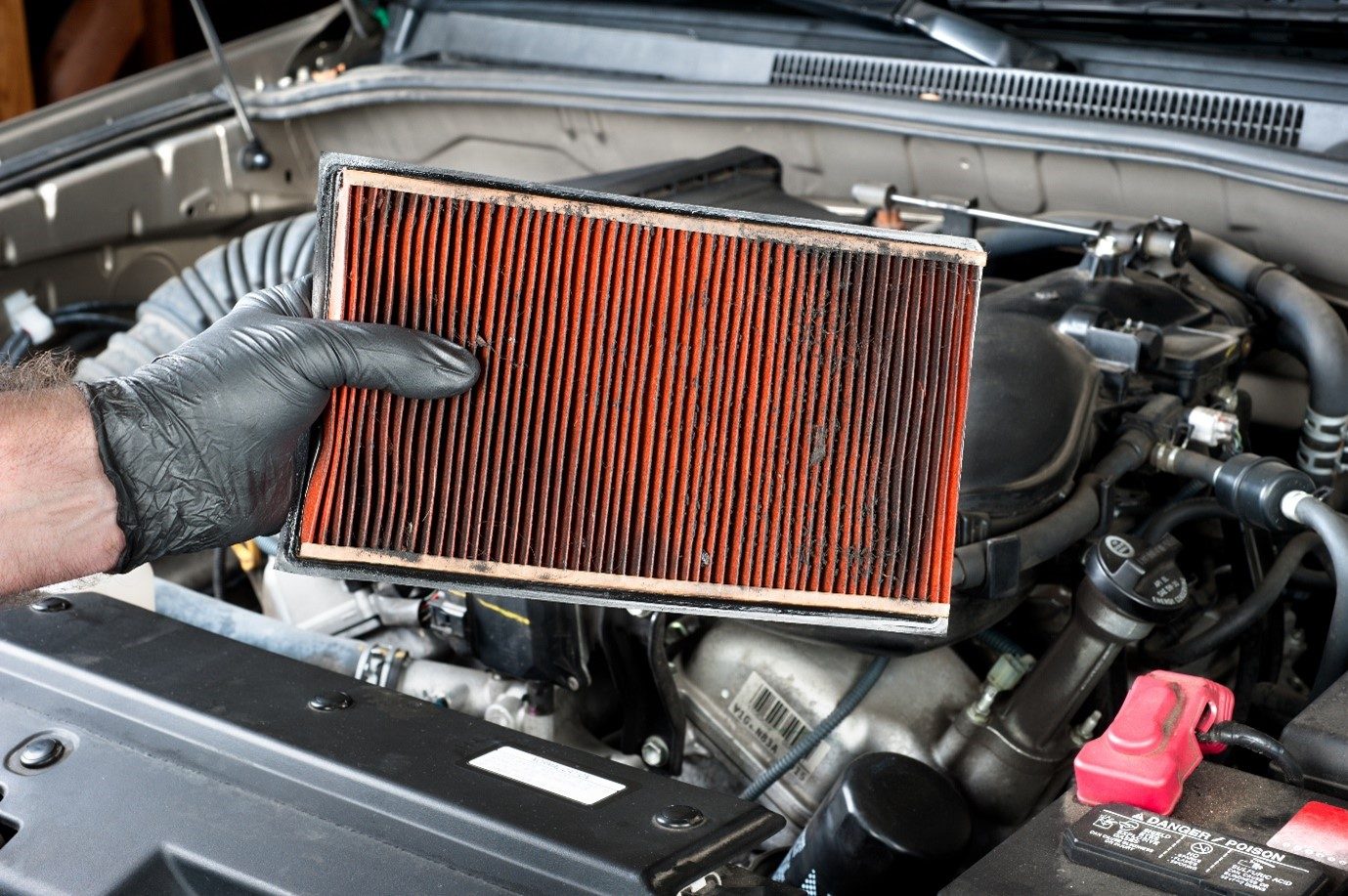 A typical AC filter in a car
Thus, the need for smart cabin air quality monitoring and purification was felt.
The recent development in the cabin air quality technology has made way for introduction of smart solutions that deploy advanced sensors to detect VOCs and other poisonous gases. These monitoring solutions work as a built-in HVAC air control module and can be developed as per the specifications of OEMs.
Air purification solutions work in tandem with the air quality monitoring modules to keep the pollutants under optimum levels.
Some Insights on Automotive Cabin Air Quality Improvement Solutions Market
Cabin air quality has been the topic of discussion for quite a long time. And Covid-19 pandemic made it an even more relevant and important. The growing market of solutions that monitor and improve cabin air quality, is testimony to this fact.
In 2020, the global market size of cabin air quality solutions was USD 1.85 billion, according to Fortune Business Insights' report. The report projects the market size to be USD 4.9 billion by the year 2028, clocking a CAGR of 14%.
Due to the disrupted supply chain and halted manufacturing during the Covid pandemic, the market growth between 2020 to 2022 was not very encouraging but the numbers are looking favorable in the post-pandemic era.
Increasing pollution levels in the tier-1 cities of the world has prompted the commercial vehicle manufactures and freight companies to ensure better cabin air quality.
Commercial vehicle drivers spend the most amount of time inside the vehicles which puts them under greater risk of respiratory illness in the long run. With commercial and passengers vehicles combined, a huge share of automotive industry is trying to deploy such cabin air quality solutions. This widespread adoption is most likely going to propel the market growth of these solutions, which is also evident by the numbers projected in the report.
Reasons for market growth of cabin air quality improvement solutions
Rise in pollution level across the globe: From big cities of the world to relatively smaller ones, the problem of pollution is ubiquitous. The fact needs no separate mention that air quality of a car cabin is more polluted than the air outside. This reason alone calls for a better ecosystem for development of all kinds of solutions that can contribute to improving the air quality of the vehicle cabin. Various governments who have signed agreements on climate control are also pushing towards reduced emission from automobiles and deploying solutions for improving in-cabin air quality.
Health concern among the people, especially after Covid pandemic: Respiratory illness has been troubling people ever since the industrial revolution. However, in recent times, Covid 19 pandemic has brought respiratory illnesses to the fore and people in general have become increasingly concerned about it.
Push from automotive stakeholders and governing bodies: A combined push from governments, consumers and consortiums in the automotive industry, has resulted in a spate of innovations in cabin air quality solutions development which has translated into increased demand.
Underlying Technologies in Cabin Air Quality Monitoring and Improvement Solutions
There are two aspects to the cabin air quality of an automobile - monitoring, and purification. We will discuss both the aspects in detail and the kind of solutions being developed in the automotive industry. Let's start with air quality monitoring.
HVAC Built-in Air Quality Monitoring Solution
For an air purification system to improve the air quality, it must first be aware of the kind of pollutants it is dealing with. A built-in air quality monitoring system is responsible for exactly this job.
With the help of sensors installed in the HVAC air intake control, this system measures all kinds of pollutants including VOCs, ozone, hydrogen sulphide, Sulphur dioxide, CO2, CO and various other oxidizing and reducing gases. New age vehicles are deploying such solutions in their HVAC systems through LIN or PWM interface. However, even older vehicles can be fitted with these systems.
Built-in air quality modules are developed in a way to adapt to OEM specifications that change with the country's and city's environment conditions. These modules only monitor the air quality; however, the sensor data can be easily integrated with the air purification module which can then neutralize the specific pollutants detected by the monitoring system.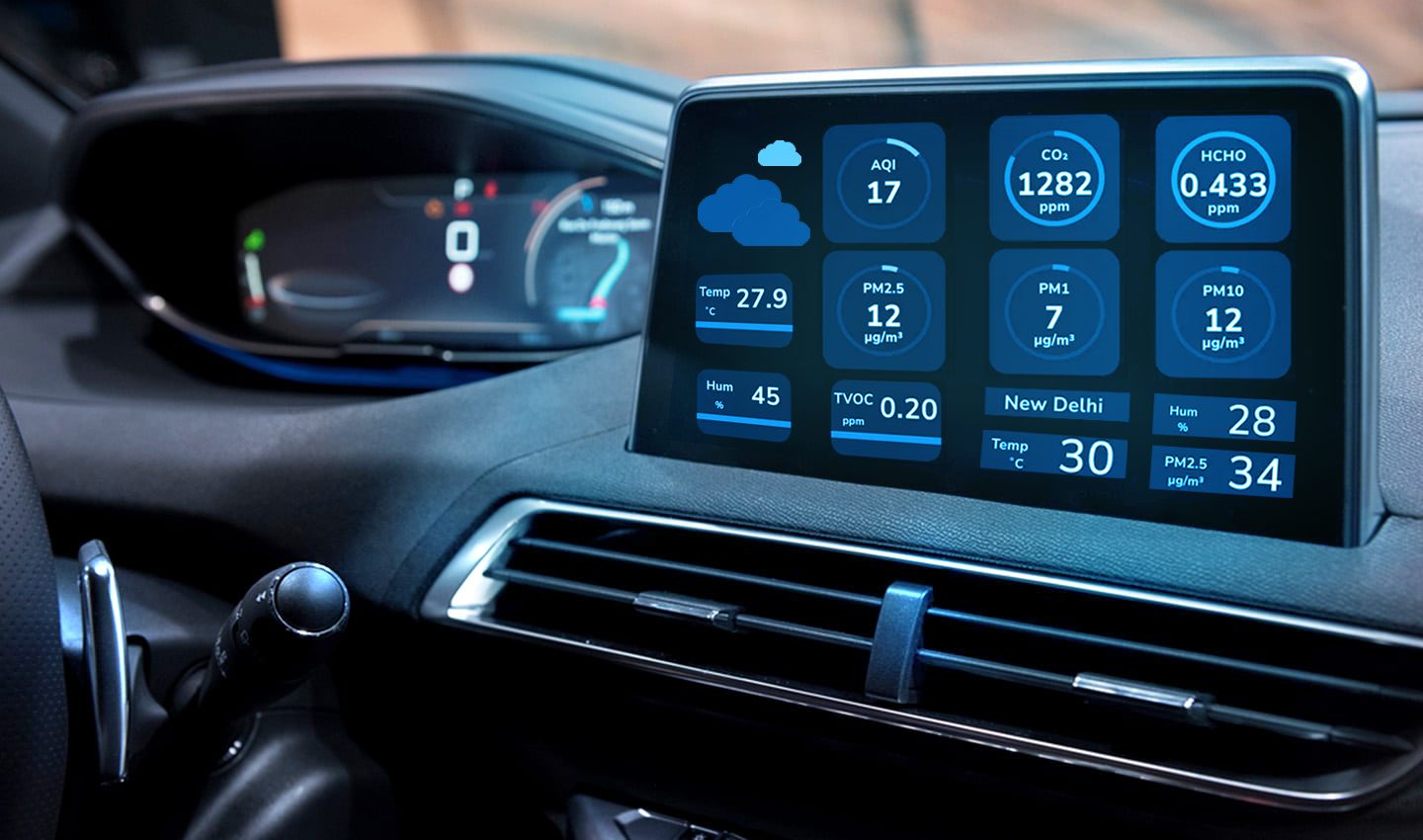 Infotainment screen showing air monitoring data
Advanced Air Purification Solutions
Cabin air filter has traditionally been used to clean the outside air before it enters through the HVAC air intake vent. These filters are made of fine fiberglass thread spun on to a cardboard frame. These filters are capable of blocking dust, pollen, pet fur etc., i.e., particles which are greater than 10 microns in size.
These mechanical filters have their limitations in terms of blocking the pollutants and they are mostly ineffective in blocking VOCs, CO2 and CO.
This is where technology steps in to augment the mechanical filters. One of the breakthrough technologies that has been found to be highly effective is, particle charging. The underlying principle of this technology is to give the airborne particles an electrostatic charge, usually a negative charge. This is done by various methods - One of them is by subjecting the air particles to a corona discharge (produced by fluid ionization). Once the particles get negatively charged, they are attracted by the positively charged filters.
Such solutions are now being developed especially for automobiles. This system is usually powered by the vehicle's HVAC system or climate control system over LIN subnet. It can also be integrated with the air quality monitoring system that we discussed in the previous section.
The Road Ahead
Several OEMs have already started to install cabin air quality monitoring and purification solutions in their upcoming models. And considering the awareness among the people on respiratory health, such technologies are going to become very common in the automotive industry.
Embitel is one of the leading technology providers for custom-development of such innovative automotive solutions. We can help develop the applications, base software, communication and diagnostics protocols for air quality monitoring and improvement solutions.