6 Common Magento SEO Mistakes That Can Jeopardize Your Ecommerce Website
Magento is one of the most preferred ecommerce platforms across the globe. Though there are 1000s of ecommerce website development companies, there are only a handful of Magento 2 development companies which can handle end-to-end implementation, from ecommerce website development to digital marketing.
SEO for Magento ecommerce websites has unique challenges because of the sheer volume of pages and the unique needs of Magento websites. If you have launched your new Magento website, here are the some common mistakes you should avoid to get a better ranking for your keywords.
Listing your staging URLs in your sitemap
Most of the Magento websites have a staging or development environment and the chances of Google listing your staging URLs is very high if you don't follow the right SEO approach. If you're an SEO expert, you can advise your developers to do the following 2 things to make sure you're not a victim of this common SEO mistake:
Ask your developers to password protect the dev / staging servers
Add 'noindex' and 'nofollow' meta tags in all your dev pages
Misconfiguring Robots.txt file
Often developers forget to remove the noindex/nofollow meta tag before pushing the site from staging to the live server and hence Google won't index your website. To make sure your website is indexed by Google you need change the settings of Default Robots to 'index, follow'. You can find the setting page in Configuration -> General -> Design -> Default robots.

Set the defaults robots to 'index, Follow' to make sure Google index your website. You also need to block the website search result pages using robots.txt settings. You need to add the code "Disallow: */catalogsearch/" in the field "Edit Custom Instructions of robots.txt file" to block the site result pages as it often creates a duplicate content issue.

Ignoring alt tag for the images
Every product ought to have a product image and sometimes the webmasters will be little lazy in adding the right alt tag for the images. Image alt tags help to improve the visibility of the page and can drive traffic through Google image searches as well. Adding the right alt tags helps Google bots understand the context of the image and helps them to rank the images better.

Not Optimizing Canonical URL setting
Canonical URL setting is one of the important SEO settings, especially for an ecommerce website, as the pages in ecommerce sites are quite large and complex. The most common URL listing issues are:
Google indexing the same page with www and without www
Google indexing the same page with http and https
Including a canonical url indicates to Google or other search engines which version of your page is the right primary url. This will help you to eradicate a major duplicate content issue./p>
You can find the canonical setting in the following path: Stores > Settings > Configuration then select Catalog > Search Engine Optimization
You will find the below settings page to update your canonical configuration.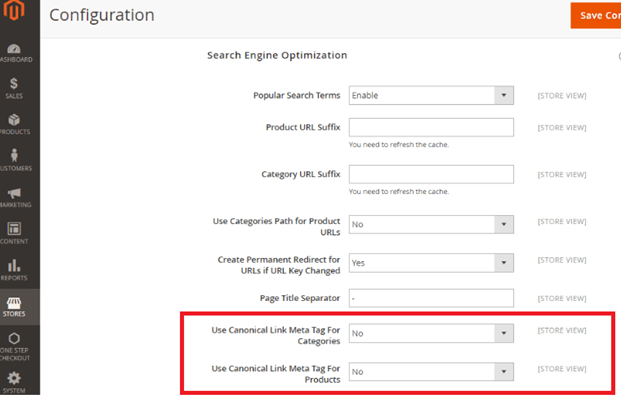 Not Configuring Rich Snippets in Magento 2
Microdata helps Google and other search engines to decipher your content and present it in a very useful way for the users as in the below example:

It also helps you to improve your click through rate as it presents the content in the most useful way for the user.
One of the major updates in Magento 2 is the availability of the microdata / rich snippets by default in the product section. In comparison, in the previous versions of Magento, you needed to install a 3rd party extension to add rich snippets to your product pages.
If you need to show a product as "in Stock," make sure to enable the "availability"settings as below:

Check this Magento marketplace rich snippet guide to have a better understanding of the rich snippets.

Non-Optimized product descriptions
In SEO, content plays a major role in search rankings so keep your product descriptions as unique as possible. Having a well written product description not only helps SEO but makes for good user experiences as well. Write your product descriptions to include the right targeted keywords. Having a unique, elaborate product experience will give you a chance to fight with the big ecommerce players like Amazon and help you drive some unique search traffic.
These are the top 6 common Magento SEO mistakes which can hamper organic growth of your ecommerce website. Work closely with your developers from the staging process and guide them to properly configure all the SEO related setting.
Verify your ecommerce website once again and make sure it doesn't have any of the above SEO pitfalls. If you have any trouble in validating your ecommerce site, book a free ecommerce SEO consultingsession with our consultants to create a free SEO analysis report for your website.