How PIMCORE Information Management Solution Lets You Do More With Magento
Global Retail Brands, who have embraced online commerce as the new customer touch point and revenue stream, manage multi-store catalogs on same website
Such ecommerce projects often confront Ecommerce Developers with new challenges in managing product information, digital assets and catalogs in a more dynamic manner.
Handling multiple stores is one thing and personalizing them in terms of product information is another. E-commerce businesses want to target different geographies and personalization is very critical.
In this context, personalization refers to showcasing product catalogs that are relevant to your visitor based on his/her city or country.
There may be scenarios where some products are not relevant/available in some geography. Also the product pricing and promotion strategies may differ from city-to-city or country-to-country.
PIMCORE, a digital platform provider, offers data management solutions designed to address such issues. It also complements Magento Commerce Platform by enabling dynamic product management as well as digital asset management.
"Product information management (PIM) is one area where major challenges lie. For instance, a store may be interested in showing one product in different stores at different prices. Additionally, one store may promote a product but others may not. There can be several such scenarios in terms of product management that PIMCORE addresses"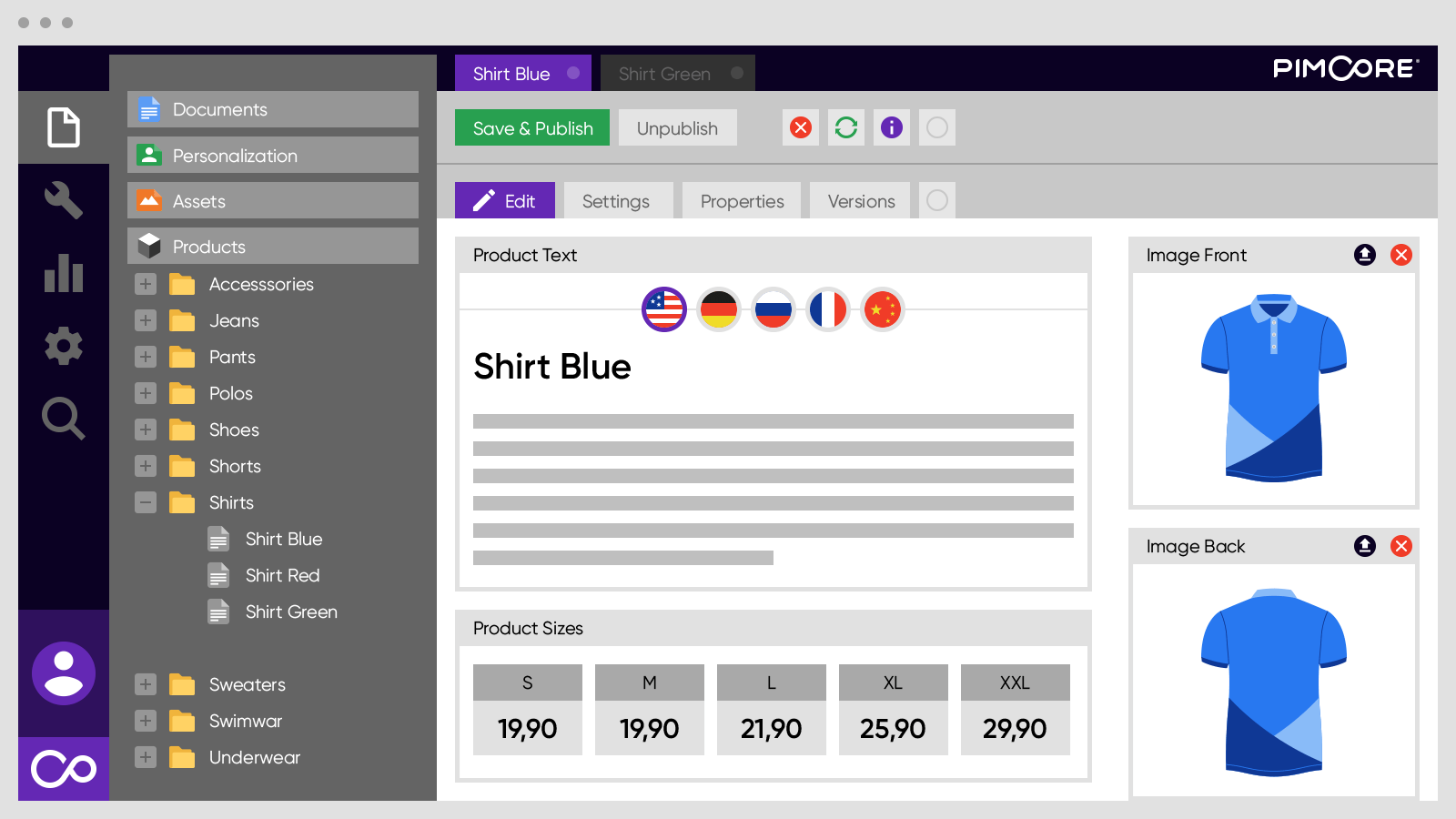 An In-depth Aanalysis of the PIMCORE Product Information Management Features
At the core of the Production Information Management (PIM), there is a master data management system. It can manage a huge amount of digital data of different types. PIMCORE's structured and object oriented approach towards the asset management makes it a preferred choice.
The master data manager enables one to control a wide range of data, including the information about the customers, products as well as the vendors.
Let's look at some of the features of this powerful PIM solution that helps you to do more with your Magento Website:
Flexible Data Modelling: PIMCORE offers a highly flexible data modelling Using the web-based engine for data modelling, a product data model can be created in a few clicks. It supports more than 40 data types to let you handle any kind of products or any master data with several attributes. It is also designed to support multiple languages, enabling you to target customers across the globe.




Structured Data Management: Managing the data within PIMCORE becomes structured with the use of objects. Every data in PIMCORE is defined using the objects only. Whether it is products, persons, orders, or categories, object is created for them.

Also, the use of objects makes it possible to keep every aspect of data records like attributes, hierarchy, descriptions and versioning in the data editing interface itself. This feature gives PIMCORE an edge in terms of data management.

On the contrary, in Magento Ecommerce platform, one needs to work with fixed and pre-defined objects, i.e. one cannot create objects for the data to be stored.

In a nutshell, PIMCORE adds the additional flexibility to the Magento Ecommerce Powerhouse, helping ecommerce businesses to leverage this flexibility to deliver a seamless and personalized customer experience

Centralized Digital Asset Management (DAM): The centralized management of the digital assets like images, documents and videos etc. is facilitated by PIMCORE. Companies are sometimes wary of giving out their data to the 3rd party CDN services like Amazon etc. For them, PIMCORE comes as the ideal alternative as they can have their privately hosted DAM platform.

Ecommerce websites often face issues managing their scattered data siloes.

With DAM, this problem can be taken care of efficiently. All digital assets are consolidated at one central database which allows for round-the-clock accessibility and efficient retrieval of the data.





Workflow Management Engine: Managing the business processes in a multi-channel Ecommerce setup can be tricky at times. There can be multiple factors to be handled in a complex workflow scenario.

To help one get through these issues, PIMCORE has a robust workflow management engine. It works around concepts such as states, action, notifications and transitions to help one create complex workflows with ease.

The PIMCORE workflow management engine also supports some pre-defined steps to manage the quality of the data (images, PDFs, video, objects, documents etc.)

Data Integration and Delivery Simplified: The sources for the internal data are plenty. Data from ERPs, third-party entities, hard drives etc. need to be aggregated and brought at one platform for easy accessibility. PIMCORE's import and export feature makes it easy for the users.

The system renders flexibility in managing one's master data management (MDM) needs. It is also compatible to any style you choose for MDM implementation, whether it is Registry, consolidation, centralized and coexistence style.
Major benefits of using PIMCORE Product Information Management Software:
With PIMCORE and Magento working together, one can have all the digital media assets for a product served from PIMCORE.
The assets can be in the form of images, videos, PDFs, audio files etc.
Centralization of the digital assets leads to more accurate and efficient product information to the customers.
Swifter re-indexing of the data compared to Magento when a new store is added.
Creating and managing the product attributes is easy with PIMCORE, as one gets all the required options at one place.
PIMCORE supports web services
With an API driven approach PIMCORE solutions are quite flexible and easy to integrate to a number of enterprise solutions including Magento Commerce.
Seamless delivery of product information across multiple channels, thereby, enhancing the user experience considerably.
PIMCORE and Magento: How do they get along?
PIMCORE is something that complements Magento Commerce. PIMCORE, when integrated with Magento Website, makes available all the benefits of its product information management within the Magento Ecosystem.
PIMCORE being a flexible software stack can be integrated with Magento with ease. The APIs need to be written to enable the interaction between them.
As new objects can also be created in PIMCORE, specific APIs may also be required to be written to ensure smooth transfer of data between Magento and PIMCORE.
With robust architecture, extension set and outstanding support of Magento and the PIM capabilities of PIMCORE, the Ecommerce space has truly become complete in all respects.